Defrocked Southern Illinois priest who founded Camp Ondessonk has died
By Molly Parker
Southern
July 24, 2016

http://thesouthern.com/news/local/defrocked-southern-illinois-priest-who-founded-camp-ondessonk-has-died/article_088552b1-4cdd-5a39-8693-230246cc7665.html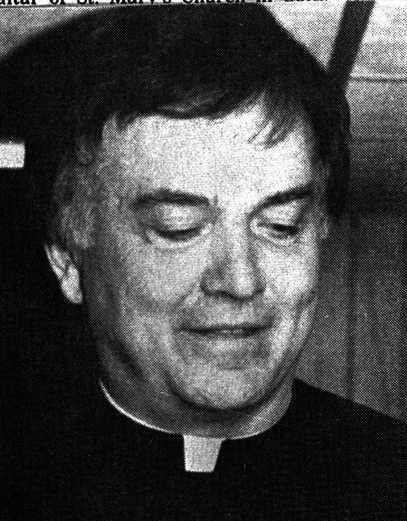 This is a 1986 file photo Robert Vonnahmen from the archives of the St. Louis Post-Dispatch.
ELIZABETHTOWN -- A one-time ambitious, popular Southern Illinois priest who spearheaded the creation of Camp Ondessonk in 1959, and nearly 50 years later was defrocked by the Vatican after allegations surfaced he sexually abused youth campers when he was director, has died.
Robert Vonnahmen, 85, was reportedly quietly buried in Elizabethtown in early May. It doesn't appear that an obituary was written on Vonnahmen's behalf, at least not one that is available online or otherwise readily accessible.
Vonnahmen's death was announced this past week by the St. Louis chapter of the Survivors Network of Those Abused by Priests, or SNAP. In the 1990s, Vonnahmen was at the center of a Catholic Church sex abuse scandal that rocked Southern Illinois, and ultimately resulted in the removal of 14 priests, including Vonnahmen, and one permanent deacon, from the Roman Catholic Diocese of Belleville, which oversees parishes in roughly the bottom third of the state.
In a statement, SNAP Director David Clohessy accused local Catholic officials of neglecting to make known the passing of a man he referred to as "one of Southern Illinois' most notorious pedophile priests."
Clohessy said he heard about Vonnahmen's death by word-of-mouth, from an individual associated with the church. Clohessy said that same person told him Vonnahmen was buried in Elizabethtown a few days after his death. The newspaper was unable to confirm any information about Vonnahmen's arrangements from church officials or others.
The Madison County Coroner's office confirmed Vonnahmen's death.
In response to an inquiry, a representative from the coroner's office told the newspaper that Vonnahmen died on May 8 at Faith Care Center, a nursing home in the Metro-East city of Highland. Vonnahmen was a hospice patient.
Though Vonnahmen was dismissed from the clerical state nine years ago, Clohessy said he believes it is an obligation of church officials to officially note Vonnahmen's passing. He said their doing so may provide some sense of closure to the defrocked priest's alleged victims, and would be a small step for Catholic Church leaders to make good on the promises of transparency with regards to its handling of allegations of sexual abuse of minors by church leaders.
"This is a painless, common sense, simple decency thing to do – a no brainer," Clohessy said. He said it could have been done through a simple announcement from the Roman Catholic Diocese of Belleville headed by Bishop Edward Braxton. The Belleville Diocese did not return a phone call seeking comment as of press time.
'For the good of the church'
It was Braxton who announced in 2007 the decision by Pope Benedict XVI to permanently dismiss Vonnahmen from the clerical state.
Of all the priests removed from their parish positions in the 1990s, in light of allegations of sexual abuse of minors dating back to the 1950s, in the Belleville Diocese, Vonnahmen was the only one defrocked. A decision to strip a man of priesthood can only come from the Vatican, the highest level leadership of the Catholic Church. At the time, Braxton said in a statement the decision was made "for the good of the church."
Vonnahmen never faced criminal charges. By the time his alleged victims came forward, the statute of limitations for such crimes had elapsed, though Vonnahmen was sued in civil court at least four times, including in a lawsuit filed as late as 2014 by a Breese man referred to in court documents as J. Christ, a pseudonym to protect his identity. J. Christ claimed he was abused by Vonnahmen in the 1970s at Camp Ondessonk when he was a young camper, according to The Associated Press.
Some lawsuits have been settled out of court; others were dismissed, not on the merits of the cases, but because it was ruled the statute of limitations had passed. Illinois has since made changes to the time child victims of sex crimes have to come forward, and there was continued discussion in the General Assembly this year about whether the statute of limitations should be removed altogether when the abuse occurs to child, as it often times takes years into adulthood for a child sex-victim to understand what happened and that it was not his or her fault, cope with it and decide whether they want to press charges.
Vonnahmen's religious resume
Vonnahmen was the inaugural director of Camp Ondessonk, a position he held for 26 years, until 1985. His dates of service were confirmed by current camp director Dan King, who noted that Vonnahmen was removed from the camp ministry more than 30 years ago.
"We've got far more history without him than with him," King said of Vonnahmen. Camp Ondessonk, located in the unincorporated Johnson County community of Ozark, is operated as a ministry of the Belleville Diocese. The rustic, outdoor Catholic resident camp steeped in tradition has hosted thousands of boys and girls over the years.
It wasn't until eight years after Vonnahmen left the camp, in 1993, that a diocesan review board found him unfit for ministry in the wake of allegations of abuse of minors, and removed him from the position of pastor he held at the time at the St. Joseph Church in Elizabethtown, a Hardin County community located in deep Southern Illinois of about 300 people.
Around the time he was removed from his parish, Vonnahmen also was at the forefront of building the San Damiano Retreat Center, described as a getaway for people of all faiths, that spans parts of Hardin and Pope counties. In an area between Elizabethtown and Golconda, the religious oasis, complete with Mediterranean-style buildings and large religious statues nestled in the Shawnee National Forest, sits atop a 200-foot cliff that offers stunning views of the Ohio River.
Vonnahmen also lived on the property for a period of time in a tax-free home estimated to have cost at least $350,000 to build, according to a Belleville News-Democrat article quoting a then-Pope County official miffed about not being able to levy taxes on the property because of the nonprofit status of the organization that built it, the Catholic Shrine Pilgrimage Inc.
In that article, the leader of the nonprofit said it was not Vonnahmen's retirement home, but a retirement home for all priests known officially as St. Francis Lodge. It was unclear to the newspaper for how long Vonnahmen lived there, or whether other priests are currently or have ever lived there. An inquiry was made to the nonprofit, but had not been responded to as of press time. According to the latest Form 990 of the nonprofit available for download on Guidestar, which compiles information on nonprofits, the organization has assets and fund balances totaling more than $2 million, mostly in land and buildings.
The fact that Vonnahmen was provided a luxurious retirement villa was a longstanding source of irritation cited by Clohessy. He said it was offensive, given the lifelong scars his alleged victims must live with.
Under the same nonprofit umbrella, Vonnahmen additionally directed a travel agency and led group trips to Catholic pilgrimage sites worldwide, a position he continued to hold in an official capacity for nearly a decade after he was removed from the ministry.
Vonnahmen resigned in 2002 from the board of directors of Catholic Shrine Pilgrimage, the nonprofit that runs the travel agency and the San Damiano Retreat Center, according to a 2007 article form the St. Louis Post-Dispatch about Vonnahemn's defrocking, though the article states he continued to act as a consultant to the travel agency and lead trips through at least 2006.
In 2007, when he was defrocked, Vonnahmen reportedly was given the unwanted distinction of being the first priest to ever be laicized -- meaning, returned to layman's status -- from the Belleville Diocese, in its then 120-year history.
Fallout of the sex-abuse scandal
Clohessy points to Vonnahmen's unannounced passing as what he sees as leaders continued refusal to deal openly with systemic child sex abuse in the Catholic Church that dates back decades. In 2002, the Boston Globe's Spotlight Team of investigative reporters brought the Catholic Church sex scandal to the forefront of national conversation and forced a more comprehensive response from the church. But Clohessy said it seems the church's lack of recognition of Vonnahmen's passing signals leaders would just like to forget its past mistakes and all the pain their inaction caused victims.
The Boston Globe's volume of articles that kicked off in 2002 painted a picture of a church organization that was aware of a multitude of allegations of sexual abuse by priests of minors in parishes across the country, but that despite this knowledge, largely failed as an organization to take appropriate and reasonable actions to disclose accusations to law enforcement, parish and community members so that claims could be properly vetted and vulnerable children protected.
Boston Globe journalists were awarded a Pulitzer Prize for their work regarding the church's sexual abuse crisis in 2003, and it became the subject of the movie "Spotlight," released in 2015.
According to a 2014 report from The Associated Press, the Vatican revealed that year it had, during the past decade, defrocked 848 priests who were accused of raping or molesting children and sanctioned another 2,572 priests accused of sexual misconduct with lesser penalties.
This information was the first-ever breakdown provided on the church's official response to the 3,400 cases of abuse reported to the Holy See since 2004, according to the article.
Allegations against Vonnahmen
Three men made formal accusations against Vonnahmen in the 1990s, prior to the lawsuit filed by "J. Christ" in 2014, all but one regarding allegations from years prior when the plaintiffs were youth campers at Camp Ondessonk. The victims cited various but similar reasons for waiting decades to come forward, including that they did not think they would be believed because of Vonnahmen's holy status.
One man, then living in Albuquerque, New Mexico., claimed in a civil lawsuit he was seduced and sodomized in 1981 when he was a youth camper at Camp Ondessonk. That man was quoted in an article by The Associated Press at the time saying Vonnahmen had told him that if he disclosed what had happened, Vonnahmen threatened to tell his parents that he tried to burn down a building and kill a horse. "He stole … my dignity, my spirituality and my body," the victim was quoted as saying.
Another man from the Carbondale area also filed a lawsuit alleging Vonnahmen initiated a sexual relationship with him when he was 15 years old and that continued for 16 years thereafter. According to court records, that man testified he did not come forward until adulthood because it wasn't until after other reports surfaced of allegations of Vonnnahmen's abuse of minors that he realized his relationship with the then-priest was not special. After speaking with a therapist, the man testified he became more aware of the inappropriate nature of the relationship, and the degree to which he was taken advantage of as a child. The man testified that Vonnahmen had told him their conduct was not sinful and was part of God's plan for him.
The lawsuits were dismissed with rulings not on the merits of the accusations but that the statute of limitations had passed.
Another Carbondale man previously employed by the church-affiliated Golden Frontier Tours also accused Vonnahmen in the early 1990s of unwanted sexual advances. His claim was settled out of court, and both the accuser and his lawyers are barred from discussing terms of the settlement per the agreement, said Diane Speir, a Murphysboro attorney who represented that man in what she described as an employee discrimination case.
Speir said that when that case made headlines, she received calls from at least five other people, alleging that they also were victims of Vonnahmen's. She said that most chose not to go public with their allegations over statute of limitations concerns. But she recalled it as a very difficult time for many. She said that time was even more difficult for people considering coming forward because people in the community were more likely to believe priests over victims. Speir recalled some of those individuals calling her cell phone at night in tears as they recounted painful memories of alleged abuse by the religious leader.
"I hope this brings some closure and peace for victims," Speir said of Vonnahmen's death. She said she was not aware he had died prior to being informed by the newspaper.
A plea for closure
Given the seriousness of the allegations against Vonnahmen that led to his defrocking, Clohessy said Bishop Braxton knows those alleged victims might "sleep a little better tonight if they knew Vonnahmen can't hurt kids anymore." "But, like bishops have done for centuries," Clohessy said, "Braxton makes the self-serving, but irresponsible decision to keep silent."
When the newspaper reached out to the Belleville Diocese on early Friday afternoon, a woman who answered the phone took a detailed message about the nature of the newspaper's request for comment. That call had not been returned as of press time. The woman said the priest who typically serves as spokesman was not in the office on Friday.
Contact: molly.parker@thesouthern.com