Breaux Bridge priest arrested on 500 counts of child pornography
By Richard Burgess And Lanie Lee Cook
Advocate
July 27, 2016

http://www.theadvocate.com/acadiana/news/crime_police/article_6aa3fd98-5415-11e6-b410-07725765e535.html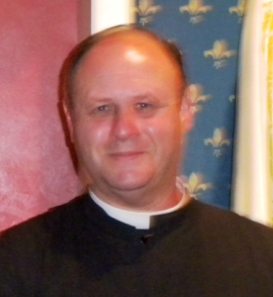 The Rev. F. David Broussard, of St. Bernard Roman Catholic Church in Breaux Bridge, was arrested by State Police on July 27, 2016, the Diocese of Lafayette announced in a news release.
The pastor of St. Bernard Roman Catholic Church in Breaux Bridge was arrested Wednesday on 500 counts of possessing child pornography, images believed to have been found when he brought his personal computer in for repairs, according to the Diocese of Lafayette and State Police.
The Rev. F. David Broussard, who also oversees St. Bernard School, has been placed on administrative leave pending the investigation, said Bishop J. Douglas Deshotel.
Deshotel said Broussard, 50, has served as pastor at St. Bernard for two years and has served as a priest for 23 years.
The bishop said there have been no previous complaints involving child pornography or sexual abuse against Broussard.
"Never any complaints to any of us from anyone. In fact he was a much loved pastor, the irony is a very loved man in the parish," Deshotel said. "... "No complaints have been made that anything physical or any kind of physical abuse occurred."
But Deshotel, who was named bishop earlier this year, said at a Wednesday news conference that he takes the accusations seriously and believed the diocese had to respond quickly.
"As we know in our society, child pornography is a plague, and it runs the gamut of all strata of society, and it is something that has to be addressed right at the beginning as soon as it is known," Deshotel said.
That there have been no prior complaints against Broussard does not necessarily mean there is no problem, he said.
"This kind of an illness hides itself in a person. We don't know," Deshotel said.
Deshotel said he first learned of the investigation Tuesday, when he met with State Police, and placed Broussard on leave as soon as he learned of the arrest on Wednesday.
The bishop said he has not yet spoken with Broussard, who was booked Wednesday into the St. Martin Parish Jail.
SNAP, the Survivors Network of those Abused by Priests, released a statement Wednesday afternoon encouraging Deshotel — who was installed as bishop in April — to call on victims, witnesses and whistleblowers to contact police with any additional information about the accused priest.
"Catholic officials gave this volunteer access to kids. So they owe it to parents, parishioners, police, prosecutors and the public to use their vast resources to actively help law enforcement solve this case and to find and help others who may have been hurt by this volunteer," the release stated.
State Police said the investigation began earlier this month when investigators received a complaint that a computer Broussard had access to contained images of child pornography.
More than 500 images of suspected child pornography were identified on the computer, according to State Police.
Deshotel said he knew few details about the investigation but believes it began when a computer technician found the images after Broussard brought his personal computer to a shop for repair.
"I only heard that it was a personal computer of his. I don't know that for a fact. We haven't gotten the details yet from the State Police investigation," he said.
Contact: rburgess@theadvocate.com