Discovery of Former Priest and Accused Pedophile Conjures Memories of "the Talk"
By Michael Dooling
Republican-American
July 28, 2016

http://rep-am.com/articles/2016/05/22/news/local/958564.txt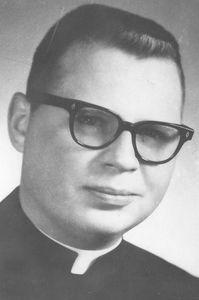 Republican-American Archives The Rev. Arthur J. Perrault circa 1964. Perrault, formerly of St. Francis Parish and school in Naugatuck, is a central figure in a church pedophilia scandal in New Mexico.



A new assistant pastor, Rev. Arthur J. Perrault, arrived at St. Francis Parish in Naugatuck in September 1965.

Two weeks ago, Perrault, an accused pedophile, was found living in Morocco. He had fled his New Mexico parish in 1992 after lawsuits alleging sexual abuse were filed against him and the Archdiocese of Santa Fe.

The news rattled memories among those who knew the priest in Naugatuck. Perrault's brief stint there, and his abrupt departure within two months, went almost unnoticed, except by a group of eighth-grade boys who feared him.

Father Perrault brought the boys of the class of 1966, who wore white shirts and blue ties monogrammed "SFS," to dimly lit and secluded areas in the church, or to the principal's office after school when the hallways and classrooms were empty.

These meetings were always one-on-one. Word on the playground before school, and at recess, was that "Father Art" was having "The Talk" with every boy in class about how babies are made.

There they were, awkwardly alone, face-to-face with a veritable stranger who was determined to educate them about the subject, or least part of the subject. Perrault was less descriptive of sperm and egg and concentrated more on describing the mechanics and hydraulics of the male anatomy.

Then the priest inquired how knowledgeable each boy was, how familiar he was with his own body, and what he had experienced, said class members who recall the uncomfortable conversations.

The boys told no one beyond their friends — no teachers, no adults, no parents. It was just too embarrassing, they decided.

COURT DOCUMENTS 30 YEARS LATER WOULD reveal allegations that turned the former priest in Naugatuck into a central figure in a church pedophilia scandal in New Mexico.

No record can be found of criminal charges or lawsuits filed against Perrault in Connecticut.

John Sokolowski, now a New Hampshire resident, attended St. Francis and recalls The Talk. "I have vague memories of Perrault cornering me in the sacristy," he said. "I was naive at the time and wasn't sure what he was talking about. I remember thinking I needed to get out of there."

It is unknown how many boys had The Talk during those waning months of 1965.

"Father Art arranged to meet me in the dimly-lit vestibule of the church. He wanted to know if I masturbated," said Rich Weaving, now of Arizona. "The idea of meeting a priest face-to-face and admitting my sin made me as nervous as hell. Father Art held my hand close to him but I don't think he did anything else. I was shaking in fear of the Lord. I completely missed what he was looking for. He dismissed me and I gladly left."

Another member of the class, Rick Dinkle of Vermont, had a similar conversation which started when Perrault called him into the dark sacristy, lights off, and asked him if he ever considered the priesthood. Perrault turned the topic to masturbation, and Dinkle remembers feeling lightheaded and sitting down. The priest offered to give him a ride home, which he accepted.

"I wonder how close I came to being a victim. In those days a priest could do no wrong, so I wonder if I would have acquiesced to his advances," Dinkle said. "I am thankful that perhaps by pure chance I avoided the possibility of being a victim."

AT THE TIME PERRAULT ARRIVED IN NAUGATUCK, St. Francis Parish was in upheaval. Rev. Henry P. Cody, the revered principal of St. Francis School, had just been transferred to a parish in Rocky Hill. The pastor, Rev. John T. Connor, was terminally ill with laryngeal cancer; he would die the following February.

Much of the burden of running the parish fell upon Rev. Thomas E. McCarthy and Rev. Daniel J. Karpiey. Karpiey became the school principal a few days after Perrault arrived.

The newest priest in a parish was often given the job of training and managing the altar boys, and following this tradition, Perrault was assigned that responsibility. He formed a local chapter of the Knights of the Altar, with different levels of accomplishment the boys could achieve.

Starting as an apprentice, an altar boy who met various criteria could move up the ranks to page, squire, knight, knight commander, chevalier and the highest rank of grand knight.

Age, years of service, knowledge tests, altar presence, attitude, and evidence of commitment were used as criteria for promotion. The Knight Director was the sole judge as to which altar boys passed to the next level. At St. Francis that position was held by Father Art.

In November 1965, Perrault abruptly left St. Francis.

THE SCUTTLEBUTT IN THE ST. FRANCIS SCHOOLYARD was that Perrault had gotten a little rough with one of the altar boys. He always seemed to appear in the schoolyard during recess and liked to arm wrestle with the boys. Perhaps he had inadvertently injured one of them, some said. Before long, words like "nervous breakdown" were used to explain his sudden disappearance.

Father Art was gone for good and most parishioners forgot about him.

Secrecy and the passage of time have shrouded the details of what happened with Perrault in Connecticut. One fact is clear: He was transferred to a church treatment center for pedophiles in New Mexico.

Michael Dooling, a former news librarian for the Republican-American, is a member of the St. Francis School class of 1966. The Republican-American has been investigating Perrault since 2008.