Bishop: Priest sends apology to parish
By Ken Stickney
Advertiser
July 30, 2016

http://www.theadvertiser.com/story/news/2016/07/30/bishop-priest-sends-apology-parish/87821520/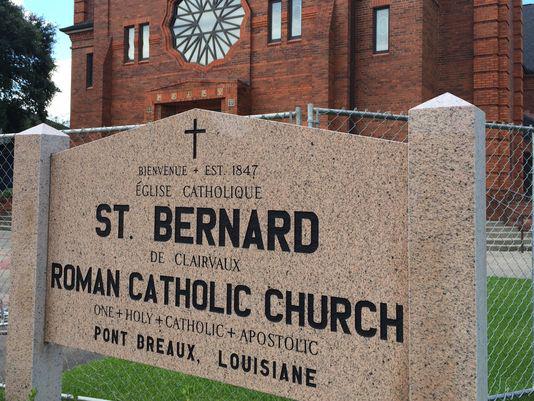 The Most Rev. J. Douglas Deshotel, bishop of Lafayette, passed along regrets from the Rev. F. David Broussard, placed on leave at St. Bernard Roman Catholic Church, during Dehotel's brief homily at the 4 p.m. Saturday Mass.
Photo by Ken Stickney
BREAUX BRIDGE — A local Catholic priest, charged with 500 counts of possession of child pornography this week, sent word to his parish that he is sorry for his actions and for the pain and embarrassment he caused his church and diocese.
The Most Rev. J. Douglas Deshotel, bishop of Lafayette, passed along those regrets from the Rev. F. David Broussard, placed on leave at St. Bernard Roman Catholic Church, during Dehotel's brief homily at the 4 p.m. Saturday Mass at that downtown church. About 300 parishioners, virtually a full house, pressed into the parish hall where Mass was offered. The church building itself is closed for remodeling.
Deshotel, named Lafayette's bishop in February, will preside over all St. Bernard's Masses this weekend.
The bishop told parishioners he "had a visit" with Broussard this week — the priest was charged with having pornographic images of children on his personal computer and booked at St. Martin Parish Jail on Tuesday — and asked if Broussard wanted to tell his parishioners anything. That, Deshotel said, was when Broussard expressed his sorrow and offered his apology.
Broussard, 50, was released on $25,000 bond Wednesday. He had pastored St. Bernard's for two years, and has been a priest for more than 20. Deshotel said there had never been complaints about Broussard, and said parishioners spoke highly of him.
The bishop's homily followed readings that included excerpts from Paul's Letter to the Colossians, in which the apostle urges readers to, "Put to death, then, the parts of you that are earthly: immorality, impurity, passion, evil desire ... ,"
Deshotel suggested that the "events of this week" teach Catholics that "our actions have consequences," and that they should focus on things from God.
The consequences of Broussard's actions, he said, included "something very painful for his parishioners" as well as for "all the dedicated priests" in the diocese. Deshotel offered his prayers and support for parishioners, and said the diocese would make certain their spiritual needs are met.
Monsignor Curtis J. Mallet, vicar general of the diocese, will oversee the parish until a new, permanent pastor is named.
Following Mass, Deshotel said he was not surprised that Saturday's service was full, despite the painful news about the church pastor.
"The people are Catholic and they go to Mass," he said, not only to fulfill the church's mandates but also to "seek comfort in a difficult time."
Deshotel said investigation revealed that Broussard's problem was only with pornography, which he likened to an addiction, and said that local children themselves were not endangered.
He said he has spoken with the principal at St. Bernard School and all necessary safeguards to protect children are in place.
Contact: kstickney@theadvertiser.com