Newark Archbishop Myers' departure is a true blessing | Editorial
Star-Ledger
July 31, 2016

http://www.nj.com/opinion/index.ssf/2016/07/newark_archbishop_announces_plan_to_retire_to_mans.html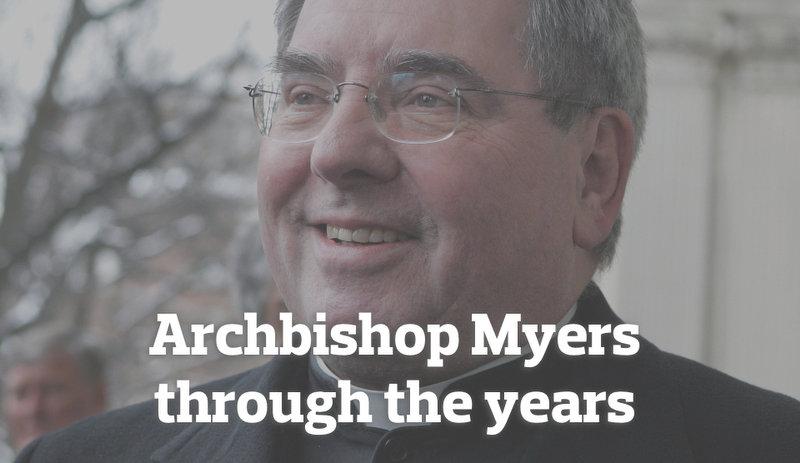 1 / 30 John J. Myers, the former bishop of Peoria, Ill., was named Newark's archbishop in 2001 by Pope John Paul II. Myers' tenure has occasionally been bumpy, with protests over his handling of sexually abusive priests and his decision to expand his retirement home. He is seen here in 2005 at a Statehouse rally in favor of school vouchers. Myers is due to retire when he turns 75 on July 26, 2016.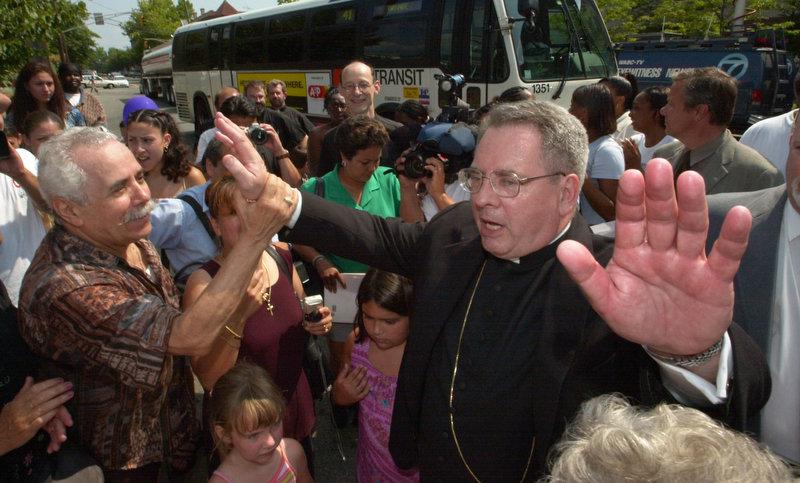 On July 24, 2001, Bishop John J. Myers of Peoria, Ill., was named archbishop of Newark. Here he blesses members of a crowd gathered outside the Archdioceasn Center in Newark for the announcement.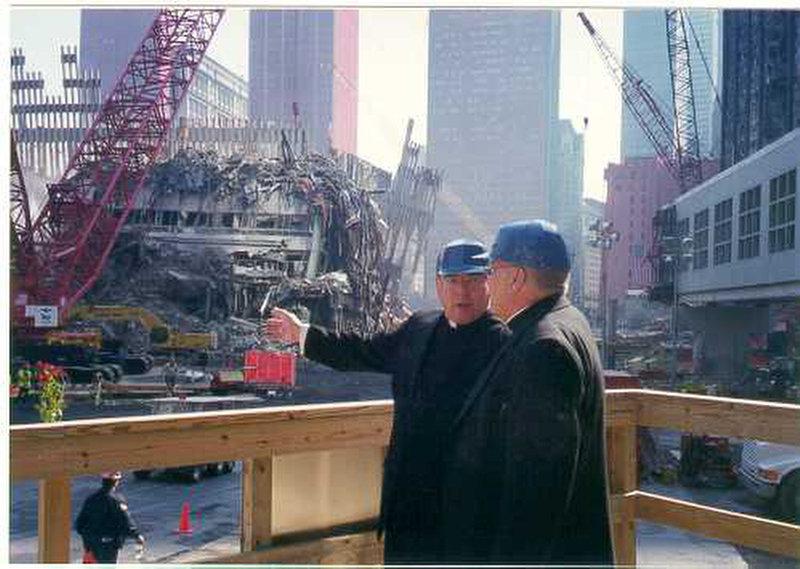 4 / 30 In this 2001 photo, Newark Archbishop-designate John J. Myers, left, and the archdiocese's administrator at the time, Bishop Paul Bootkoski, survey the destruction at the World Trade Center after 9/11.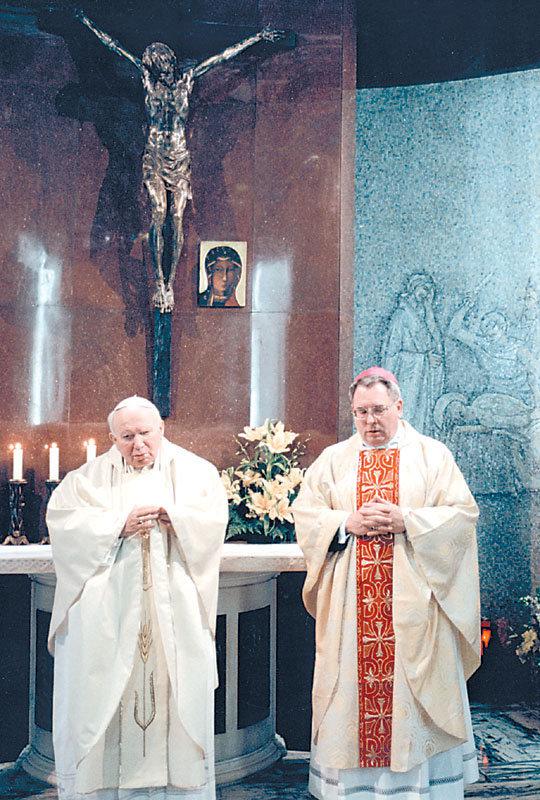 Archbishop John J. Myers, right, co-celebrates Mass with Pope John Paul II in the pontiff's private chapel in January 2002. Myers was visiting the Vatican on archdiocese business.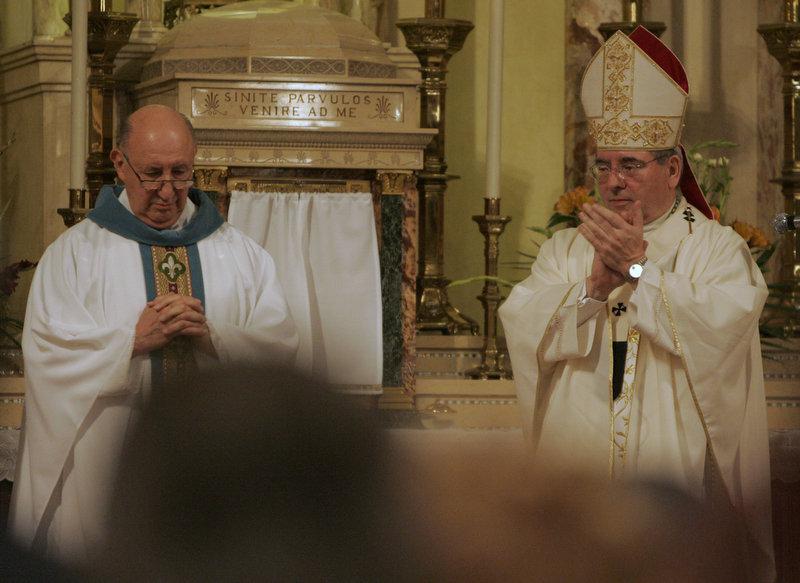 10 / 30 Archbishop John J. Myers applauds Msgr. Joseph Granato, then pastor of St. Lucy's in Newark, upon his 50th year as a priest in 2005. Myers' handling of Granato would later lead to a feud between parishioners and the archdiocese.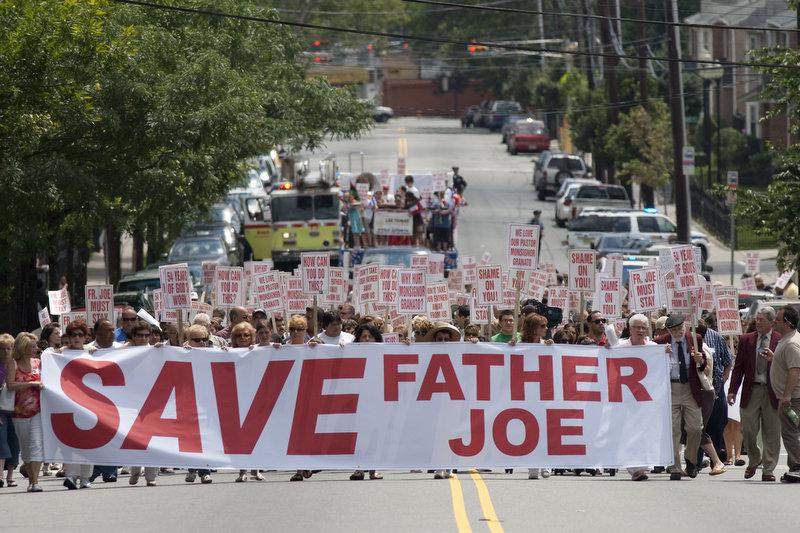 Protesters walk from St. Lucy's Church in Newark to the Cathedral Basilica of the Sacred Heart in support of their pastor, Msgr. Joseph Granato, following a decision by Archbishop John J. Myers that the retired priest could no longer live in the rectory and would instead move to a retirement home. Granato served the parish for 54 years. Furious parishioners, along with Essex County Executive Joe DiVincenzo, had choice words for Myers.
Archbishop John Myers finally turned 75 Tuesday, the mandatory retirement age for bishops, and announced he intends to step down.

Blessed are we to be rid of this man. During his 15-year tenure as New Jersey's highest-ranking Catholic, he protected pedophile priests and used church funds to expand an already large weekend house into an opulent retirement mansion.

He urged his flock to vote based on two issues -- abortion and gay marriage -- at the threat of being denied Holy Communion.
He refused to meet with any of the thousands of parishioners protesting his extravagance, who said the money would be better spent feeding the hungry or housing the homeless; or to answer questions from the press.

And now, in an exit interview with the Bergen Record, he is giving the Pope lessons on how to handle the media. Priceless.
The Catholic Church does tremendous good in this state. It's not just the schools, the hospitals, the food pantries, and all the charity that helps hold communities together and bind its wounds. It is also a spiritual home that gives so many people meaning and solace. Myers will soon be just a bad memory.
But we hope Pope Francis replaces Myers quickly with someone more in line with his message of change. Could you ever imagine the "people's pope" building himself a house with six bedrooms, indoor and outdoor swimming pools, three fireplaces, a three-car garage, an elevator and a hot tub?
Or having his beleaguered spokesman defend this in the press, by calling the hot tub a therapeutic "whirlpool"?
Last week, Myers again justified his decision to put a lavish $500,000 addition on the already expansive, $700,000 home by saying that when Cardinal Timothy Dolan visits, he should have his own private wing. He also told the Record that "being an Illinois farm boy," he's used to wide open spaces.
This home was 4,500 square feet before the addition. Now it's 7,500. What Illinois farm boy lives in a palace like that?

Myers is an old fashioned vestige of church hypocrisy who will not be missed.

He has refused to release the names of priests who have been credibly accused of child abuse, like other churches do, and protected some of them personally. He allowed one who admitted to groping a boy, the Rev. Michael Fugee, to continue working with kids -- and transferred him to St. Michael's Hospital in Newark without telling the staff.

He arranged for the promotion of another accused priest, a man who had vacationed with Myers and showered him with gifts of silver, gold coins and even cash, while in charge of a diocese in Illinois.

He openly meddled in politics, but punished others when he feared they might do the same. At the height of the last election season — the timing of which Myers said was pure coincidence — he told Catholics they have a "duty" to cast their vote based on opposition to same-sex marriage and abortion rights. He said gay parents are bad for children, gay marriage is a threat to religious freedom, and that Catholics who refuse to embrace views should not take Holy Communion.

Myers later removed a popular gay priest from his post at Seton Hall against the will of parishioners, after the man posted on Facebook supporting gay marriage, and accused him of having an "agenda." Right.

Just this week, Myers said the Pope shouldn't give so many impromptu interviews to the press — like the one in which Francis was asked about gays and said, "Who am I to judge?"

But with a legacy like this, who is Myers to? The diocese even had to rename its annual fundraising drive from the "Archbishop's Annual Appeal" to "Sharing God's Blessing Appeal," after 22,000 people signed a petition condemning his greed.
So let him disappear forever into his mansion with the elevator. In the end, he'll have to work out his fate with St. Peter.