Watch: Clergy abuse and the Harrisburg diocese
By Jason Plotkin
York Daily Record
August 9, 2016

http://www.ydr.com/story/news/2016/08/09/watch-clergy-abuse-and-harrisburg-diocese/88399290/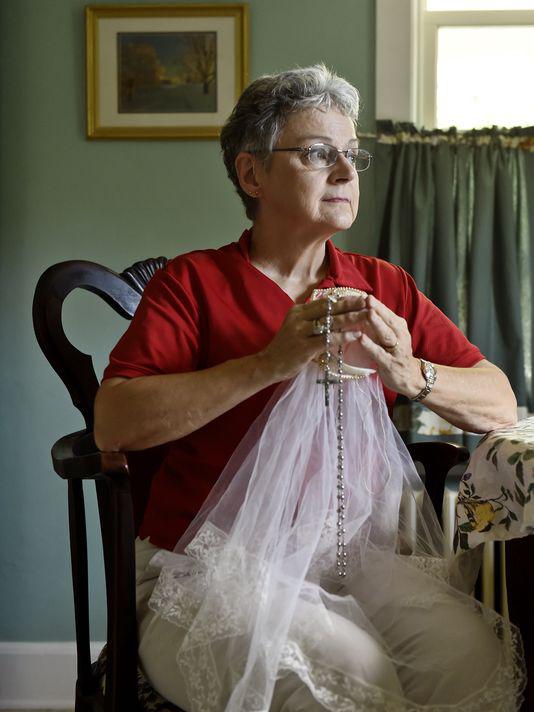 Susan Blum holds her First Communion veil and her maternal grandmother's rosary for a portrait Wednesday, July 20, 2016, at Blum's New Freedom home. Blum, 63, said she was sexually assaulted by a clergy member in the Archdiocese of Boston when she was 15. A New Freedom resident since 1988, Blum had attended St. John the Baptist Catholic Church for years, but left in March after clergy in the Diocese of Harrisburg were required to read aloud a letter that opposed a Pennsylvania legislative bill that would drop a 30-year statute of limitations on when criminal sex-abuse charges can be filed. "They don't understand they're protecting the Captain Underpants around the corner," said Blum. "I'm not anti-Catholic. I have loved my church, but I cannot in good conscience walk into a church building ever again."
Photo by Chris Dunn


[with video]



Mark Totaro, victim assistance coordinator for the Diocese of Harrisburg, says the Catholic Church will do its best to take care of clergy abuse victims, though "they might never have closure." Chris Dunn, York Daily Record

The Diocese of Harrisburg has acknowledged by name 15 priests who have been accused of sexually abusing children and who at one time worked in the diocese.
In June, the York Daily Record spoke with Mark Totaro, the victim assistance coordinator and the CEO of Catholic Charities for the diocese. He discussed services the diocese provides to clergy abuse survivors, how the diocese handles clergy abuse reports, and how the church tries to help survivors heal.
In July, the YDR spoke with Susan Blum, who was sexually abused by a priest in the Archdiocese of Boston when she was 15 years old. Blum talked about why she thinks it's important that all accused priests be named.Susan Blum of New Freedom, talks about discovering her abuser on a list of other priests who molested children.