Diocese agrees to 6-figure settlement in sex abuse case involving priest, lawyer says
By Justin Zaremba
NJ.com
September 7, 2016

http://www.nj.com/mercer/index.ssf/2016/09/trenton_diocese_settles_sex_abuse_claim.html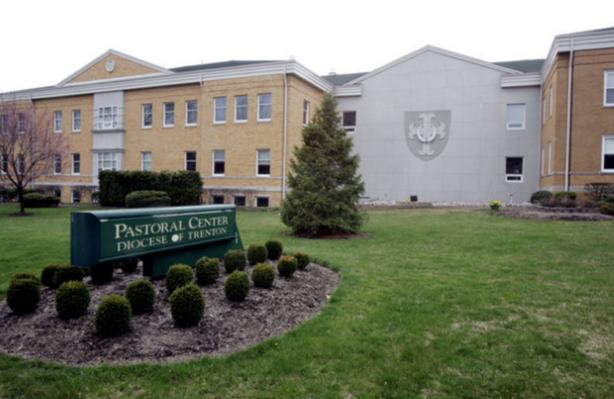 Diocese of Trenton Pastoral Center (headquarters), Lawrence, NJ. Sunday, April 10. 2011.
Photo by Martin Griff
TRENTON — The Diocese of Trenton has agreed to a six-figure settlement with a man who said he was sexually assaulted by a priest four decades ago, according to the victim's attorney.
Boston-based attorney Mitchell Garabedian, who has represented hundreds of victims since the clergy sex abuse scandal erupted in 2002, and was portrayed in the movie "Spotlight," said his client was abused by the Rev. Vincent Inghilterra in 1979 when he was 16. NJ Advance Media agreed to identify the man only as John Doe.
"My client was having personal issues so he was sent to Father Ingelltera for guidance," Garabedian said. "Instead of giving my client guidance, he sexually abused my client on two occasions. He was a pure predator who took advantage of an innocent child."
Messages placed with representatives of the Diocese of Trenton Wednesday morning have not yet been returned. The diocese has previously settled several other claims of sexual abuse by other priests — Rev. Terence McAlinden and Rev. Ronald Becker.
Although Garabedian declined to disclose the amount of the settlement, he indicated it was less than $500,000 but "well into" the six-figure range. His mediation with the diocese began this past May and was settled at the end of August. Inghilterra has not been criminally charged in the incident involving John Doe, or any other minor that he is aware of, Garabedian said.
The victim said he was sent to a camp supervised by Inghilterra in 1979 by his mother and stepfather because the then-teen had questions about his sexuality. Inghilterra, who has also served as a U.S. Army chaplain, was affiliated with Trenton State College as a chaplain at the time.
John Doe said he was twice abused by Inghilterra — once at Inghilterra's home and then about a week later in Inghilterra's office.
"I had questions in my mind about myself and (Inghilterra) knew it and he took advantage," Doe said. Inghilterra, he said, conditioned him prior to the abuse.
"At the time, I didn't think it was abuse," Doe said. "A priest isn't just your best friend. He represents the church. If he says that's okay, that's okay. You don't question that."
Doe, who no longer lives in New Jersey, said he hasn't stepped foot in a Catholic church since 1980.
Inghilterra was transferred eight times during his 51-year career before he was suspended from the ministry in 2013, which, Garabedian said, raised "a red flag" right away. Inghilterra also led children overseas on religious pilgrimages to Medjugorje, a town located in the Herzegovina region of Bosnia and Herzegovina, and Fatima, Portugal.
Inghilterra was suspended from the ministry in 2013 over credible claims of sexual abuse, Garabedian said.
More than anything, Doe said, he wants other sexual abuse victims to know they're not alone.
"For 30 years I thought I was the only one," he said. "I don't want anyone to feel that way. The shame, the embarrassment, the self doubt. It affects all aspects of your life. I haven't had any meaningful relationships in 20 years."
Doe said he was prompted to come forward as a result of a home invasion in 2013. That incident, he said, brought up other traumas, and, after therapy, he realized he'd never really dealt with what happened to him as a boy.
"I thought I was functioning normally at the time, which I wasn't," Doe said. "I, one day, came to the realization I have to somehow see where the connection is. That's when all the pieces fell together."
About 1½ years ago, he said, he reached out to Road to Recovery, for survivors of sexual abuse, which later put him in touch with Garabedian.
Doe said he now realizes he likely wasn't the only one abused by Inghilterra. After he was sexually abused in Inghilterra's bedroom parlor, another teen said he was now "one of Father Vince's boys."
"There's no telling how many cases have been settled involving Father Inghilltera," Garabedian said. "The Catholic church has operated under a cloud of secrecy when the issue of clergy sexual abuse has arisen."
Doe said some of the settlement money will be used to help other survivors of sexual abuse by priests.
Contact: jzaremba@njadvancemedia.com