Catholic priest suspended after reports he visited inappropriate websites
Fox 4
September 12, 2016

http://fox4kc.com/2016/09/11/catholic-priest-suspended-after-reports-he-visited-inappropriate-websites/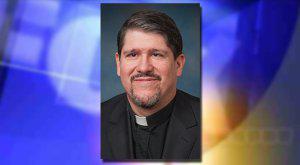 Chris Rossman


[with video]



KANSAS CITY, Kan. -- The Archdiocese of Kansas City, Kansas released a statement on Sunday announcing that one of its priests has been suspended after church officials had received reports that the priest had visited inappropriate websites on the internet.Because the websites allegedly depict minors, the Archdiocese immediately notified the FBI to investigate the allegation and law enforcement has initiated an investigation.

The priest in question, Fr. Chris Rossman, pastor of Annunciation Church in Baldwin City and St. Francis of Assisi Church in Lapeer, Kan. has been suspended from ministry, pending investigations by law enforcement as well as the Archdiocese.

The Archdiocese said in a statement they will continue to cooperate fully with police.

The Archdiocese asks anyone who has knowledge of inappropriate conduct by any priest, deacon, employee or volunteer to please contact the confidential report line at (913) 647-3051 to make a report to Jan Saylor, Archdiocesan Report Investigator, or call police directly.