Baker Ohio victims settle; attorney calls amount paid in sexual abuse case 'offensive'
By Dave Sutor
Tribune-Democrat
September 14, 2016

http://www.tribdem.com/news/baker-ohio-victims-settle-attorney-calls-amount-paid-in-sexual/article_74beb548-7a30-11e6-bb07-ef0c5af91c48.html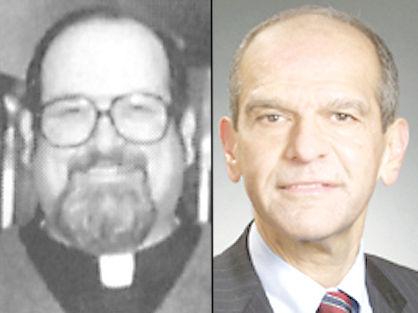 Brother Stephen Baker and Mithell Garabedian
Terms of a new out-of-court settlement involving 28 individuals sexually abused by Brother Stephen Baker, the Roman Catholic Diocese of Youngstown, Ohio, and the Third Order Regular, Province of the Immaculate Conception were released on Tuesday.
The victims received a combined $900,000, coming out to about $32,000 each.
In comparison, back in 2013, the diocese settled with a group of other Baker victims for $75,000 apiece.
Attorney Mitchell Garabedian, who represented the individuals in the latest case, called the settlement "offensive," since it paid significantly less per victim than the amount given in the past. "Many of my clients felt re-victimized," Garabedian said.
Baker, a former member of the Blair County-based Province of the Immaculate Conception, was accused of abusing about 100 children when he served at Bishop McCort High School in Johnstown from 1992 to 2000.
The Altoona-Johnstown Diocese, Bishop McCort and Third Order Regular reached settlements with at least 91 victims, totaling more than $8 million.
Baker is also accused of committing sexual abuse when he was in Michigan and Minnesota.
Garabedian described Baker, who died of a reported suicide in 2013, as a "serial pedophile."
In the most recent settlement involving Youngstown victims, Garabedian and Robert Hoatson, founder of the nonprofit victims advocacy group Road to Recovery, believed the diocese underpaid the individuals.
"They know the victims have no other options," Hoatson said.
The agreement was reached in March, but never made public until Tuesday when Road to Recovery held a press conference.
"Obviously, the diocese was never going to announce that it happened," Hoatson said.
Msgr. John Zuraw, chancellor of the Youngstown Diocese, said he thought everything was "copacetic" until he heard about the press conference being announced. He said the diocese kept the settlement quiet because it did not want to "re-victimize them by opening up old wounds."
Most of the victims attended John F. Kennedy High School in Warren, Ohio, where Baker taught from about 1985 until 1992, according to Garabedian.
Twenty-seven of the victims are still alive. One declined to sign the agreement. Barbara Aponte accepted the settlement on behalf of her son, Luke Bradesku, who committed suicide in 2003 at age 26.
"I think it's important to realize the agreements were signed by all parties involved," Zuraw said.
Aponte believes the settlement amount was inadequate.
But she took it because the process has been "hard" dealing with her son's abuse and death over many years. She also doubted the diocese and Third Order would make any better offer.
Three former Province of the Immaculate Conception minister provincials – the Revs. Giles Schinelli, Robert D'Aversa and Anthony Criscitelli – are being tried in Blair County on one count apiece of conspiracy and endangering children for giving Baker assignments where he had access to children even though they allegedly knew he had been previously accused of committing sexual abuse.
"That's where the money is going," Aponte said. "That's where their concern lies. It's not with the victims."
An attorney for the Province of the Immaculate Conception did not respond to a request for an interview.
Contact: dsutor@tribdem.com