Additional sexual abuse allegations surface against Sioux City priest
By Ian Richardson
Sioux City Journal
September 14, 2016

http://siouxcityjournal.com/news/additional-sexual-abuse-allegations-surface-against-sioux-city-priest/article_cd4e7d17-4fd0-509e-a314-e442f4c127d8.html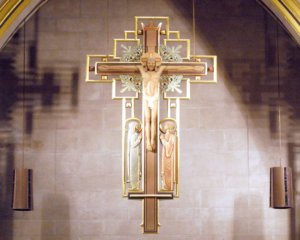 The cross inside of Blessed Sacrament Church in Sioux City is shown in a Dec. 1, 2006, file photo. The Rev. Peter Murphy, who died in 1980, has been accused of raping and sexually abusing a 12-year-old boy while he was a temporary assistant at Blessed Sacrament in 1960.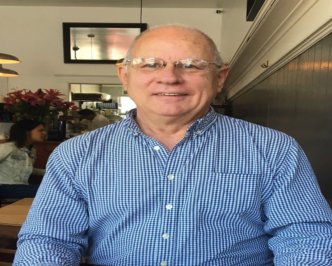 Lennon
SIOUX CITY | Five more people have come forward with allegations of sexual abuse against a now-deceased Sioux City priest, a spokeswoman with the Sioux City Diocese confirmed Wednesday.
Sioux City Diocese Spokeswoman Kristie Arlt said in the past two months, five people have contacted the victims assistance coordinator at the Mercy Child Advocacy Center reporting abuse by the Rev. Peter Murphy, who was ordained in 1955 and served at eight parishes throughout northwest Iowa in the 1950s, '60s and '70s.
Arlt said Bishop Walker R. Nickless is in the process of reaching out to the four victims who provided the diocese with their names. One victim is remaining anonymous, she said.
"The bishop's main goal and our advisory board's main goal is to provide healing where we can," Arlt said. "That's the main purpose to be sensitive to these victims and hopefully help them with their healing journey."
The responses follow a request for information on Murphy that was published in the Catholic Globe newspaper in June. The article explained the diocese had received information that Murphy had committed sexually abusive acts against a minor in the 1960s while serving as a temporary assistant at Blessed Sacrament Parish in Sioux City.
Allegations originally surfaced when 69-year-old Tim Lennon, who grew up in Sioux City and now lives in San Francisco, wrote to the parish about his sexual abuse by Murphy while he served as an altar boy at Blessed Sacrament at age 12.
Lennon originally wrote to the parish in 1996 but said he received a "dismissive reply." Earlier this year, Lennon met with Bishop Nickless and discussed his abuse, asking for Murphy's name to be made public.
Arlt confirmed Wednesday that the diocese had reached a settlement with Lennon, as well as offered to cover some of his therapy expenses. She did not disclose the amount.
In an email to the Journal Tuesday, Lennon said the diocese had awarded him a $100,000 settlement, had offered to cover some of Lennon's past therapy costs and had offered up to $5,000 in support for future therapy.
He told the Journal Wednesday that the award of $100,000 is "hard to grasp," and the future therapy costs were also very helpful to receive.
"For me, very important was the promise of up to $5,000 in support for future therapy," Lennon said. "I have been restricted in the past from some therapy by the cost."
Lennon, who now works with the Survivor Network of those Abused by Priests (SNAP), said he has been approached by four others who also say they were abused by Murphy as children, as well as several others who were abused in unrelated circumstances as children. He said he is glad his story has helped others not feel alone.
"A large reason why I came forward in a public way is I know that when I or other survivors come forward it provides hope to many survivors who have been suffering alone and in the dark and never told anyone," he said.
Lennon is continuing to advocate that the Diocese of Sioux City publish the names of all the credibly accused predators who worked at the diocese.
Arlt said the diocese's review board is continuing to explore the possibility of releasing the names of those who have been credibly accused.
Contact: irichardson@siouxcityjournal.com