Abuse Victim in "Spotlight': Extend Statute of Limitations in Pennsylvania
By John Kopp
PhillyVoice
September 20, 2016

http://www.phillyvoice.com/spotlight-abuse-victim-calls-reforming-statute-limitations-pennsylvania/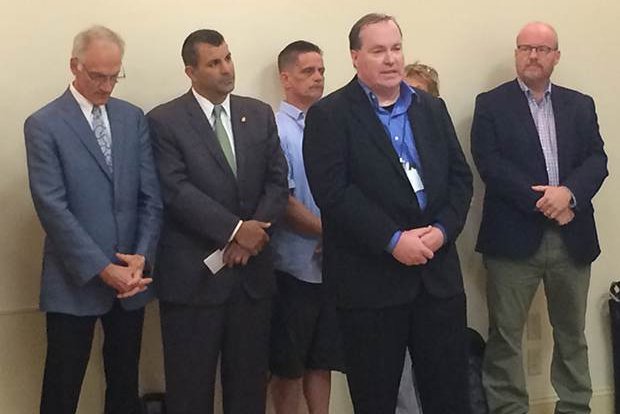 Joe Crowley, front, who was sexually abused at the age of 15 by a Roman Catholic priest in Boston, speaks at Tuesday's news conference in Philadelphia. 'It takes a long time' for victims to come forward, he said. 'Some people never get it...'



Joe Crowley says he knew nothing about statutes of limitation when he first described the sexual abuse he suffered to a Boston Globe reporter investigating clerical abuse in Massachusetts.

Simply gaining the courage to share his story publicly had taken years. Eventually, Crowley faced his abuser in court. But there are some sexual abuse victims in Pennsylvania who might never get that opportunity unless changes are made to the statute of limitations.

"I knew that they knew and did nothing," Crowley said of the Catholic Church. "That was one of the most healing things. It just changed my perspective. The last time I ever saw my perpetrator — he was in shackles."

Crowley is one of several abuse victims portrayed in the movie "Spotlight," which detailed the Boston Globe's efforts in bringing the Catholic abuse scandal to light. He and two others depicted in "Spotlight" joined state Rep. Mark Rozzi, D-Berks, in Philadelphia on Tuesday to trumpet legislation that would enable generations of sexual abuse victims to seek justice in Pennsylvania civil courts.

House Bill 1947 would eliminate the criminal statute of limitations on future child sex abuse crimes. But it also would retroactively extend civil statutes, allowing victims until their 50th birthday to pursue legal action. Victims currently must do so before turning 30 years old.

Crowley, of Massachusetts, was a teenager when he was first abused by the Rev. Paul Shanley, who was found guilty in 2005 of repeatedly raping and fondling a boy. For years, Crowley battled alcoholism while at times seeking therapy. He was 42 when he finally shared his story with the Boston Globe.

"It takes a long time," Crowley said. "Some people never get it. There's a lot of suicides. There's a lot of overdoses. ... It's very damaging."

In "Spotlight,"which won an Oscar for Best Picture, Crowley is played by actor Michael Cyril Creighton. Reporter Sacha Pfeiffer, portrayed by actress Rachel McAdams, interviews Crowley in a coffee shop and a park, where the emotional weight of the conversation causes him to break down.

The bill overwhelmingly passed the House in April. But state senators have questioned the constitutionality of the retroactive provision. They removed that provision before sending the bill back to the House in June.

The Archdiocese of Philadelphia and the Pennsylvania Catholic Conference fought the House's version, saying it unfairly holds private and public institutions to different standards. In a letter to parishioners, Archbishop Charles Chaput wrote "all of us are rightly angered by sexual abuse," but called the bill "a clear attack on the Church, her parishes and her people."

"HB 1947 is retroactive for private and religious entities, but not retroactive for public institutions," Chaput wrote. "It places very low caps on damages for sexual abuse in public schools in the future. And it makes it hard for abuse victims to sue public institutions going forward. Meanwhile, private and religious entities face unlimited liability for exactly the same evil actions, and not just going forward, but also in the past."

Rozzi, who said he was also a Catholic abuse victim, said the bill's purpose is to expose any sexual abuse perpetrator — including those preying on youth athletes — while providing victims an extended opportunity to seek justice.

"We have a right to justice," Rozzi said. "It is time for anybody in our way to get out of our way and open that door to justice."

Rozzi was joined by Phil Saviano, a leading activist within the Survivors Network of those Abused by Priests (SNAP), and Eric MacLeish, a Boston attorney who represented hundreds of victims abused by priests. Both were featured in "Spotlight." Several sexual abuse victims from Pennsylvania also spoke.

The abuse victims, who hail themselves as survivors, encouraged others to speak out in favor of the legislation. Crowley emphasized the unity he found with other victims and the healing he got from seeing his perpetrator held accountable.

"It wasn't about revenge; it wasn't about vengeance," Crowley said. "Every time my attorney sent me to a reporter ... I thought if I can help one person out there come forward and get some help — that's why I do it."