Man Sues Convicted, Defrocked Chicago Priest, Alleging Past Abuse
By Lauren Zumbach
Chicago Tribune
September 23, 2016

http://www.chicagotribune.com/news/local/breaking/ct-man-sues-convicted-defrocked-priest-alleging-past-abuse-20150612-story.html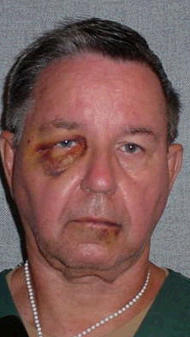 Norbert Maday, a former Chicago priest, faces new allegations of sexual abuse in a lawsuit filed against him June 12, 2015. (Wisconsin Department of Corrections)



A former Chicago priest is facing new allegations from a man who says the convicted, defrocked priest abused him as a boy, according to court records.

The lawsuit, filed Friday in Cook County court, claims Norbert Maday sexually abused the Cook County man, identified only as John Doe, when he was a student at St. Bede the Venerable in Chicago, starting in 1979 when Doe was a 10-year-old altar boy.

The three-count suit accuses Maday of battery, alleging he "engaged in the intentional, non-consensual, harmful and offensive touching and sexual abuse of Plaintiff on multiple occasions from 1979 to 1981," in Maday's bedroom and car and in the church sacristy.

The man also accuses the Catholic Bishop of Chicago and the Archdiocese of Chicago of negligence and willful and wanton misconduct, including failing to properly investigate reports of inappropriate sexual behavior or abuse by priests including Maday.

The suit also faults the archdiocese and Catholic Bishop with failing to report Maday when they knew or should have known about his sexual misconduct, with allowing Maday to have unsupervised contact with young boys and with not warning Doe and his family about Maday, according to the lawsuit.

The complaint states that in addition to the alleged sexual abuse, Maday engaged in "grossly inappropriate and offensive behavior toward minor boys," including having them sit on his lap while he drove his car, giving them alcohol, watching pornographic movies with them and setting up an electronic game system in his bedroom to lure boys there.

The lawsuit states Doe trusted Maday and did not realize what was happening at the time. He "repressed his memories" and was unaware of the alleged abuse until 2014, according to the suit, when he read records released by the archdiocese related to sexual abuse Maday committed as a priest.

Maday was one of 30 former priests with substantiated child abuse allegations included in confidential church documents released as part of a settlement in 2014.

Michelle Adamowski, spokeswoman for the archdiocese, said the archdiocese cannot comment on specific lawsuits but noted Maday is on the list of priests with substantiated allegations of sexual misconduct.

According to the archdiocese, Maday was placed on limited ministry with restrictions and monitoring in 1991, removed from public ministry the following year and defrocked in 2007.

He served part of a 20-year prison term in Wisconsin after being convicted in 1994 of molesting two boys during parish outings. According to Wisconsin authorities, Maday, 77, is a registered sex offender still living in Wisconsin.

"The Archdiocese of Chicago is committed to the help and healing of victims of abuse," Adamowski said.