Sexual Abuse Advocates and Attorneys Warn Archdiocese of New York Sexual Abuse Fund May Be Bait-and-switch
By Attorney Patrick Noaker
Noaker Law Firm
October 10, 2016

http://noakerlaw.com/sexual-abuse-advocates-and-attorneys-warn-archdiocese-of-new-york-sexual-abuse-fund-may-be-bait-and-switch/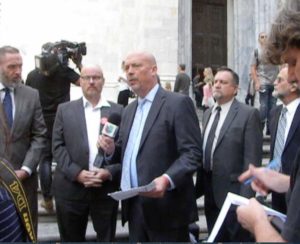 Attorneys Patrick Noaker Leander James and Jerry Kristal with Survivors Shaun Dougherty and Michael Meenan



At a press conference in front of St. Patrick's Cathedral in New York City, Sexual Abuse attorneys along with survivors of sexual abuse warned that Cardinal Timothy Dolan's recently proposed "Independent Reconciliation and Compensation Program" for those who have survived abuse by priests or deacons of the archdiocese, may be a bait-and-switch that could re-victimize survivors of abuse.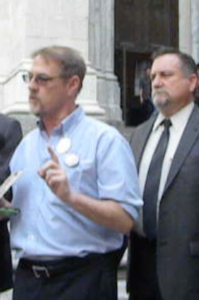 Survivor Advocate David Clohessy (left) and Attorney Leander James (right)



Survivor's Network of those Abused by Priests, national President, David Clohessy, urged survivors to use caution and to work with an experienced attorney before participating in Cardinal Timothy Dolan's new sexual abuse survivor compensation plan. "We are urging survivors to think long and hard before they march down to the Church headquarters under this plan" said Clohessy. Clohessy also proposed that Cardinal Dolan set up a whistleblower fund for current or former employees of the Archdiocese who report suspected child sexual abuse.

"It appears that Cardinal Dolan's compensation plan is the same bait-and-switch that he used in the Archdiocese of Milwaukee," said Minneapolis attorney Patrick Noaker. Noaker outlined then, Archbishop Dolan's Milwaukee plan that was the subject of dozens of claims of fraud by survivors who participated the Archdiocese of Milwaukee mediation process. Noaker specifically referred to the case of John Doe, Claimant A-49, where a survivor of sexual abuse by Fr. David Hanser sought to have the mediated settlement set aside because the Archdiocese of Milwaukee had fraudulently induced him to settle by giving him misleading information about when the Archdiocese first received reports of abuse by Fr. Hanser. See also Claimant A-282.

Noaker also expressed concern that the Milwaukee mediation resulted in very low compensation to abuse survivors. According to an Associated Press article dated July 5, 2013 indicates that the typical compensation paid to survivors was around $50,000 plus therapy costs.

Attorney Leander James agreed, "this protocol is a one-sided, non-negotiated protocol that doesn't look out for the best interests of the survivors." James' criticism is that the Cardinal's plan does not allow survivors to discover information about the perpetrator and how he or she was able to be in the position to abuse. "This information is critical to a survivor so that he or she is able to understand what happened, which is the first step toward recovering from the sexual abuse," James added.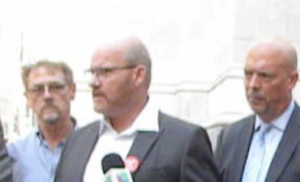 Center Survivor Shaun Dougherty "This is a little too little and a little too late." Left SNAP President David Clohessy, Right attorney Patrick Noaker



New York Survivor Shaun Dougherty, who is also a business owner and military veteran expressed frustration that it has taken the Archdiocese this long to acknowledge the damage that its clergy has inflicted upon Catholic children. "Someone should have called my mother in the 1980's and had this conversation with her then. This is far too little, far too late" said Dougherty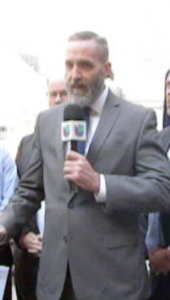 Survivor Michael Meenan



In addition, survivor Michael Meenan encouraged patience "I give Cardinal Dolan credit for recognizing the problem and at least putting on the table a possible solution. I also think that it is very important for us to listen to the veteran litigators and attorneys who have advocated for sexual abuse victims." Meenan continued "but let me be clear, there is a huge problem and something needs to be done to fix it."

About Patrick Noaker. Patrick Noaker is an attorney in Minneapolis, Minnesota who has represented hundreds of sexual abuse survivors in cases across the United States. Patrick is a member of the Million Dollar Advocates Forum for winning multiple jury trial verdicts exceeding $1M and for winning tens of millions more in settlements. Patrick can be reached by email at Patrick@noakerlaw.com , by telephone at (612) 349-2735, Facebook Like Noaker Law Firm or follow on Twitter @NoakerLaw.