Bergen Catholic Alumnus Says He Was Sexually Abused by Teacher in 1970s
By Melanie Anzidei
The Record
October 21, 2016

http://www.northjersey.com/news/bergen-catholic-alumnus-says-he-was-sexually-abused-by-teacher-in-1970s-1.1680607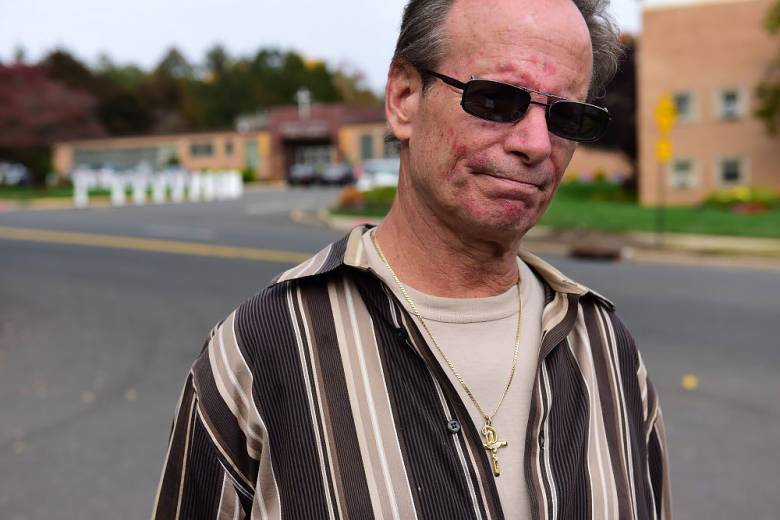 Walter Slapkowski, of Bogota, stands outside Bergen Catholic High School in Oradell on Thursday, Oct. 20, 2016.



A 1974 Bergen Catholic High School graduate came forward Thursday to share for the first time his account of being sexually abused by his chemistry teacher as a 13-year-old student, echoing public claims made by dozens of others who attended the school from the 1950s through 1970s.

Standing across the street from his alma mater in Oradell late Thursday morning, Walter Slapkowski, 59 of Bogota, shared in detail his recollection of the abuse he said he endured in after-school detention several decades ago.

Related: Advocates for alleged child sex abuse victims announce settlement with Bergen Catholic H.S.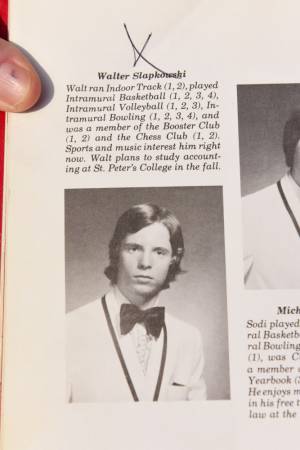 A photo of Walter Slapkowski as a senior from his Bergen Catholic High School yearbook.



He recalled how his chemistry teacher ordered him to detention for speaking in class. The detention, known as "jug" at the school, took a dark turn, Slapkowski said, when he was asked pull down his pants and underwear so he could be "disciplined."

"I was completely naked. He put me over his lap, and he started smacking me – and I mean hard," Slapkowski said.

"When he was done," he added, "he was completely on top of me. I couldn't scream. I couldn't tell anybody. I was so scared. I didn't know what to do. I was so scared."

Slapkowski said he kept the incident to himself. He avoided the teacher in the hallways, and quit the track team. He said he joined the bowling team instead because he could avoid being in the locker room. Though he didn't share his account with classmates, he said students knew to avoid the "chem. lab," where the teacher often could be found.

Slapkowski said he was abused only once at Bergen Catholic.

He eventually graduated from college and became an accountant. He married, but said he never told his ex-wife, to whom he was married for 13 years, what had happened to him. He had two children, and just last week told his 21-year-old son about what happened. Slapkowski said he suffers from panic attacks and depression, and has trouble with personal relationships. He said he can't go to a gym because he remains wary of locker rooms, and "freaks out" when his doctor asks him to drop his pants for an exam. He still goes to church, but said, "I look at priests and I think they're pedophiles. I shouldn't think that way."

Slapkowski said he didn't tell anyone about what happened until about six years ago, when child sexual abuse allegations against Jerry Sandusky, the longtime Penn State assistant football coach, first surfaced. Slapkowski said he confided at that time in his current girlfriend about what happened that afternoon in detention.

Slapkowski said he was motivated to go public with his account after news broke that others have endured similar abuse while at the school.

"He needs to stopped, because I'm sure he's still doing it," Slapkowski said of his alleged abuser. "This was '71.

In August, several of the former students who alleged that they had been victims of child sex abuse while they were enrolled at Bergen Catholic held a news conference outside the school, sharing stories similar to Slapkowski's account. At that time, they announced that the school had reached a $1.9 million settlement agreement with 21 alleged victims in November 2015.

Slapkowski is one of eight additional victims who have come forward since the settlement was made public, said Mitchell Garabedian, the Boston-based attorney representing the new alleged victims. Garabedian also represented seven of the people included in the 2015 settlement.

Given the number of people coming forward, "I wouldn't be surprised if hundreds upon hundreds of children were abused while at Bergen Catholic High School," Garabedian said in a telephone interview on Thursday. "The question remains, where were the supervisors and why weren't they protecting children from pedophiles?"

The school's principal, Timothy McElhinney, did not return a phone message on Thursday seeking comment about the new allegations.

Garabedian said the abuse against his eight clients took place between 1950 and 1975, while most were between the ages of 14 and 17. Slapkowski, who turns 60 on Oct. 31, said he was 13 at the time.

In an unrelated case in 2013, the North American Province of the Congregation of Christian Brothers, which runs Bergen Catholic and many other schools across North America, agreed to a $16.5 million settlement as part of a Chapter 11 bankruptcy reorganization in federal court. Officials with the order said they had filed for bankruptcy in 2011 because they were operating at a significant loss due to the legal costs related to the settlement of abuse cases.

Garabedian said he is representing his clients in eight separate claims, and recently filed an objection to the school's bankruptcy filing on behalf of his clients. He said he is looking into the statute of limitations to see if his clients could file a complaint against the school or their alleged abusers.

Slapkowski on Thursday was accompanied by Robert M. Hoatson, the co-founder and president of Road to Recovery Inc., an organization that assists victims of sexual abuse by members of the clergy.

"There was a real culture of sexual abuse here, and my guess is that they knew — somebody knew — and did nothing about it," said Hoatson, who was a victim of abuse himself.

"The fact there are seven more victims since August is indicative of the fact that there are many more out there who are suffering, and we hope they see this and the courage [shown] by Walter, and say it's time to break the silence and begin the healing process."

Email: anzidei@northjersey.com