Priest Back in Pulpit at St. John's
By Steve Jones
Rome Sentinel
December 23, 2016

http://romesentinel.com/rome/priest-back-in-pulpit-at-st-johns/QBqplw!tgE18FnKT2n834Y0hn0K1w/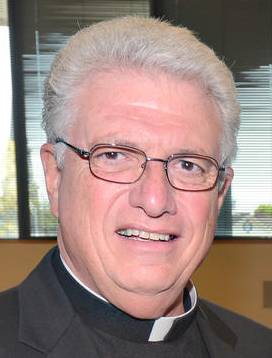 Rev. Paul F. Angelicchio



Staff writer

A Rome clergyman is back from a leave of absence after an allegation against him was deemed not credible by the Review Board of the Roman Catholic Diocese of Syracuse.

Most Rev. Robert J. Cunningham, bishop of Syracuse, announced that the Rev. Paul Angelicchio has returned to his post as pastor of St. John the Baptist and Transfiguration parish.

Rev. Angelicchio was placed on temporarily administrative leave on Nov. 21, due to an allegation of abuse of a minor. The alleged incident would have taken place 27 years ago, the diocese noted. The allegation was first made to the Onondaga County District Attorney's Office which later forwarded it to the diocese after its review. Onondaga County District Attorney William Fitzpatrick, in a recent interview, stated that his office found no proof or evidence of wrongdoing by Rev. Angelicchio, the diocese noted. "He added that he found nothing to back up the claim — no physical evidence, no crime, and no corroborating witness. Fitzpatrick said his office determined Angelicchio 'was not a clear and present danger to any minors,'" the diocese stated.

The Review Board is made up of six — four lay professionals, a member of the clergy and a religious — who have extensive backgrounds in areas related to child sexual abuse. Bishop Cunningham has accepted the Board's recommendation and has returned Rev. Angelicchio to active ministry, effective today.

"It is important to note that in keeping with the commitment made under the Charter for the Protection of Children and Young People of the United States Conference of Catholic Bishops, the Diocese of Syracuse must conduct a canonical (church law) investigation into any claim of sexual abuse once it has been reviewed by the appropriate District Attorney's office. The canonical investigation is forwarded to the Diocesan Review Board which then makes a recommendation to Bishop Cunningham as to the credibility of the claim in order to assess the accused's fitness for ministry," the diocese stated.

Bishop Cunningham expressed his gratitude for the assistance from the District Attorney's Office, the expertise of the Diocesan Review Board and the full cooperation of Rev. Angelicchio.

Angelicchio's return was greeted with applause today from parishioners, according to several members of the congregation, who added that large groups of parishioners held prayer groups in support of the priest since his temporary removal was announced.

Rev. Angelicchio is a native of Rome, a 1969 graduate of Rome Catholic High School. In 2011, he returned to the city as pastor of St. John the Baptist Church and Transfiguration Church. Previous to that he had been pastor of Our Lady of Pompei/St. Peter Church in Syracuse for eight years. In 1992, he was appointed pastor of Holy Family Church in Fairmont, Syracuse. Other assignments included parochial vicar at Our Lady of Pompei Church in Syracuse, part-time parochial vicar at St. Ann's Church in Manlius and part-time director of Corcoran Faith Center, director of Fowler/Corcoran Center and parochial vicar at Our Lady of Lourdes Church in Syracuse. From 1977 to 1999, he served as police chaplain for the City of Syracuse. He was ordained on May 7, 1977, and offered his first Mass at St. John the Baptist Church on May 8, 1977.