Baldwin City Priest Remains under Investigation after Allegations of Visiting Websites 'depicting Minors'
By Conrad Swanson
Lawrence Journal-World
December 29, 2016

http://www2.ljworld.com/news/2016/dec/29/fbi-baldwin-city-priest-remains-under-investigatio/

More than three months after a Catholic priest in Baldwin City was suspended due to allegations of inappropriate conduct, investigators are still looking into the matter.

FBI spokeswoman Bridget Patton said Thursday morning that the investigation into the activities of the priest, Chris Rossman, is ongoing. Because the case is still active, Patton said she could not release additional information.

Rossman, 44, was suspended from his position at both Annunciation Church in Baldwin City and the St. Francis of Assisi Church in Lapeer in September after the Archdiocese of Kansas City received a report that he had visited "inappropriate websites" that were "depicting minors."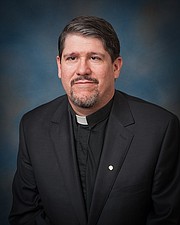 Father Chris Rossman



The Archdiocese did not say where the report came from, nor did it elaborate on the nature of the websites.

Rossman has not been arrested, nor has he been charged with any crime in Douglas County District Court. He does not have a criminal record in the district.

The Archdiocese said Rossman would be suspended "pending the outcome of investigations by law enforcement and the Archdiocese."

Rossman was ordained in 2007 and has held assignments in Olathe, Topeka, Holton, Mayetta and the Potawatomi Reservation. He began working in Baldwin City and Lapeer in July, 2015. The Lapeer church is southwest of Lawrence near Overbrook.

Archdiocese representatives said Rossman has never before been accused of inappropriate activity.