38m Sought in Suit against Former Priest
By Olivier Uyttebrouck
Albuquerque Journal
January 14, 2017

https://www.abqjournal.com/927727/38m-sought-in-suit-against-expriest.html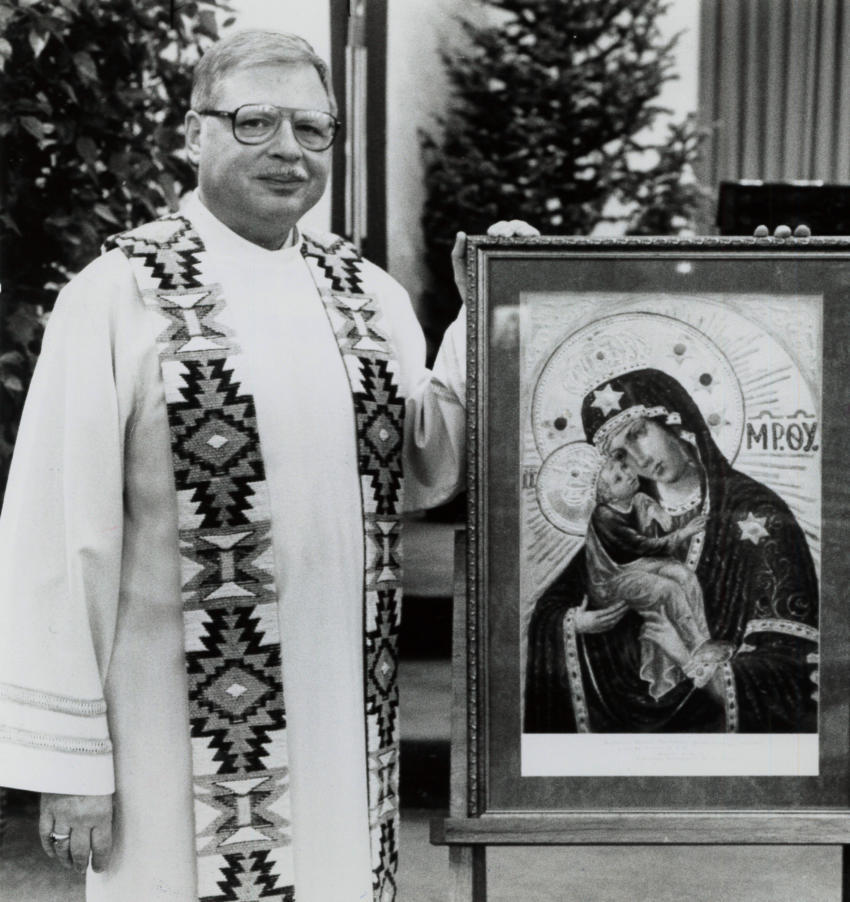 The Rev. Arthur Perrault is seen here in 1989 at St. Bernadette Parish in Albuquerque, where he is alleged to have abused 38 youths before vanishing in 1992.



A man who alleges he is one of 38 people sexually abused by a former Albuquerque priest asked a judge this week to order Arthur Perrault to pay $38 million in punitive damages, or $1 million for each of his alleged victims.

Kenneth Wolter, 35, who filed the civil lawsuit last year in 2nd Judicial District Court, testified Wednesday that he wanted to send a message to Perrault on behalf of the 38 known victims "and the silent people who haven't come forward."

Perrault, who vanished from his Albuquerque parish in 1992, turned up last year in Tangier, Morocco, working at an English-lauguage school for children. Perrault, who was absent from a hearing Wednesday, was fired in May when school officials learned of the allegations, the school's director has said.

District Judge Denise Barela Shepherd did not rule this week on Wolter's request for damages, but she found that Perrault had failed to properly respond to a civil complaint and summons served to him in Morocco in May. The Archdiocese of Santa Fe is not listed as a defendant in the lawsuit, which alleges a battery charge against Perrault.

Perrault's failure to respond, or to attend the hearing Wednesday, clears the way for Barela Shepherd to hand down a default judgment requested by Wolter's attorney, Brad Hall of Albuquerque.

The archdiocese said Friday that it lost contact with Perrault after he left the archdiocese, but recently contacted Moroccan authorities after he surfaced there.

"Recently, we were informed he was in Tangier, Morocco, so we informed the civil and church authorities in Tangier that Arthur Perrault is not in good standing with the Archdiocese of Santa Fe and that there have been numerous allegations in regards to inappropriate conduct with a minor," the Rev. John Daniel, vicar general of the archdiocese, said in a written statement.

The archdiocese works with civil authorities and has adopted a zero-tolerance policy to sexual abuse, Daniels said. It also requires all employees to be vetted, pass a background check and undergo safe-environment training, he said.

Wolter testified Wednesday that he was sexually abused by Perrault at least 40 times in the early 1990s when Wolter was 10 or 11 and served as an altar boy at St. Bernadette Parish, where Perrault was the pastor. An Albuquerque native now living in Detroit, Mich., Wolter said the abuse left him racked with severe depression and anxiety, requiring years of psychiatric therapy.

A timeline offered as evidence at the hearing alleges that Wolter was the last of Perrault's alleged 38 sexual abuse victims during the priest's tenure with the Archdiocese of Santa Fe, from 1967 to 1992. Court records show that 14 of those alleged victims filed lawsuits in the 1990s. Hall represents three others, including Wolter.

Hall said the names of the remaining 21 alleged victims were gleaned from court-sealed documents provided by the archdiocese in response to more than 60 lawsuits filed by Hall.