Australia's Oldest Catholic Boys" Boarding School to Formally Apologise to Sex Abuse Victims
By Gavin Coote
ABC News
January 20, 2017

http://www.abc.net.au/news/2017-01-20/bathurst-catholic-school-to-formally-apologise-over-sexual-abuse/8197290


St Stanislaus College in Bathurst is celebrating its 150th year. (ABC News: Gavin Coote)



Australia's oldest Catholic boys' boarding school is set to apologise to students who were sexually abused by staff during their time there.

St Stanislaus College in Bathurst has been at the centre of child abuse investigations for almost a decade, and a number of priests, chaplains and teachers have been convicted.

Towering over the historic New South Wales city, 'Stannies' as it is commonly known, takes students from some of the most remote and far-flung parts of the state.

But retired journalist Terry Jones, who lives in Bathurst, said it was not such a grand past for dozens of students who went there.

Mr Jones covered the investigations into former staff at the school from 2008, and the court cases which led to a number of former staff and priests being convicted.

Both he and his son are also former students at the school, which has notched up 150 years and will hold its first event tomorrow to mark the milestone.

"Those kids were sent there by their parents in very, very good faith and they were abused and some of them really badly abused, and their lives, they had no life after college, going to St Stanislaus," Mr Jones said.

"They're celebrating 150 years, right? Now that includes the period, 1974 to 1991, when there was obviously 27 years of abuse at St Stanislaus College."

But the school was now planning to make amends.

St Stanislaus to seek forgiveness

The Head of School, Dr Anne Wenham, said the school would make a formal public apology to all former students who were abused.

She said the school would do everything it could do to plan and organise, what it called a "liturgy of sorrow and hope", that could been seen as a public apology and to be seeking forgiveness.

"It is impossible for me to walk in the shoes of survivors, I can only listen and be sensitive to their response to that," Dr Wenham said.

"A public apology should at least be seeking forgiveness. A liturgy of sorrow expresses our sorrow and we would hope that it leads to some form of healing."

An event will be held in the second term of this year.

Other Catholic schools urged to follow suit

The head of the Catholic Church's Truth, Justice and Healing Council, Frances Sullivan, said it would be an important step in the healing process for victims.

"This is a dreadfully shameful history for the Catholic Church, including for the Catholic Church in Bathurst, that the community of Catholics feel that collective shame," Mr Sullivan said.

"The leadership that we're seeing in the principal of the school is the type of strong leadership that we need to see across the church, and I hope that it's replicated in other parts of Australia, in other Catholic school settings."

Dr Bernard Barrett from the victims support group Broken Rites said the planned apology was overdue.

"It's a turning point in the sense that it's now public and the school's been forced to acknowledge its dark history, so that's an improvement for the victims," Dr Barrett said.

"But it's a credit to those victims who actually reported those crimes to the police."

Calls for Royal Commission hearing in Bathurst

Mr Jones is pleased with the apology, but he feared a cloud would continue to hang over Bathurst unless the Royal Commission held a public hearing in the city.

The Royal Commission, which is due to report by December this year, is finalising its schedule of public hearings.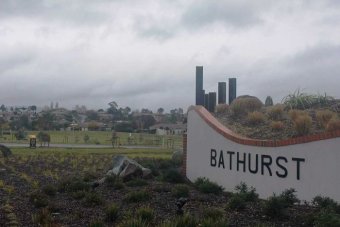 PHOTO: The Royal Commission says it is unlikely it will hold a public hearing in Bathurst. (ABC Central West: Gavin Coote)



In a statement, the commission said at this stage it was unlikely it would come to Bathurst.

"A significant consideration in deciding whether to hold a public hearing is whether there are ongoing criminal proceedings which could be prejudiced," the statement read.

"This is the case with respect to Bathurst and was a significant issue when deciding the Royal Commission's public hearing schedule."

Mr Jones said he was bitterly disappointed with this decision, and said Bathurst needed to be the focus of a hearing.

He said the city could not properly go forward as an educational hub without examining its past.

"I think that this commission has to turn over every grain of sand," Mr Jones said.

"It's one of the biggest education centres in the state. Bathurst needs to know."