10 Key Points from Hia Report
By Claire McNeilly
Belfast Telegraph
January 21, 2017

http://www.belfasttelegraph.co.uk/news/northern-ireland/10-key-points-from-hia-report-35384759.html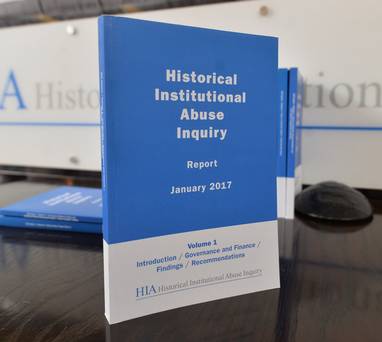 Retired High Court judge Sir Anthony Hart published his long awaited report into Historical Institutional Abuse in Northern Ireland



1. Tax-free lump sum payment to survivors of abuse, including in homes/institutions that were not covered by the HIA inquiry. The spouses or children of the 12 people who have died since giving evidence should receive 75% of the total lump sum. Sir Anthony said the minimum payout should be ?7,500 to anyone who was abused, including those who experienced a harsh environment, or who witnessed such abuse. An additional payment of ?20,000 would be made to anyone sent to Australia under a migrant scheme. An extra enhanced payment would be made to anyone who was more severely abused.

2. Hundreds of victims in Northern Ireland who suffered in state, church and charity-run homes should be offered a public apology from Government and the organisations involved. Sir Anthony said: "The inquiry also identified failings where institutions sought to protect their reputations and individuals against whom allegations were made, by failing to take any action at all, failing to report matters to, or deliberately misleading, the appropriate authorities and moving those against whom allegations were made to other locations."

3. Institutions where systemic failings happened may be asked to contribute to the compensation payments. Sir Anthony said the four-year inquiry found "evidence of systemic failings" in the institutions and homes it investigated. He said the organisations that ran the abusing homes should make a financial contribution to the Stormont Executive-run scheme.

4. There should be a permanent memorial erected for victims of historical abuse. The inquiry recommended that the "suitable physical memorial" should be erected in Parliament Buildings in Belfast or in the grounds of Stormont estate.

5. The Norbertine Order failed to take steps to expel paedophile priest Fr Brendan Smyth, who was eventually convicted of dozens of offences against children over a 40-year period. Also, the former head of the Catholic Church in Ireland, Cardinal Sean Brady, was part of an investigation which 'effectively silenced' one of his alleged victims. Smyth's crimes were ignored to protect the good name of the Church. He was not reported to police and this allowed him to continue his wrongdoing.

6. No credible evidence was found to show that the security services were complicit in exploitation of sex abuse at Kincora boys' home in east Belfast or that prominent Establishment individuals were involved. Sir Anthony said: "We believe it is now time to finally lay these unfounded myths to rest."

7. A scheme for sending child migrants from institutions to Australia after the Second World War was 'gravely defective' and lessons from previous similar operations were ignored.

8. Some individuals provided excellent care and in the last three decades up to the 1990s there was an improvement in physical conditions.

9. The Northern Ireland Executive should create a body called the Historical Institutional Abuse Inquiry Redress Board to receive and process claims and payments. The panel recommended that applications must be made within five years of the establishment of a HIA redress board.

10. A Commissioner for Survivors of Institutional Abuse should be established to help people to access records to enable them to apply for compensation to the HIA redress board. The provision of extra state funding to provide specialist care for victims was also recommended.