Sex Abuse Victims Had Waited 'lifetime' for Hart Report
By Gerry Moriarty
Irish Times
January 21, 2017

http://www.irishtimes.com/news/ireland/irish-news/sex-abuse-victims-had-waited-lifetime-for-hart-report-1.2945512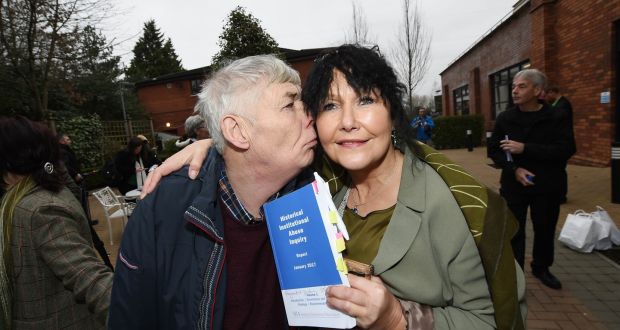 Margaret McGuckin is hugged by her brother Kevin, who was also abused, after the publication of the Historical Institutional Abuse report. Photograph: Charles McQuillan/Getty Images



"Unspeakable, unspeakable," was a quote Sir Anthony Hart, chairman of the Historical Institutional Abuse (HIA) inquiry, chose from one of the witnesses who gave evidence to his inquiry.

It was as good a description as any to use to try to characterise the dark nature of his 10-volume, 2,300-page exploration of the abuse suffered by hundreds of children in care homes throughout the North after partition from 1922 to 1995.

It almost goes without saying that the quote refers to serial sex abuser Fr Brendan Smyth. It came from fellow Norbertine priest Fr William Fitzgerald who had the measure of Smyth's paedophilia and made efforts to expose him, although he too failed to bring him to heel.

Fr Fitzgerald told the inquiry: " . . . the youngest victim of Brendan Smyth that I know of is 28 years of age. She is going to be around for another 60 years maybe or longer, and every day of her life the horrible spectre of that man will be in her mind and what he did.

"How can . . . how can anyone return anything to . . . I mean, like, give her ˆ100 million? It would do nothing to repair any damage that has been done to her. It's unspeakable, unspeakable."

Damning findings

It was an unfortunate day and an unfortunate period for the HIA report to be published. Clashing with US president Donald Trump's inauguration, Brexit and the political crisis in the North, Hart's damning findings might not get the attention they warrant.

Fitzgerald is correct: compensation will not wipe away the horror and hurt but at least it will help the victims in practical ways. Hart recommends redress payments of ?7,500 (ˆ8,700) to ?80,000 (ˆ92,500) for abuse victims, the amount depending on the severity of the abuse.

In addition, the 140 or so young children transported to Australia in a "gravely defective" project to settle them in new homes will be entitled to an additional ?20,000, meaning the maximum payments for some will be ?100,000.

The inquiry investigated five local authority homes, five juvenile justice institutions, two secular voluntary homes, nine Catholic homes and one Church of Ireland home, and found evidence of abuse at all 22.

That abuse ranged from sexual, physical and emotional abuse to neglect and "unacceptable practices". Not all such abuse occurred in all 22 homes but of the 22 there were 20 homes where there were "systemic failings".

Statements of apology

It took Hart almost 2? hours to read his statement at the Crowne Plaza Belfast hotel in the south of the city. Afterwards the victims bunched together in the garden at the rear of the hotel, led by two of their stalwart representatives, Margaret McGuckin and Jon McCourt.

McGuckin said she had waited a "lifetime" for such a report. "Today we are believed. As young children we tried to complain about our abuse and no one would listen," she said.

There were also statements of apology from bishops, priests and nuns and from the police.

The victims did not pay them much mind. McCourt said that the religious orders and "holy devout Christian people" had disbelieved and even bullied them. "Today we have been vindicated."

Hart and his fellow tribunal members, Geraldine Doherty and David Lane, want payments to be made as soon as practicable by the Northern Executive. However, as he noted, the collapse of Stormont will delay compensation to when the Executive and Assembly are re-established.

There is such political polarisation at the moment that it is difficult to predict when and if that will happen.

McCourt said Hart had listened and now the politicians had to listen. "We want the rest of the delivery of what the HIA report entails," he said. "Don't let us down now."

Perhaps the HIA report will act as a spur for the politicians to find accommodation?