Caldwell Appoints Marc Alexander To Lead Honolulu Housing Office
By Anita Hofschneider
Honolulu Civil Beat
February 07, 2017

http://www.civilbeat.org/2017/02/caldwell-appoints-marc-alexander-to-lead-honolulu-housing-office/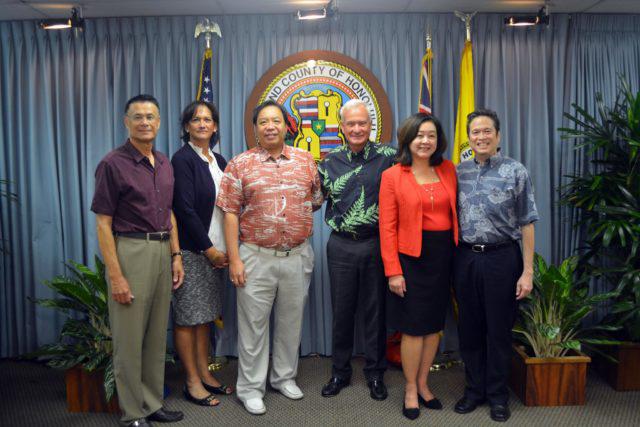 Honolulu Mayor Caldwell, fourth from left, stands with his second-term Cabinet appointees. Marc Alexander is at far right.
The man who left a state government job dealing with homelessness five years ago is now working for the city government on the same issue.
Honolulu Mayor Kirk Caldwell is hiring former state homeless director Marc Alexander to lead the city Office of Housing.
Caldwell named Alexander along with several other second-term Cabinet appointees in a press release late Tuesday.
Alexander, a former vicar general in the Catholic Church, was appointed by former Gov. Neil Abercrombie in 2011 to serve as state homeless director but resigned in 2012 when news leaked that he had an affair with a woman when he was serving at St. John Vianney parish in Kailua.
He was also accused in 2014 of sexually assaulting a minor who attended the church. The case was settled in 2016.
A press release from the city made no mention of Alexander's checkered past.
It instead singled out his work at the Hawaii Community Foundation for the past three years and previous employment at the Institute for Human Services, the governor's office and the Roman Catholic Diocese.
IHS is the state's largest homeless shelter, and Alexander was engaged in donor relations and community outreach.
He didn't respond to voicemails seeking comment on his appointment.
Alexander replaces Jun Yang, a former housing advocate with Faith Action for Community Equity.
Yang had been working on the city's Housing First programs and developing new affordable housing rules for large developments. The two-person office has an annual budget of $563,380.
Alexander's one of seven second-term Cabinet appointments announced Tuesday.
Wes Frysztacki, civil and traffic engineer, will be the new director of the Department of Transportation Services. He replaces Mike Formby, who is now chief of staff for Congresswoman Colleen Hanabusa. Jon Nouchi is the department's deputy director and previously worked at the Honolulu Authority for Rapid Transportation.
Sandra Pfund will lead the new Department of Land Management. She previously led the Office of Strategic Development within the managing director's office.
Susan Fernandez will serve as deputy director for the Department of Community Services. Gary Nakata will remain the department director.
Ed Hawkins, retired Air Force colonel, will lead the Office of Economic Development. He replaces Nicole Velasco.
Contact: anita@civilbeat.org