George Pell accusations sent to prosectors a second time
By Tessa Akerman
Australian
February 07, 2017

http://www.theaustralian.com.au/national-affairs/in-depth/royal-commission/george-pell-accusations-sent-to-prosectors-a-second-time/news-story/4c3b977c2fe0efad6a99c8876dc33543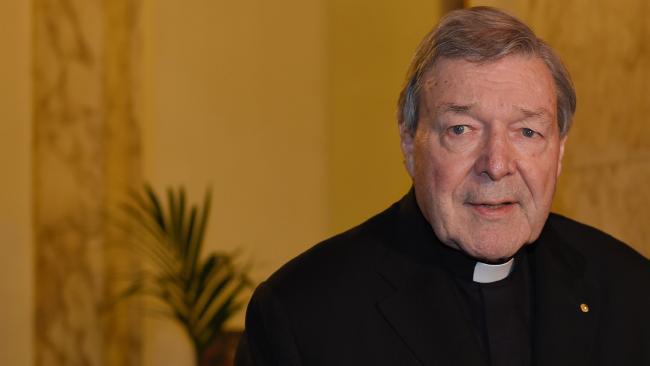 Cardinal George Pell in Rome.
Allegations of criminal misconduct against Cardinal George Pell have been sent to Victoria's Office of Public Prosecutions for a ­second time, The Australian can reveal.
Cardinal Pell, Australia's highest ranking Catholic, has been ­accused of sexual offences dating back to the 1970s but the child sex royal commission also heard submissions that he was made aware of allegations concerning pedophile priest Peter Searson in the Melbourne parish of Doveton but failed to take appropriate action to protect children from harm.
It is unclear from the police statement what the potential charges would relate to and Cardinal Pell has repeatedly denied any wrongdoing.
"Victoria Police investigators have delivered the brief to the ­Department of Public Prosecutions for consideration," a police spokeswoman said.
Sending a second brief to the DPP is significant because it comes after extensive investigations that arose after the first brief was sent back to police by prosecutors, leaving it up to the force to decide whether any charges would be laid.
Victoria Police previously sent a brief of evidence against Cardinal Pell to the Office of Public Prosecutions in July but it was returned by director John Champion without recommendations, effectively making it a decision for Victoria Police whether to lay charges against Cardinal Pell.
The Australian revealed in ­October that Cardinal Pell had engaged top criminal silk Robert Richter QC for advice after contested claims surfaced last year that he had assaulted children in his former hometown of Ballarat nearly 40 years ago, when he served as assistant parish priest.
The public claims made by two former St Alipius students at Ballarat — Lyndon Monument and Damian Dignan — were that Cardinal Pell touched their genitalia while playing in Ballarat's Eureka pool in 1978-1979, offences that were alleged to have occurred in front of others.
Cardinal Pell released a statement in July at the time of the airing of the allegations, rejecting all the allegations. "I bear no ill will and have no desire to cause them harm but what they say about me is not true," he said.
He called for an investigation to assess whether any actions of elements of the Victoria Police and ABC report amounted to a conspiracy to pervert the course of justice. The statement said Cardinal Pell had co-operated in the past and would continue to co-­operate through the proper and appropriate civil authorities. "I have done nothing wrong," he said.
Cardinal Pell gave evidence to the royal commission last March that he might have been told "in a non-specific way" of allegations of sexual misconduct against Searson and the implication was that they could not be sustained.
Cardinal Pell received a teachers' delegation in 1989 where he was presented with a list of grievances concerning Searson, including harassment of children, unnecessary use of children's ­toilets and cruelty to an animal in front of young children.
Cardinal Pell was an auxiliary bishop of the Melbourne archdiocese at the time and the Mentone parish priest.
Counsel assisting the commission Gail Furness SC made the submission that these matters and the sexual misconduct allegation "were sufficient that he ought reasonably have concluded that more serious action needed to be taken in relation to Searson".
Searson died in 2009 and was never charged with any offences in relation to sexual abuse of children, but there had been complaints he had sexually abused children, took a handgun to school and showed children a body in a coffin.
Before Cardinal Pell's appointment in Melbourne, he served as assistant parish priest in Ballarat East between 1973 and 1980. Ms Furness made the submission that it was plausible Cardinal Pell was informed by Ballarat schoolboy Timothy Green about 1974 that former Christian Brother Ted Dowlan was "touching little boys".
She submitted Cardinal Pell said "don't be ridiculous" and walked out of the Eureka Swimming Pool, as Mr Green told the royal commission.
Giving evidence in Rome, Cardinal Pell said a St Patrick's schoolboy who he described as a "good and honest lad" said something along the lines of "Dowlan is misbehaving with boys" but there were no specifics given about the activity or how serious it was.
"The boy wasn't asking me to do anything about it, but just ­lamenting and mentioning it," he said. "I mentioned it to the principal and he said the matter was being looked after, and I presumed that it was being looked after appropriately. Now, in the light of subsequent events, that was radically ­insufficient, but at that time that was regarded — given the unspecified nature of the accusations, I thought that was — well, that was something that was fair enough."
In October, three members of Victoria Police travelled to Rome to interview Cardinal Pell who participated voluntarily.
In another statement released by a spokeswoman for Cardinal Pell, he repeated his previous rejection of "all and every allegation of sexual abuse" and said he would continue to co-operate with Victoria Police until the investigation was finalised.
A Vatican representative last night said the cardinal again rejected the allegations and he would await any advice from the Office of Public Prosecutions. The office declined to comment.