Former Nm Priest Hit with $16m Judgment
By Olivier Uyttebrouck
Albuquerque Journal
February 17, 2017

https://www.abqjournal.com/952552/former-nm-priest-hit-with-16m-judgment.html

A judge handed down a $16 million judgment this week against a former New Mexico priest for failure to respond to a lawsuit filed by a man who alleges he was sexually abused by Arthur Perrault in the early 1990s.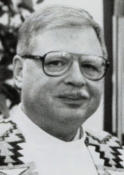 Arthur Perrault



Second Judicial District Judge Denise Barela-Shepherd handed down the default judgment Thursday after she found that Perrault had been properly served with the civil lawsuit, but failed to defend himself against the allegations.

She ordered Perrault to pay $1 million in damages and an additional $15 million in punitive damages. The Archdiocese of Santa Fe was not named as a defendant in the lawsuit.

Perrault, who vanished from his Albuquerque parish in 1992, was tracked last year to Tangiers, Morocco, where he was teaching at an English language school for children.

Perrault was fired in May when school officials learned of the allegations, the director of the American Language Center in Tangiers told the Journal .

Kenneth Wolter, 35, filed the civil lawsuit last year alleging he had been sexually abused by Perrault at least 40 times in the early 1990s. Wolter was 10 or 11 at the time, and serving as an altar boy at St. Bernadette Parish, where Perrault was the pastor.

Unknown is whether Wolter will be able to collect any portion of the $16 million judgment from Perrault, said Levi Monagle, one of three Albuquerque attorneys who represent Wolter.

"Money wasn't the point of this for us," Monagle said Friday. "Ken (Wolter) didn't do this for the money. The message made on behalf of the victims was Ken's main priority."

Wolter testified at a hearing in January that he wanted to send Perrault a message on behalf of his 38 known victims "and the silent people who haven't come forward."

He asked Barela-Shepherd to award a total of $38 million in damages, or $1 million for each alleged victim. Barela-Shepherd did not explain in her order why she handed down a $16 million judgment.

Perrault, 79, sent Barela-Shepherd a letter in November denying that he had abused Wolter, court records show. He also said that he had no assets and could not afford to hire an attorney, or to return to Albuquerque to attend the January hearing.

Perrault also told Barela-Shepherd that Journal articles about the case had been translated into Arabic and published by the Moroccan News Service.

Monagle said he planned to discuss with Wolter the possibility that some portion of the judgment could be recovered by garnishment of Perrault's pension income.

Perrault said in the letter that his taxable income in 2015 was $17,400, and that his largest source of income was a military pension from his tenure as a chaplain in the U.S. Air Force.