Priest Charged with Sex Assault of Child at Wauwatosa Parish
By Annysa Johnson
Milwaukee Journal Sentinel
February 23, 2017

http://www.jsonline.com/story/news/crime/2017/02/23/priest-charged-sex-assault-child-wauwatosa-parish/98292958/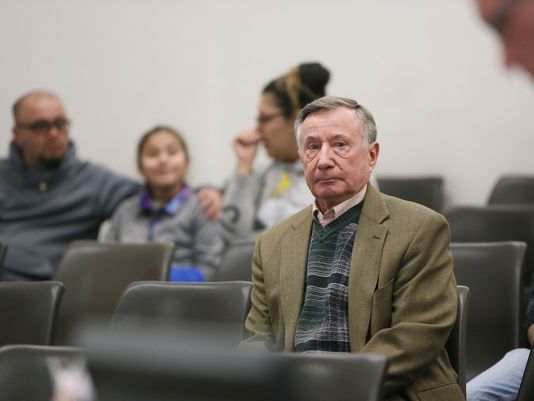 The Rev. Robert R. Marsicek, 75, who had been the subject of numerous complaints from parents over the years and escaped a criminal charge in 2013, appeared in Milwaukee Circuit Court on Thursday.



Four years after he was removed from ministry because of allegations of inappropriate contact with children, a Milwaukee priest has been charged with three counts of felony sexual assault of a child beginning when she was 6 years old.

The Rev. Robert R. Marsicek, 75, who had been the subject of numerous complaints from parents over the years and avoided a criminal charge in 2013, was charged Wednesday. Appearing in Milwaukee County Circuit Court on Thursday, Marsicek said he was worried about the victim.

He was released on a $50,000 personal recognizance bond and was ordered to have no contact with the victim or anyone under the age of 18.

According to a criminal complaint, Marsicek repeatedly touched the child while at Pius X Parish and school in Wauwatosa between 2007 and 2010. Among the incidents, she said Marsicek at one point laid on her and touched her breasts and at another reached under her jumper to "pat" her vagina.

Marsicek told detectives that the girl was clingy and liked to sit on his lap, and that he told her it was not acceptable. He said he did not remember the other details of her allegations. The complaint references similar incidents involving boys in California.

Asked if he was aroused by boys and young girls, Marsicek allegedly told detectives, "Certainly I'm aroused (by) just the cuteness and beauty of them," but not to the level that he would want to have sex with them.

Peter Isely of the advocacy group Survivors Network of those Abused by Priests lauded the courage of the victim, who is still a minor, and thanked the Wauwatosa Police Department and Milwaukee County district attorney's office for pursuing the charges.

Abuse victims had argued throughout the Archdiocese of Milwaukee's recently closed bankruptcy that there are likely other priests with credible allegations of sexual abuse in ministry. Isely said the case against Marsicek bolsters that position.

"There are almost 600 victim reports in the bankruptcy that are still sealed ... that include at least 100 never-before-ID'd names of alleged offenders," Isely said.

Archdiocese spokesman Jerry Topczewski referred questions to Marsicek's religious order, the Salvatorians, or Society of the Divine Savior. He reiterated the archdiocese's position that there are no abusive priests in ministry. Bishops grant religious order priests the "faculties," or authority, to serve in their jurisdictions, and he said Marsicek's were rescinded in 2013.

"No priest, diocesan or religious order, with a substantiated allegation of sexual abuse of a minor, can serve in any public ministry in the Archdiocese of Milwaukee," he said in an email.

The order's Milwaukee-based U.S. provincial, the Very Rev. Joseph Rodrigues issued a statement saying Marsicek had been under "strict supervision" since his removal in 2013. And he directed anyone with information or allegations to report them to the Wauwatosa Police Department at (414) 471-8430.

Marsicek was removed from ministry at St. Pius X Catholic Parish in Wauwatosa, Mother of Good Counsel Parish and School in Milwaukee and Wauwatosa Catholic School in 2013 after a teacher at Wauwatosa Catholic reported that Marsicek inappropriately touched a young girl. At the time, Marsicek maintained he was just being affectionate and that any inappropriate touching was inadvertent. Wauwatosa police sought criminal charges, but the Milwaukee County district attorney's office declined to file, saying it could not prove intent. Wauwatosa police investigated a second report in 2013 that also was not charged.

The latest case is unrelated to those.

Marsicek had a history of questionable contact with children during his 12 years at St. Pius X and had been counseled repeatedly by the archdiocese and the Salvatorians to stop touching them, according to documents obtained by police in 2013.

Two Milwaukee archbishops had been made aware of complaints over the years, Archbishop Jerome Listecki in 2012 and then-Archbishop Timothy Dolan, now cardinal of New York, in 2005. When the 2013 allegations emerged, both the Milwaukee archdiocese and Salvatorians had known since May 2012 that Marsicek was under investigation in Sacramento, Calif., on allegations of sexual abuse of a minor in the 1980s to '90s. But they allowed him to remain in ministry for 10 months while those claims were investigated. At the time, Topczewski dismissed Marsicek's incidents with children as "boundary issues."

Listecki suggested in a letter to local Catholics in 2013 that the church may have erred by not removing Marsicek earlier.

A Michigan native, Marsicek has served in parishes in Wisconsin, Arizona, Alabama and California.