Britain's Child Migrant Programme: Why 130,000 Children Were Shipped Abroad
By Caroline Davies
The Guardian
February 27, 2017

https://www.theguardian.com/society/2017/feb/27/britains-child-migrant-programme-why-130000-children-were-shipped-abroad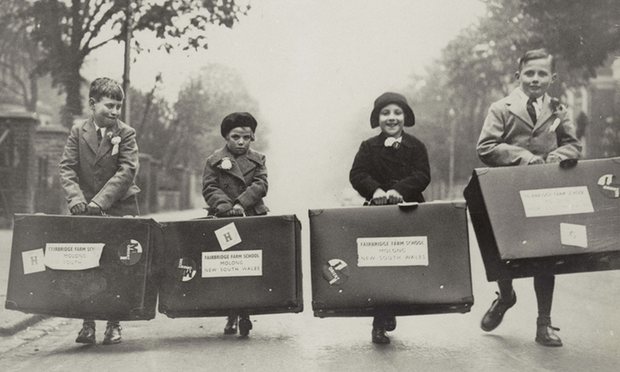 Four children carrying suitcases bearing Fairbridge farm school stickers – 215 former Fairbridge children successfully claimed for compensation over the treatment they suffered. Photograph: handout



More than 130,000 children were sent to a "better life" in former colonies, mainly Australia and Canada, from the 1920s to 1970s under the child migrant programme .

The children, aged between three and 14, were almost invariably from deprived backgrounds and already in some form of social or charitable care. It was believed, they would lead happier lives.

Charities such as Barnardo's and the Fairbridge Society, the Anglican and Catholic churches and local authorities helped with the organisation of the emigration.

Once there, the children were often told they were orphans to better facilitate their fresh start. The parents – many of them single mothers forced to give up their child for adoption because of poverty or social stigma – believed this was giving them best chance in life, though often did not have details of where their offspring were sent to.

The reality, for some of those children, was a childhood of servitude and hard labour at foster homes: on remote farms, at state-run orphanages and church-run institutions. They were often separated from siblings. Some were subjected to physical and sexual abuse.

In 2010, the then prime minister, Gordon Brown, issued an official apology, expressing regret for the "misguided" programme, and telling the Commons: "To all those former child migrants and their families … we are truly sorry. They were let down.

"We are sorry they were allowed to be sent away at the time when they were most vulnerable. We are sorry that instead of caring for them, this country turned its back". He announced a ?6m fund to reunite families that had been torn apart.

The last children sailed in 1967. But it is only recently, as their stories have been told, that details of the abuse, and the official sanction which made it possible, has become public. The Australian government issued an apology in 2009 for the cruelty shown to child migrants.

There were two aims to the child migrant programme: to ease the burden on UK orphanages; and to boost the populations of the colonies.

It was not until the early 1980s that Nottingham social worker Margaret Humphreys found out that there were former migrants in Australia who were just realising they might have living relatives in the UK. They had been told they were orphans. She has since dedicated her work to reuniting lost children with their families.

Allegations about the Fairbridge homes emerged after David Hill, a child migrant sent to the Fairbridge farm at Molong – who became chairman and managing director of the Australian Broadcasting Corporation, got together with other child migrants and highlighted beatings and abuse in his 2007 book The Forgotten Children and 2009 ABC documentary of the same name.

Successful claims for compensation on behalf of 215 former Fairbridge children, of whom 129 said they had been sexually abused, were made. The Australian royal commission on child abuse recently revealed 853 people had accused the Catholic order Christian Brothers, which also took in child migrants, of abuse.

In 1956, three British officials visited Australia on a fact-finding mission to inspect 26 institutions which took child migrants, and delivered back a fairly critical report, identifying issues such as lack of expertise in child care, and concerns of the remote rural locations. The report, however, made no mention of sexual or physical abuse. And the child migration continued.