New Ulm Bankruptcy Makes Minnesota No. 1 in Church Bankruptcies
By Rochelle Olson and Jean Hopfensperger
Minneapolis Star Tribune
March 3, 2017

http://www.startribune.com/new-ulm-diocese-files-for-bankruptcy-protection/415333274/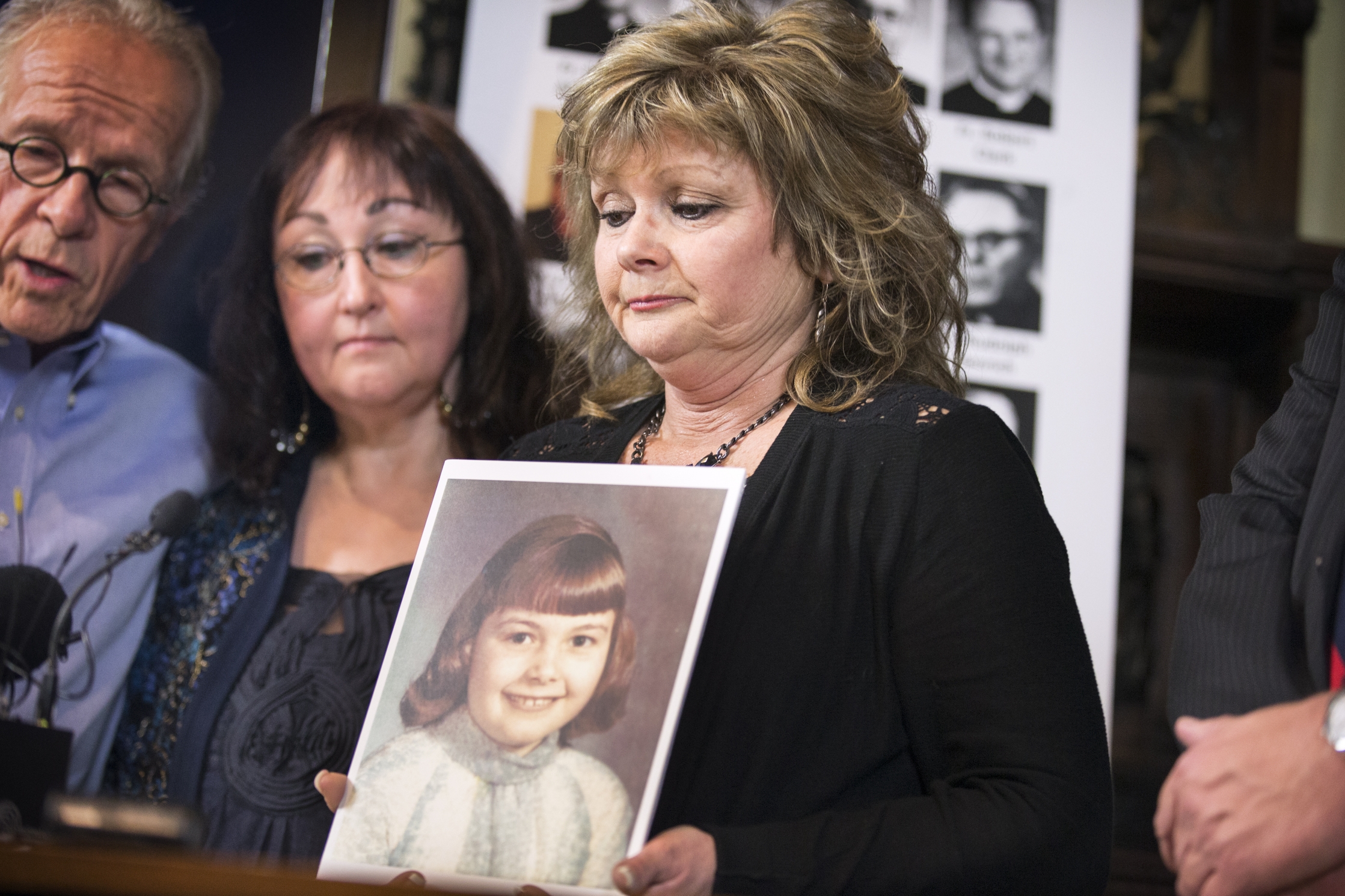 On March 29, 2016, in St. Paul, Kim Schmit, one of the victims of the Rev. David Roney, holds a photo of herself at the age when she was abused. Schmit was in grade school in 1968 when she was sexually assaulted in Willmar.



On March 29, 2016, in St. Paul, Kim Schmit, one of the victims of the Rev. David Roney, holds a photo of herself at the age when she was abused. Schmit was in grade school in 1968 when she was sexually assaulted in Willmar.

The Diocese of New Ulm became the third Minnesota Catholic institution to declare bankruptcy on Friday when it filed for Chapter 11 reorganization following a flood of clergy sex abuse claims.

No other state has witnessed three such bankruptcies. New Ulm follows the Duluth Diocese and the Archdiocese of St. Paul and Minneapolis, which filed for Chapter 11 in 2015.

Financial reorganization was the fairest way to address the matter after the diocese received 101 claims of child sex abuse in recent years, said New Ulm Bishop John LeVoir in a statement. "If we were to resolve the cases on a piecemeal basis, available diocese assets could be exhausted in the first few cases, leaving nothing for remaining claimants," LeVoir said.

A contributing factor was that "the insurance companies were playing hardball in the abuse cases," added Mike Finnegan, an attorney representing the abuse victims.

The claims were made under the 2013 Minnesota Child Victims Act, which opened a three-year window for plaintiffs to file older abuse claims previously barred by statutes of limitations. Across the state, more than 800 claims of child sex abuse by priests were filed before the window shut in 2016. That includes more than 400 in the Twin Cities archdiocese, about 125 in both the dioceses of Duluth and Winona, about 75 in the St. Cloud Diocese and about 20 in the Crookston Diocese, Finnegan said.

Consolidating all the claims under one judge and one court, apparently is being viewed in Minnesota as the best route for victims and the church. And it does not affect local churches and other Catholic institutions, as they are incorporated separately under Minnesota law, LeVoir said.

"It [Chapter 11] is a good vehicle," said Charles Zech, a professor of church finance at Villanova University in Pennsylvania. Without the bankruptcy process, "the court system works on a first come, first served basis. This allows dioceses to address all the victims at the same time."

It also prevents individual abuse cases from making their way to a courtroom, where potentially damaging church documents and testimony could be made public, he said.

Survivors relieved

For Minnesotans who were sexually abused as children in the New Ulm diocese, the bankruptcy filing was a sign that the diocese "was done playing legal games," said Bob Schwiderski, a longtime leader of Minnesota's survivor community, who was abused in the diocese.

"This means the target finally stops moving," said Schwiderski, referring to the ongoing legal proceedings. "That roadblock to healing is eliminated."

Schwiderski was sexually abused as a boy in the early 1960s by the late Rev. William Marks — a repeat abuser who was not publicly identified by the diocese until 2014. Other victims of Marks are among those who have filed claims against the diocese, he said.

New Ulm is the 14th diocese or archdiocese in the nation to declare bankruptcy, according to Bishop's Accountability, a national clearinghouse and internet archive of clergy abuse documents. Terry McKieran, president of the organization, said he wasn't too surprised that Minnesota holds three of the 14 slots.

Minnesota is one of only four states to approve a temporary legal window for filing older abuse claims, said Marci Hamilton, a legal scholar at the University of Pennsylvania. Similar legislation is pending in five other states. Minnesota also is the only state that approved a three-year window for filing claims. The others were shorter.

Also, the St. Paul archdiocese bankruptcy, in January of 2015, opened the doors to others, McKiernan said. Dioceses are "interconnected," he said, and share common problems and solutions.

The New Ulm Diocese, in south-central Minnesota, is home to about 60,000 Catholics served by 75 parishes in 15 counties. In his online statements, LeVoir stressed that the reorganization should not affect local Catholics, and that the "diocese will remain steadfast in carrying out the mission of the church."

"Financial reorganization is a step toward the future — a future that I pray brings healing for victims and survivors, as well as renewed hope for parishioners and our communities," LeVoir said. "In this difficult time, I once again extend my deepest apologies for those sexually abused by clergy. It takes great courage to come forward to share your experiences. You deserve not only our compassion, but also fair compensation to help you in your healing."