Court finds probable cause in case against former St. Pius priest
By Chris Barlow
Wauwatosa Now
March 14, 2017

http://www.wauwatosanow.com/story/news/2017/03/14/court-finds-probable-cause-case-against-former-st-pius-priest/99159880/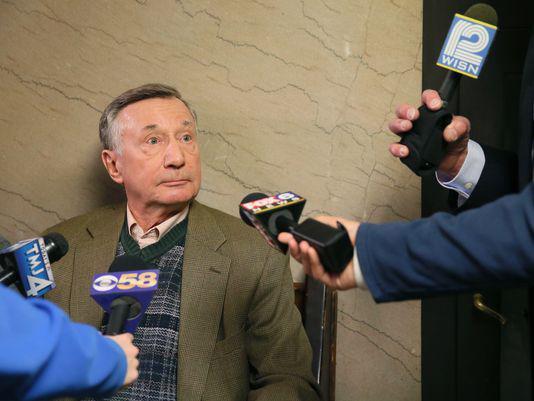 February 23, 2017 the Rev. Robert R. Marsicek, 75, appeared in out-of-custody intake court with his lawyer. This was when media questioned him in the hall before he entered the courtroom.
Photo by Michael Sears
The case against Robert Marsicek will continue after a Milwaukee County judge ruled that there is probable cause to move the proceedings forward.
The former St. Pius Church and School priest known as "Father Bob" is accused of three counts of felony first-degree sexual assault of a child. He appeared before a judge as part of a preliminary hearing at the Milwaukee County Courthouse March 6.
The church and school are located at 2520 Wauwatosa Ave.
Marsicek is now scheduled for an arraignment March 23. At this stage the defense has several options to consider, including settling on a plea agreement with the DA's office, asking for another status like an adjournment, requesting a substitute judge, or asking for more time to discuss the case with Marsicek.
At the preliminary hearing, Milwaukee County Assistant District Attorney Kevin Shomin appeared for the state. LeBell and the defense team made a motion to dismiss, which was denied by the court when they found probable cause to continue. Shomin said the motion to dismiss is often done at this stage of any case.
Several items pertaining to out-of-state issues were stricken from the complaint for the preliminary hearing stage but may or may not be a part of future court appearances.
Detective James Donovan from the Wauwatosa Police Department filed the criminal complaint and appeared on behalf of the state. The complaint said on Dec. 2 Donovan met with a now 15-year-old girl to discuss allegations that she was sexually assaulted by Marsicek when she was in the first through fourth grades at St. Pius X Grade School.
The complaint lists Marsicek's address as 1735 Hi Mount Blvd. in Milwaukee, which is also the address of the Salvatorians, a branch of the Archdiocese of Milwaukee. The Salvatorians are a Catholic religious community and its members are Salvatorian priests and brothers.
The Salvatorians confirmed that Marsicek is living at their community in Milwaukee and has been there since being placed on "administrative duty" in 2013 following a complaint against him by a different accuser than the one in the current case. In an incident report filed by the Wauwatosa Police Department March 27, 2013, Officer Tracy Burbach investigated Marsicek but the DA's office reviewed the complaint and did not find sufficient evidence to bring forth charges.
Contact: christopher.barlow@jrn.com