At sex abuse trial, St. Louis archbishop says he was unaware of priest's sleepovers
By Joel Currier
St. Louis Post-Dispatch
April 4, 2017

http://www.stltoday.com/news/local/crime-and-courts/at-sex-abuse-trial-st-louis-archbishop-says-he-was/article_e80ab6d2-4b83-5303-b2fc-e7a5b9d23f1c.html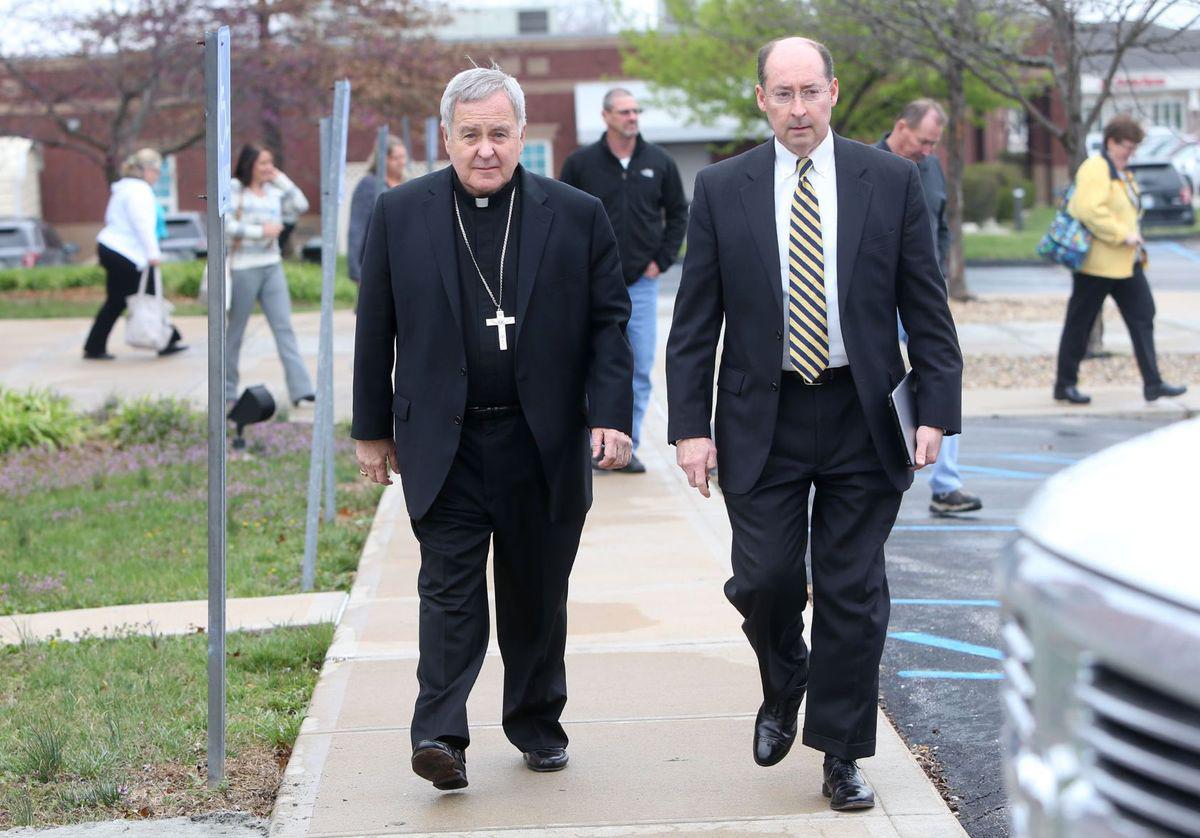 St. Louis Archbishop Robert Carlson walks out of the Lincoln County Justice Center in Troy, Mo., on Wednesday, March 29, 2017. The Rev. Xiu Hui "Joseph" Jiang, 31, is facing a civil suit in which he is accused of molesting a 16-year-old girl.
Photo by Laurie Skrivan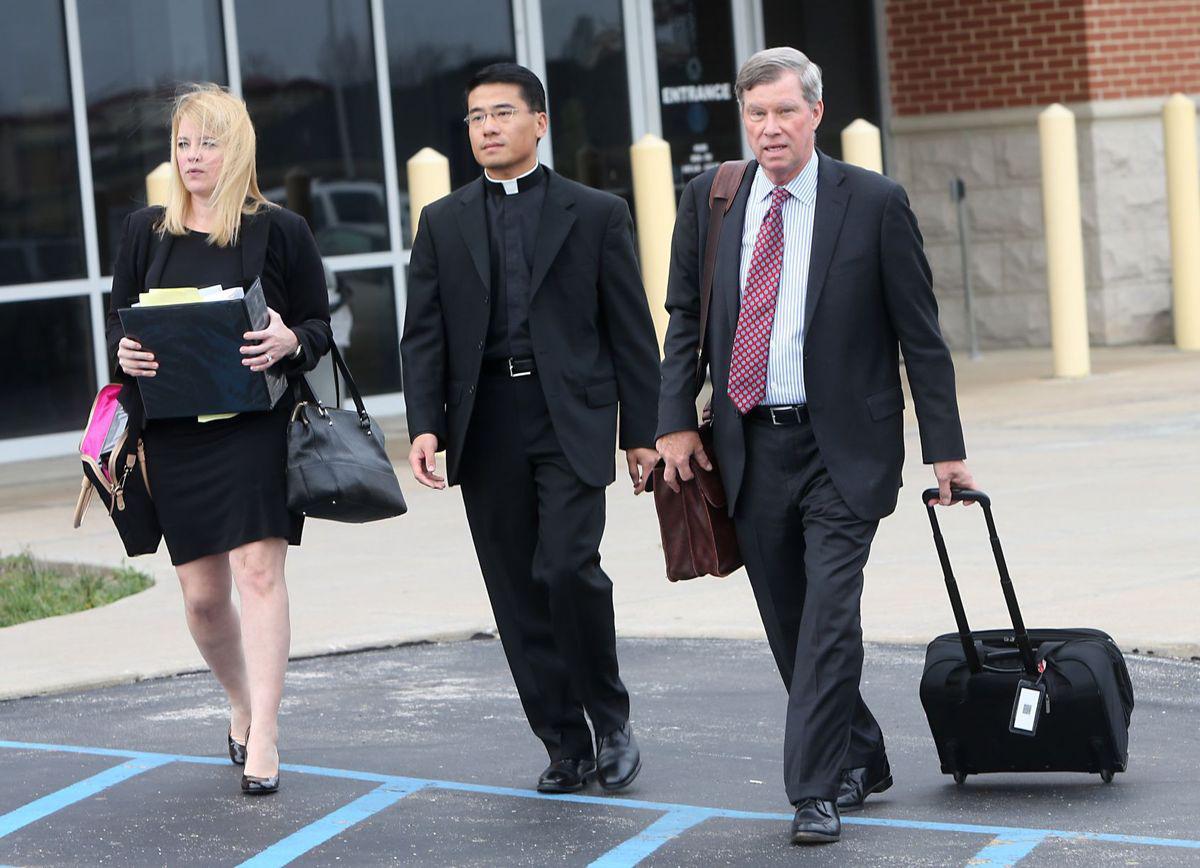 Rev. Xiu Hui "Joseph" Jiang, 31, leaves the Lincoln County Justice Center in Troy, Mo., on Wednesday, March 29, 2017, with his lawyers Ryann Carmody (left) and her father Gerard Carmody. Jiang, 31, is on trial in a civil suit in which he is accused of molesting a 16-year-old girl.
Photo by Laurie Skrivan
TROY, MO. • St. Louis Archbishop Robert Carlson testified Monday he told the Rev. Xiu Hui "Joseph" Jiang to counsel a Lincoln County family about their participation in a rogue nun's religious rituals but that he didn't know the priest sometimes slept overnight at the family's home.
"I certainly would be concerned about it," Carlson said, if he had known about Jiang's sleepovers at the time.
Carlson was the first to testify in the second week of a civil trial accusing Jiang of molesting a teenager at her family's Old Monroe home in June 2012 and leaving a $20,000 check as hush money. Carlson said Jiang called him from the airport awaiting a flight to China and said he kissed the girl but did not have sex with her.
"He was hysterical," Carlson said. "He said, 'They're trying to take my priesthood away from me.'" Carlson told Jiang not to flee to China, where he grew up, if all he did was kiss her.
In testimony last week, Jiang, 31, denied all allegations of inappropriate contact with the teen.
She is now 21 and a college student in the St. Louis area. She and her parents sued Jiang and the St. Louis Archdiocese in 2013, claiming the church should have known the cleric was a danger to children. The trial in Lincoln County is scheduled to wrap up by Friday.
Jiang came to St. Louis at age 20 after escaping religious oppression in China. He served as a deacon in Saginaw, Mich., when Carlson was bishop there, was ordained in St. Louis on May 29, 2010, and became an associate pastor at the St. Louis Cathedral Basilica in the Central West End.
Carlson, who was dismissed from the suit before the trial began, testified Monday that he knew Jiang met the family at the Basilica and assumed the spiritual contact would happen at the cathedral.
The family has testified that they considered Jiang their "brother," discussed adopting him and gave him a key to their house. The family was in need of healing after cutting ties with a nun. Part of that process included confession with Jiang, prayer, Mass at home and physical affection that included hugging and cuddling with the girl and her younger sisters, according to testimony.
The nun Carlson deemed illegitimate has been identified in court as Sister Jennie Spin, who held rituals with the family — also called exorcisms, deliverances or anointings — to eradicate sins. The accuser said the rituals included screaming, squeezing her neck and pressing on her chest and back to "vomit out" evil spirits. According to court testimony, Spin also claimed to have visions of sex abuse within the family, pressured the girls' mother to quit her church job, and the family to leave its parish, stop celebrating Halloween and not to have a Christmas tree.
Spin, 62, of Morgan County, Mo., could not be reached for comment Monday.
Spin had accused Jiang in 2011 of offering to baby-sit the teen and her sisters, a violation of Canon Law, Carlson said. He said he met with Jiang about it, and Jiang "put his hand on the Bible and said 'as God is my judge, the answer is no.'" Carlson said he didn't investigate the claim further because he believed Jiang and thought the nun's accusation was suspect.
Carlson testified that the church conducts background checks and gives training on prevention and warning signs of child abuse to those who come in contact with children. He said a psychological evaluation of Jiang shortly after he arrived in the United States was narrow because of his limited English; he didn't remember if Jiang's file included documentation from his life in China but that "we couldn't give much credibility to anything from the Chinese government."
The accuser's father testified Monday that Jiang once offered to baby-sit the girls at the cathedral rectory. The father said Jiang later confessed to fondling his oldest daughter — with the priest going so far as demonstrating with his hands how he engaged in the act.
"He got down on his knees in my driveway and begged for forgiveness," the teen's father said.