Jury Rules in Favor of Priest
By Megan Myers
Lincoln County Journal
April 13, 2017

http://www.lincolncountyjournal.com/jury-rules-in-favor-of-priest/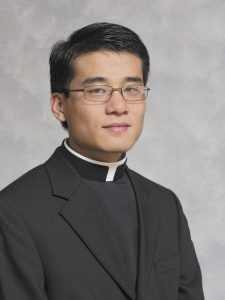 Father Xui Hui "Joseph" Jiang



An emotional scene unfolded inside a Lincoln County courtroom Thursday, after a jury ruled in favor of a Catholic priest who had been accused of sexually abusing a minor.

The jury deliberated for about two hours before reaching their decision.

No punitive damages were awarded to the plaintiff in the civil suit on either counts of sex assault or battery.

The female accuser, who lived in Old Monroe during the time of the alleged abuse, left the room in tears after the verdict was read by St. Louis judge Steven Ohmer.

Her family and legal team joined her outside the courtroom, where they declined to comment on the ruling.

The accused priest, Father Xui Hui "Joseph" Jiang, also reacted emotionally when the verdict was read. He collapsed into the arms of his defense counsel and sobbed loudly.

The civil suit against Jiang was filed in 2013, after criminal charges were dismissed by Lincoln County Presiding Judge Chris Kunza Mennemeyer. The plaintiff had also named St. Louis Archbishop Robert Carlson and the archdiocese as defendants for failing to supervise Jiang and effectively prevent the alleged abuse.

But the jury ruled Thursday that neither Carlson nor the archdiocese were liable on those counts.

Jiang, originally from China, had been working as a priest at the Cathedral Basilica in St. Louis in 2011, where the plaintiff's family was attending church.

According to court documents, Jiang became close to the family and visited their home in Old Monroe frequently.

It was there that lead attorney for the plaintiff, Nicole Gorovsky, said Jiang had molested the teen while the two were stting together underneath a blanket on the family's couch.

But defense attorneys argued that the alleged abuse was improbable given that the girl's parents and siblings were sitting close by in the same room at the time.

Jiang had also been accused of kissing the teen on several occasions, and exchanged text messages and e-mails with her that were sexual in nature.

The woman's parents claimed that Jiang had confessed to the abuse and left a $20,000 check on their van before attempting to flee back to his native China.

But lead defense attorney Gerard Noce said Jiang had confessed to Carlson in a telephone conversation about kissing the girl, but nothing more. Noce said the $20,000 check that Jiang had left the family was intended for their use as a down payment on a new house, which the family had requested from him earlier.

Ohmer praised the jury for their patience and participation during the nearly two-week long trial.

"This was a very contentious case, and both parties needed resolution," he said.