NEW: Ethics Commission Finds Probable Cause Flaherty Violated RI Ethics Code
GoLocalProv
April 25, 2017

http://www.golocalprov.com/news/new-ethics-commission-finds-probable-cause-flaherty-violated-ri-ethics-code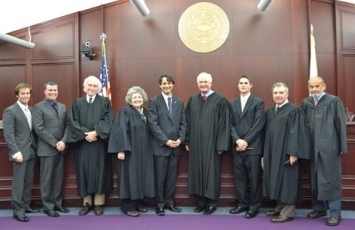 The RI Ethics Commission voted 5-2 Tuesday that Supreme Court Justice Francis Flaherty violated state ethics code.
The Rhode Island Ethics Commission on Tuesday found probable cause that Supreme Court Justice Francis X. Flaherty violated state ethics code by failing to disclose that he was the President of a Catholic non-profit in Rhode Island for five years.
Flaherty had served as President of the St. Thomas More Society of Rhode Island, whose mission is to encourage Catholic lawyers to apply Christian principles to modern problems.
Ethics Complaint
A complaint had been brought against Flaherty in September by Helen Hyde, a former Rhode Island resident currently living in Connecticut, who had a sexual abuse case before the Rhode Island Supreme Court - under Flaherty - involving Roman Catholic priest Brendan Smyth.
Smyth had been convicted of hundreds of indecent assaults against children in native Ireland. Smyth died in prison in Ireland in 1997.
The Commission voted 5 to 2 on Tuesday, with Douglas Bennett, Ross Cheit, Timothy Murphy, Marisa Quinn, Robert Salk voting in the affirmative. Voting against were Mark Heffner and M. Therese Antone.