Former Catholic Pastor Pleads Guilty to Child Porn, Gets 4-year Sentence
By George Houde
Chicago Tribune
April 27, 2017

http://www.chicagotribune.com/suburbs/arlington-heights/news/ct-priest-child-porn-met-20170427-story.html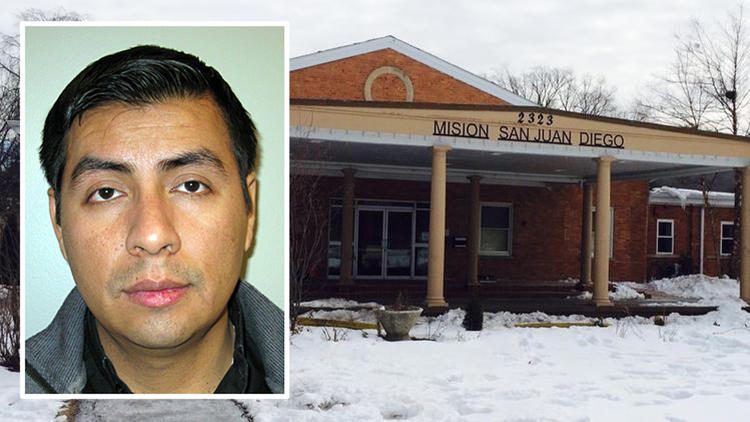 The Rev. Clovis Javier Vilchez-Parra, inset, and Mision San Juan Diego Catholic church in Arlington Heights. (Palatine Police Department; John Keilman, Chicago Tribune)



A former associate pastor at an Arlington Heights church was sentenced to four years in prison Thursday for distributing child pornography, according to court records.

Clovis Vilchez-Parra, 36, also was ordered to register as a sex offender after pleading guilty to the charge during a hearing in Cook County's Rolling Meadows branch court. Numerous other pornography charges were dropped in exchange for his plea.

Vilchez-Parra was a priest at the Mision San Juan Diego Catholic Church at the time of his arrest in 2015 by police in Palatine, where he lived in housing provided by the Archdiocese of Chicago, authorities said.

Prosecutors said Vilchez-Parra used computer file-sharing software to locate, download and distribute pornographic images of children younger than 13. The computer activity was traced by the Internet Crimes Against Children Task Force, prosecutors said. Authorities obtained a search warrant and found the images on a laptop computer and a flash drive at his residence, prosecutors said.

After his arrest, the archdiocese said in a statement, Vilchez-Parra was withdrawn from ministry "pending the resolution of this matter."

A native of Peru, Vilchez-Parra came to the U.S. in 2007 and worked at Our Lady of Mercy in Chicago before going to Mision San Juan Diego, where he had been associate pastor for 18 months.

Judge James Karahalios gave Vilchez-Parra 460 days credit for time served on electronic monitoring.