Man Alleging He Was Raped by Central Catholic Teacher Hired Renowned Sex-abuse Lawyer
By Robert Mills
Lowell Sun
May 1, 2017

http://www.lowellsun.com/breakingnews/ci_30958745/man-alleging-he-was-raped-by-central-catholic

[with video]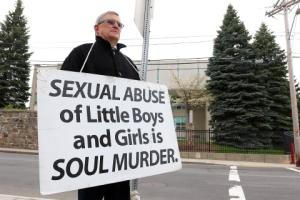 Robert Hoatson, co-founder and president of Road to Recovery, protested outside Central Catholic High School in Lawrence against the alleged abuse of students. SUN/JOHN LOVE



Well-known Boston attorney Mitchell Garabedian, who played a major role in exposing the Catholic Church sex scandal, is now working with a client who alleges he was sexually abused by four Marist Brothers at Central Catholic High School in the 1960s.

The allegations were announced Monday, less than a week after allegations of inappropriate behavior by two administrators and a teacher rocked the school.

Garabedian said he was contacted over a week ago by a man in his 60s who alleges he was sexually abused by four Marist Brothers in the school when he was 14 and 15 years old.

That client, whose name and hometown Garabedian declined to share, also says he was sexually abused by the late Rev. Paul Rynne at St. Patrick's parish in Lawrence. Rynne, who died in 2004, previously faced accusations that he sexually abused boys at parishes in Plymouth and Brockton.

"We're preparing my client's case so we can notify the Archdiocese of Boston and the Marist Brothers of the sexual abuse and take appropriate action from there," Garabedian said.

Garabedian said his client notified the principal of Central Catholic of the abuse allegations during his senior year, but that his client was simply moved out of a class taught by one of his abusers.

"No further action was taken," Garabedian said. "Once again we have a cover up by the Catholic Church.

Robert Hoatson, a former priest and Catholic high-school principal who left the church after speaking out about the sexual-abuse scandal in New Jersey more than a decade ago, held a press conference regarding the new allegations Monday outside the school.

Hoatson, who co-founded Road to Recovery Inc., a New Jersey-based nonprofit group that assists victims of sexual abuse, said Garabedian asked his organization to help provide services to his client.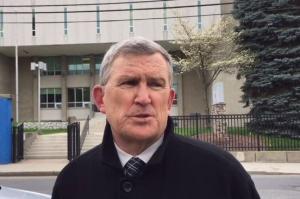 Robert Hoatson, a former priest and Catholic high-school principal, who co-founded Road to Recovery In.



Hoatson said he expects more victims to come forward now that allegations involving the school are coming to light.

"I expect that more will be calling us," Hoatson said.

Hoatson said Garabedian's client claims he was abused inside Central Catholic by Brother Michael Edward, a former athletic trainer and teacher; Brother Xavier Leonard Boulanger, a former teacher; and two other brothers whose full names were not released. Edward and Boulanger both faced previous sexual-abuse allegations as well; both are dead.

"It's very common that most people don't come forward until years or decades after," Hoatson said.

Garabedian also said more victims may come forward now that one alleged victim has spoken out.

"I would not be surprised if more victims come forward because of a pedophile's tendency to sexually molest as many children as they can," Garabedian said.

Andrew Nikonchuk, 36, of Lowell, was fired last week from his administrative job at the school for violating school policies regarding "appropriate social boundaries between students and faculty."

Nikonchuk is also under investigation by Lowell police and the Middlesex District Attorney's Office after a former student at the school alleged in a Facebook post that he was drugged and raped by Nikonchuk while he was a student at the school 11 years ago.

That man alleged he spent a night at Nikonchuk's home drinking, smoking marijuana and playing video games before Nikonchuk gave him a Powerade that caused him to blackout.

Hoatson said his organization has already heard from people with connections to the school who allege that Nikonchuk would frequently spend time with students outside of school.

Hoatson said he has not been contacted by the man who accused Nikonchuk of rape.

Meanwhile, two other Central Catholic staff members are on administrative leave from the school as their actions are investigated in connection with separate matters.

Richard Nault, the dean of students and basketball coach, is on leave for allegedly sending inappropriate private messages to a former student.

And social-studies teacher John Housianitis was placed on leave last week for allegedly posting compromising photos of himself online, according to the Eagle-Tribune.

Terrence Donilon, a spokesman for the Archdiocese of Boston, referred questions regarding the Marist Brothers and Central Catholic to the school and brotherhood. He declined to comment on the allegations regarding Rev. Rynne because the Archdiocese does not comment on potential or pending litigation.

Central Catholic is an independent school overseen by the Marist Brothers, and is not overseen by the archdiocese.

David DeFillippo, a spokesman for the school, did not return messages seeking comment on the investigations or the allegations now being made by Garabedian's client.

Officials at the Marist Brothers United States Province did not return a message seeking comment.

Contact: rmills@lowellsun.com