Former SF Archbishop George Niederauer Dies at 80
By Steve Rubenstein
SFGate
May 2, 2017

http://www.sfgate.com/news/article/Former-SF-Archbishop-George-Niederauer-dies-at-80-11116567.php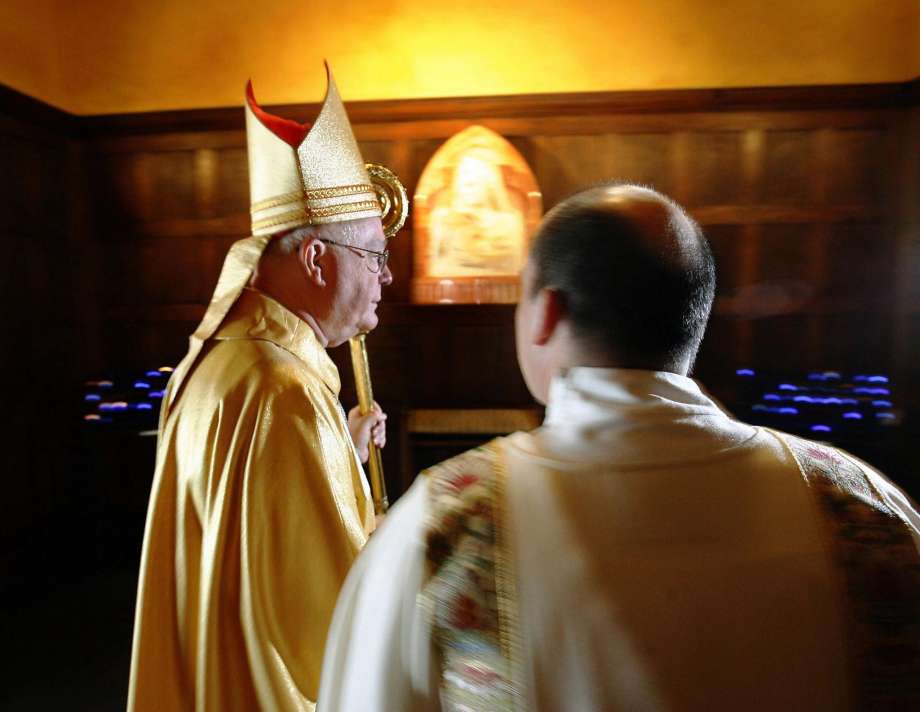 Bishop George Niederauer is illuminated by camera flashes as he makes his way to the sanctuary in his farewell mass in Salt Lake City before coming to San Francisco in 2006.



Archbishop George Niederauer, the eighth archbishop of San Francisco and a leader in the contentious 2008 battle to pass Proposition 8 that banned same-sex marriage in California, has died.

Archbishop Niederauer died Tuesday of lung disease at Nazareth House, a Catholic senior care facility in San Rafael, at the age of 80.

"Religious leaders have the constitutional right to speak out on issues of public policy," Archbishop Niederauer wrote a month after the closely fought measure passed on a 52-to-48 percent vote. "Catholic bishops have a responsibility to teach the faith, and our beliefs about marriage and family are part of this faith."

The archbishop was praised by parishioners and criticized by opponents for his passionate backing of the ban and for persuading leaders of the Mormon church to join the Prop. 8 campaign and to donate $20 million to its passage.

After that most divisive campaign that drove a wedge within families, voters, congregations and fellow clergy, Archbishop Niederauer declared: "Tolerance, respect and trust often do not include agreement, or even approval.

"We need to stop hurling names like 'bigot' and 'pervert' at each other. And we need to stop it now," the archbishop said.

The same-sex marriage ban backed by the archbishop remained on the books in California until a federal court overturned it in 2010, a decision upheld by the U.S. Supreme Court in 2013.

The archbishop, praised by colleagues for his devotion, service and spirituality, spoke boldly at the time of his 2005 appointment in support of gay priests and disputed allegations that gay priests were a cause of sexual abuse of minors by priests.

"Some who are seriously mistaken have named sexual orientation as the cause of the recent scandal regarding the sexual abuse of minors by priests," Archbishop Niederauer said in an interview with a Catholic newspaper in Utah.

Retired Cardinal Roger Mahony praised his old friend for his "engaging wit and humor (and) open and loving personality."

"He always had just the right words and the turn of a phrase to help defuse tensions and to uplift people — no matter what cloud was overhead," the cardinal said. "Archbishop Niederauer was one of the most intelligent people I have ever known. His command of English literature, his love for reading — he devoured books and articles weekly, and his abilities as a spiritual leader and director equipped him well."

Archbishop Niederauer, formerly the bishop of Salt Lake City, was a native of Los Angeles, where he attended Catholic elementary school. As a student at St. Anthony High School in Long Beach, he met 14-year-old William Levada, the future San Francisco archbishop and cardinal, who remained his lifelong friend.

The current bishop of Utah, Oscar Solis, praised his predecessor for his "humility, generosity, kindness, ecumenical spirit and embrace for the least important of the community."

Archbishop Niederauer studied briefly at Stanford University before receiving a bachelor's degree in philosophy from St. John's Seminary in Camarillo (Ventura County), a bachelor's degree in theology from the Catholic University of America in Washington, D.C., a master's degree in English literature from Loyola University in Los Angeles and a doctorate in English literature from the University of Southern California.

He was a bridge player, a lover of independent movies, a reader of the New Yorker magazine and a well-intentioned high school trombone player.

"I was a dreadful musician,'' Archbishop Niederauer said in a 1995 interview. "Whenever they had four trombones, I was the fourth. When there were five, I was fifth."

He was ordained in 1962, served as a parish priest and then as a teacher at St. John's Seminary College, where he was appointed rector in 1987.

In 1995, he was ordained bishop of Salt Lake City, where he served until being appointed archbishop of San Francisco in 2005, succeeding Levada in the post. Archbishop Niederauer retired in 2012, a year after undergoing emergency heart bypass surgery. He was succeeded by current Archbishop Salvatore Cordileone, another fervent backer of Prop. 8. In his retirement, Archbishop Niederauer devoted himself to conducting retreats and counseling for fellow clergy.

A Mass of Christian burial will be held May 12 at 11 a.m. at St. Mary's Cathedral, 1111 Gough St., San Francisco.