Pictures: Over 1,500 protest against Sisters of Charity owning maternity hospital
By Paul Hosford
Journal
May 7, 2017

http://www.thejournal.ie/sisters-of-charity-protest-dublin-3377489-May2017/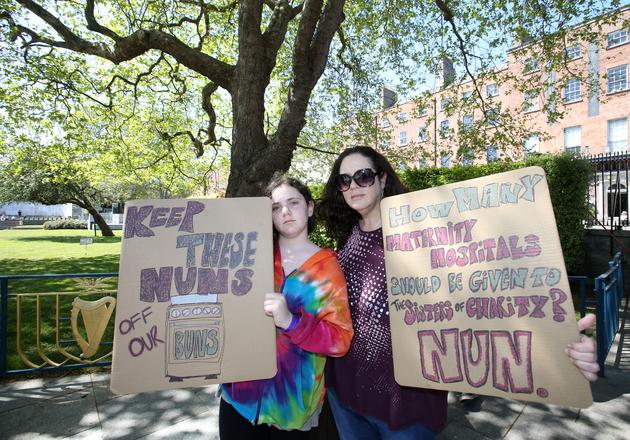 Nancy Falkow and her daughter Hannah Mc Bride (10) from Co Wicklow.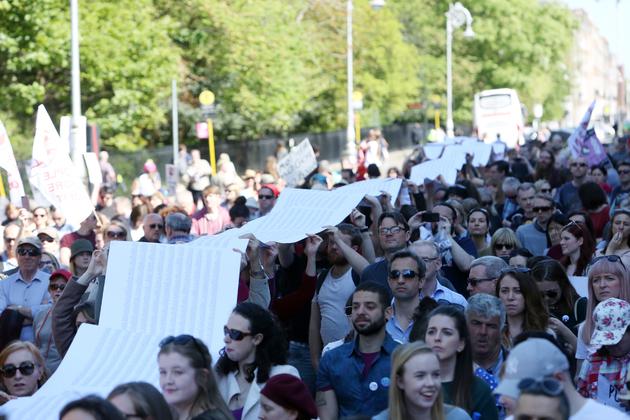 The cards containing
THOUSANDS OF PEOPLE took to the streets to protest against the Sisters of Charity owning the new national maternity hospital.
Over 1,500 people marched from the Garden of Remembrance to Merrion Square to hand over a petition against the move.
Campaign organisation Uplift presented a viral petition printed on 50 feet sheets of card to the gathered crowd.
Siobhan O'Donoghue, Director of Uplift said:
"We are sending a huge people powered message today to Simon Harris that he has only one real choice regarding ownership of the National Maternity Hospital – it must be kept in public ownership".
The petition has now been signed by 103,607 people over two weeks. Uplift vowed to keep the pressure on Simon Harris until he guarantees that the hospital is to be kept in public ownership.The controversy over the hospital's ownership has grown in recent weeks. The news was first reported by the Times of Ireland in March, and garnered a large political and public reaction after being reported by the Irish Times last month.
Contact: paulhosford@thejournal.ie