Former Louisville Priest Heading to Trial in Child Sex Abuse Case
By Shay McAlister
WHAS
May 11, 2017

http://www.whas11.com/news/crime/former-louisville-priest-heading-to-trial-in-child-sex-abuse-case/438920722

[with video]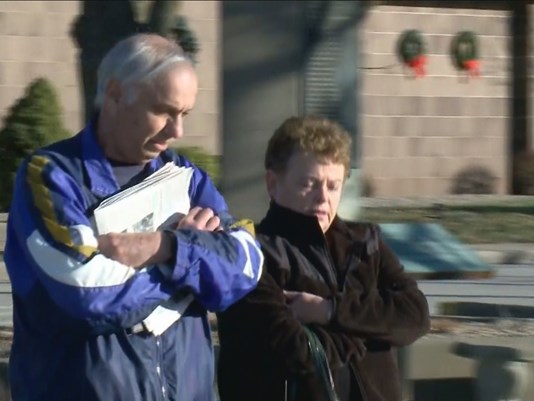 Joseph Hemmerle



A local priest convicted of sexually abusing children is heading to trial on additional charges. Father Joseph Hemmerle is a Louisville native and former Trinity High School teacher.

He was accused of abusing a 10-year old boy in the 1970s and convicted of the crimes in 2016. In court Thursday, his attorney denied a plea agreement on his behalf, agreeing to go to trial.

Inside a packed courtroom at the Meade County Courthouse, Prosecutor Leilani K.M. Martin was ready to sign off on a deal she called ďforgiving and lenient."

"We spent weeks hammering out a plea agreement and it was a very faithful plea agreement. The victim agreed to it because he is a practicing, practices his faith," Martin said.

Charged with two counts of sexual abuse in the first degree, and five counts of sodomy, former Louisville Priest Joseph Hemmerle is facing up to life in prison if convicted at trial.

The deal on the table Thursday was 10 years, with 20 percent served. That would be a total of two years behind bars.

"It was all ready to go and then basically out of the blue the defense attorney decided not to go through with it," Martin said.

The prosecutor said the papers were signed, and Hemmerle had verbally agreed to take the agreement. But the defendant never made it into the courtroom.

Martin said, "David Lambertus suddenly announced that he's going to go to trial instead, it was sort of a shock, and he announced it in the courtroom without his client present and just sort of turned around and left."

Hemmerle's attorney, David Lambertus, could not be reached after he left the courthouse.

WHAS11 tried to talk to Hemmerle inside the jail, but an official said the defendant was still in court, waiting to accept a plea deal.

"Iím not even sure that the defendant even knows right now. Because his client was not even in the courtroom when his attorney changed his mind and left,Ē Martin said.

The court, taking the attorney's word, closed the case for the day and scheduled the trial.

"Iím disappointed with how it went today because it was an opportunity for the system to work exactly how everybody wants it to work. It was an opportunity for justice and mercy to happen at the same time, at the same place. And thatís a beautiful thing," Martin said.

Hemmerle is currently serving time in the Meade County Detention Center. His trial is scheduled to begin on June 18 in the Meade County Courthouse.