Cardinal George Pell Allegedly Sexually Abused Cathedral Choirboys, Book Claims
By Beau Donelly
The Age
May 12, 2017

http://www.theage.com.au/victoria/cardinal-george-pell-allegedly-sexually-abused-cathedral-choirboys-book-claims-20170512-gw3pe8.html

Explosive claims of child sex abuse have been levelled against Australia's highest-ranking Catholic official, Cardinal George Pell.

A soon-to-be-released book about Cardinal Pell contains detailed claims that he sexually abused two choirboys at St Patrick's Cathedral in Melbourne in the late 1990s.

The alleged abuse is said to have occurred after the introduction of the Melbourne Response, the compensation scheme for clerical sexual abuse victims established in 1996 by Cardinal Pell, when he was Archbishop of Melbourne.

The book, Cardinal: The Rise And Fall of George Pell, also contains new information about the child abuse cover-up within the church, including allegations that he knew about paedophile priests earlier than he claimed.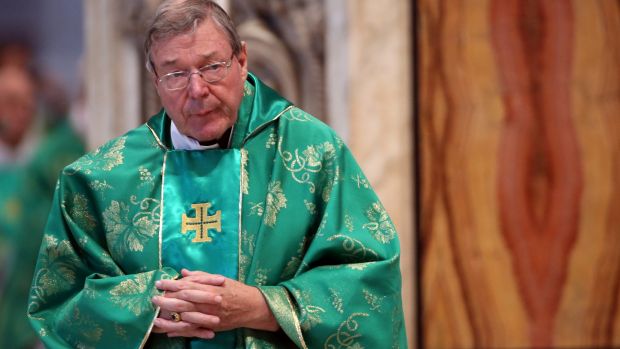 Fresh allegations have emerged about Cardinal George Pell. Photo: Franco Origlia



It is written by ABC journalist Louise Milligan, who revealed historic sex abuse allegations against Cardinal Pell in a 2016 report for the 7.30 program.

Earlier this year, Milligan and her colleague Andy Burns won the Melbourne Press Club's Gold Quill for their report.

Milligan interviewed two men, Lyndon Monument and Damian Dignan, who claimed they were sexually assaulted by Cardinal Pell, then a priest, at Ballarat's Eureka Pool in the late 1970's.

Police confirmed earlier this year that a brief of evidence against Cardinal Pell had been returned to the Office of Public Prosecutions for consideration.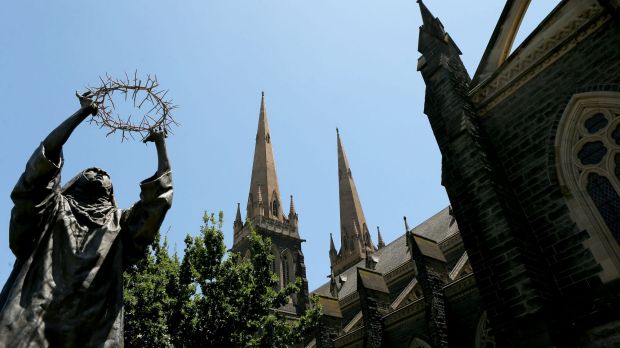 St Patrick's Cathedral on Christmas Eve eve last year where there will be no midnight mass this year. Photo: Pat Scala



In October last year, three members of Victoria Police flew to Rome to interview Cardinal Pell, who took part voluntarily.

There is no suggestion Cardinal Pell is guilty of any allegations of child sex abuse, only that they have been investigated by police.

In her television report from last year, Milligan referred to allegations that Cardinal Pell had also been accused of abusing two choirboys, but the book contains details that have never before been made public.

The boys, who were both students at St Kevin's College in Toorak and sang in the choir at St Patrick's Cathedral in East Melbourne, were allegedly abused in a back room of the church.

Soon after the alleged abuse took place, both boys asked to leave the choir, according to the book.

Cardinal Pell, 75, is the third most senior member of the Catholic Church and in charge of the Vatican's finances. He has always vehemently denied sex abuse allegations made against him.

"One of the things that has helped George Pell and his defenders to bat off or gloss over the allegations of Monument and Dignan is the seeming ambiguity of the behaviour, depending on how it is cast," writes Milligan, now an investigative reporter for ABC's Four Corners program.

"It's the notion that this was simply 'horseplay' or 'a bit of rough and tumble' and that Monument and Dignan, damaged men, had simply misinterpreted what was going on.

"The story of [the choirboys] has no such ambiguity. If these allegations are true, they point to utter, sinful, hypocrisy."

Milligan's book, released next week, details the testimony of one alleged victim, a man now aged in his 30s, and the family of a second alleged victim, who died from a drug overdose in 2014.

According to the book, the mother of the second alleged victim suspected her son had been sexually abused and asked him at least twice before his death. He told her he had not been.

But after he died she asked her son's friend, the first alleged victim.

"I asked him if my son was a victim and he said, 'Yes'." The mother was told by the friend that Cardinal Pell allegedly abused both boys.

Milligan writes that the first man reported the allegations to Victoria Police's SANO Taskforce and the mother of the deceased man also gave a statement to investigators.

In 2015, SANO Taskforce detectives put out a rare public statement appealing for information about allegations of historic sexual abuse against 14-year-old boys at St Patrick's Cathedral between 1996 and 2001.

Fairfax Media reported at the time that investigators were understood to have executed search warrants on buildings linked to the cathedral, including in East Melbourne and Toorak.

SANO was set up to investigate allegations that emerged from the 2013 Victorian parliamentary inquiry into child sex abuse involving religious and non-government organisations and also investigates allegations of abuse arising from the Royal Commission into Institutional Responses to Child Sexual Abuse.