Kentucky priest pleads guilty in child molestation case
By Chris Turner
WDRB
May 18, 2017

http://www.wdrb.com/story/35455958/kentucky-priest-pleads-guilty-in-child-molestation-case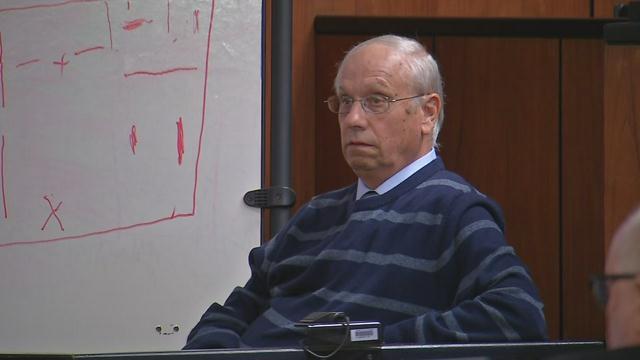 Fr. Joseph Hemmerle during his trial on Nov. 29, 2016.


[with video]



LOUISVILLE, Ky. (WDRB) -- A Kentucky priest accused of molesting a boy forty years ago pleaded guilty to reduced charges one day before his trial was set to begin.

On Wednesday, a Meade County, Kentucky, judge accepted Father Joseph Hemmerle's guilty pleas to two counts of first degree wanton endangerment and five counts of third degree sexual abuse, in exchange for a recommended sentence of two years of prison followed by eight years of probation.

Hemmerle made an Alford plea, in which he does not admit guilt but acknowledges prosecutors have enough evidence to warrant a conviction. Legally, it carries the same weight as a guilty plea.

The case involved allegations that Hemmerle abused a boy in the summers of 1977 and 1978 at Camp Tall Trees, a Catholic youth camp in Meade County.

Formal sentencing is scheduled June 29.

Any sentence would run consecutively to the seven years Hemmerle is already serving in a separate molestation case. A Meade County jury convicted him in 2016 of indecent or immoral practices for molesting another boy at the camp in the early 1970s.

Hemmerle's attorney said in court May 11 that his client would go to trial rather than sign a different plea agreement that included two years' prison and probation for the original charges of first degree sexual abuse and first degree sodomy.

The plea agreement signed Wednesday says the victim wants to settle the case and show mercy on Hemmerle.

"Victim has taken into account defendant Hemmerle's advanced age and does not desire to see him punished with a life sentence if defendant Hemmerle will admit wrong doing," the agreement said.

"This offer is not a concession by the Commonwealth about the case, but rather an offer of an outcome that will bring the victim peace of mind and give defendant Hemmerle a merciful outcome," the plea agreement continued.

Hemmerle, 75, remains a priest, though he is suspended from ministry and not allowed to present himself as a priest. He is held in the Meade County jail. His attorney has steadfastly refused comment on either case.