Lawsuit claims Brouillard, older scouts raped boy during jamborees
By Haidee V Eugenio
Pacific Daily News
May 29, 2017

http://www.guampdn.com/story/news/2017/05/29/lawsuit-claims-brouillard-older-scouts-raped-boy-during-jamborees/352886001/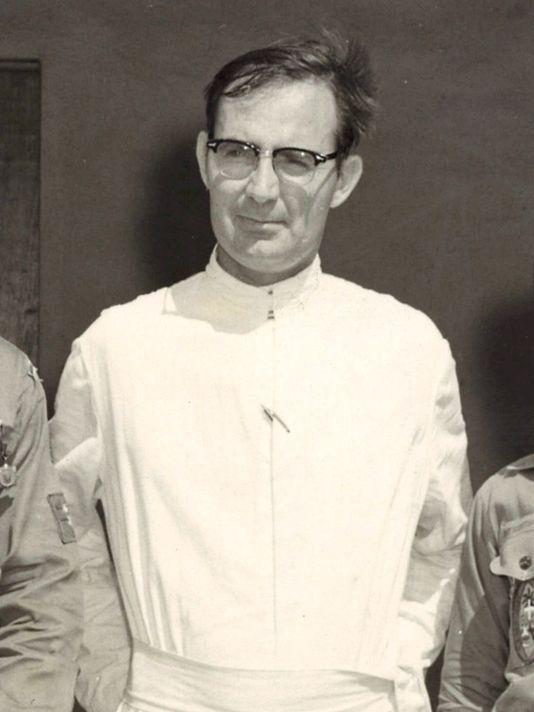 Father Louis Brouillard is shown in an undated photo from the Pacific Daily News archives.
Former island priest Louis Brouillard allegedly raped and sexually molested a former boy scout every night during the Boy Scouts of America's summer jamborees around 1974 and 1975, a complaint filed in the U.S. District Court of Guam Monday afternoon says.
The complaint, filed by a man identified in court documents only as A.N.D., also alleged that two older scout leaders took turns raping the boy in the 1975 summer jamboree.
That was after A.N.D. allegedly told Brouillard he was going to report what the priest was doing to him, the lawsuit says.
"During the period in which he was a boy scout, A.N.D. was sexually molested and raped by Brouillard," the complaint says. "Brouillard was a Catholic priest for the Agana Archdiocese, and was also an employee, volunteer and/or agent of the Boy Scouts of America, who worked as a scoutmaster and performed duties for the Aloha Council."
A.N.D., represented by attorney David Lujan, named as defendants the Archdiocese of Agana, the Boy Scouts of America, and its Aloha Council Chamorro Districtand Brouillard. The lawsuit demands a jury trial and $10 million in minimum damages.
Now 54 and living in Inarajan, A.N.D. is the 69th person to file a Guam clergy sex abuse lawsuit so far in local and federal courts. Two other childhood sexual abuse complaints did not accuse a clergy member.
The lawsuit says A.N.D. joined the Boy Scout jamboree at Ypao Beach in or about the summer of 1974 when he was about 11 years old. Brouillard allegedly went around the campsite one night, and picked 11 boys including A.N.D. from their tents and brought them with him to a small building. The lawsuit says a scoutmaster for A.N.D.'s Talofofo Troop named Joe Tudela instructed the boy to go with Brouillard.
"Brouillard then forced himself on the boys," the lawsuit says. "This happened every night for the remaining seven days of the jamboree. Each time, A.N.D. was terrified and cried as Brouillard sexually molested and raped him."
The following summer, in or about 1975, A.N.D. again joined the jamboree and Brouillard again allegedly sexually molested and raped the boy, the lawsuit says.
"During the last night of the jamboree, A.N.D. told Brouillard that he was going to report what Brouillard was doing, but Brouillard told A.N.D. that no one would believe him. A.N.D. attempted to walk home, but Tudela stopped him and told him, 'let's go back, nothing happened'. When A.N.D. returned to his tent, two older scout leaders took turns raping A.N.D.," the lawsuit says.
A.N.D. quit the Boy Scouts after that, the complaint says, but a year later, Tudela allegedly tried to get the boy to participate again in scout activities.
Contact: heugenio@guampdn.com