'Unreserved' apologies over abuse fail to satisfy victims
By Stephen Naysmith
Herald Scotland
May 31, 2017

http://www.heraldscotland.com/news/15320364.___Unreserved____apologies_over_abuse_fail_to_satisfy_victims/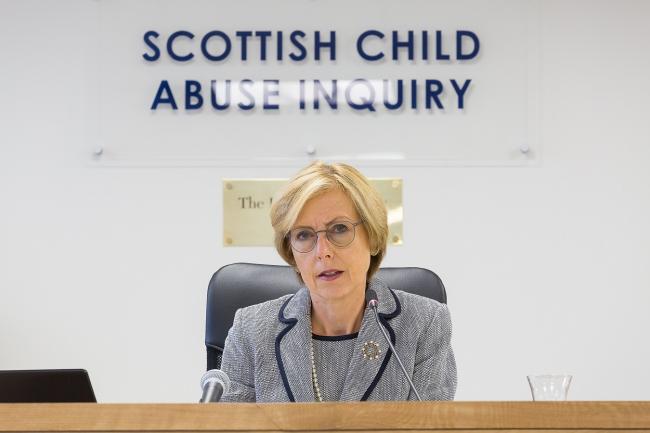 Chair Lady Smith SCAI day one
Photo by Nick Mailer
CHARITIES and church groups queued up to apologise on the opening day of the Scottish Child Abuse Inquiry (SCAI) as the long-awaited investigation took evidence in public for the first time.
The chair of what is expected to be Scotland's biggest and most expensive public inquiry, Lady Scott, had invited them to do so, using their opening statements to consider 'retrospective acknowledgement' if abuse had taken place.
Some were more forthcoming than others. Quarriers offered an "unreserved apology" to those abused while in the care of the charity, via Kate Dowdalls QC, while Laura Dunlop QC for the Church of Scotland's social care arm Crossreach said it was "Inescapable that the church has provided the setting in which children were abused. That is profoundly regretted by all ... connected with the Church of Scotland in any way."
The Sisters of Nazareth, said Alistair Duncan QC, "apologise unreservedly" where abuse has occurred, while advocate David Anderson for the De la Salle Brothers said "where a brother was responsible for the mistreatment of children entrusted to his care the congregation offers unreserved apology."
However advocate Gregor Rolfe on behalf of the Daughters of Charity of St Vincent de Paul said only that the order wanted to apologise to any who feel "let down" by those who were supposed to care for them. Meanwhile the charity Barnardo's while acknowledging allegations by adults about care they had received as children made no concession that abuse had actually taken place, angering some survivors in the public seats.
Alan Draper, of In Care Abuse Survivors Scotland (Incas) said many organisations had only admitted abuse after staff had been convicted in the courts: "Where is the moral responsibility of these organsiations? It is very sad," he said. "You would expect the religious organisations in particular to have the moral courage to come forward and say 'yes, these events did happen. This is what we will do to assist and support those who suffered horrific abuse at the hands of members of our organisation."
Janine Rennie, Chief Executive of survivors' support charity Wellbeing Scotland, said: "Some people walked out of the hearings. A lot of us feel frustrated that the inquiry seems set to focus on institutional failures. Those are blindingly obvious, what victims want is justice and accountability for individual abusers."
Rennie was among those marking a minutes silence as part of a vigil outside the Inquiry venue in Edinburgh, which was supported by a visiting group of child abuse survivors from Northern Ireland, including leading campaigner Margaret McGuckin and Kate Walmsley, 60, a Glaswegian by birth who was separated from her family at the age of seven and taken into the care of the Sisters of Nazareth in Londonderry.
The inquiry is expected to report in late 2019, and is to investigate more than 60 institutions to determine what child abuse occurred in state and state sponsored residential care, how organisations and individuals failed to prevent it and what can be done to prevent similar cases in future. Sitting for three days a week between now and mid-July, the first phase of hearings will explore the history of state care and the nature and prevalence of child abuse in Scotland, before hearing from religious organisations and charities about the history of care they provided and how it was governed.