Third Marianas Bishop Accused of Sexually Abusing Children
By Jasmine Stole
Pacific Daily News
June 2, 2017

http://www.guampdn.com/story/news/2017/06/02/third-marianas-bishop-accused-sexually-abusing-children-guam-saipan-clergy-abuse/364594001/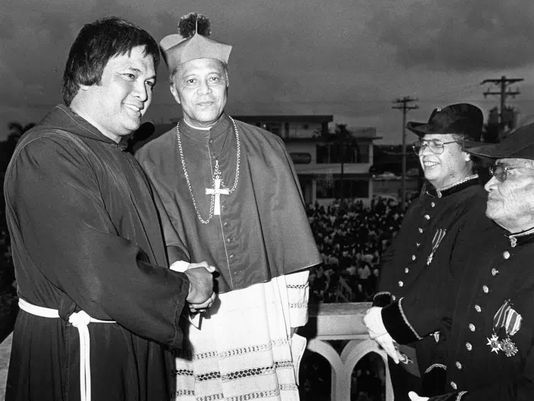 In this undated file photo, then-Father Anthony Apuron, left, shakes hands with Bishop Felixberto Flores.



A 62-year-old man has accused the late Archbishop Felixberto C. Flores of sexually abusing him more than 50 years ago at Cathedral Grade School, according to one of the latest lawsuits filed against the Catholic Church in federal court.

Flores is the third church leader from the Marianas accused of sexual abusing a minor. Guamís Archbishop Anthony Apuron, who succeeded Flores, and Saipanís Bishop emeritus Tomas Camacho also have been named in lawsuits alleging child sexual abuse.

Floresí accuser is identified as A.J.R.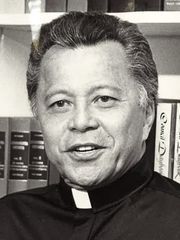 Archbishop Felixberto C. Flores (Photo: PDN file photo)



The lawsuit states A.J.R., around the year 1966, was a student at Cathedral Grade School in Hagatna and Flores was a priest. Flores called to A.J.R. from the entrance of the rectory, then showed his genitals to the boy, who was about 11 years old at the time, the complaint states.

Flores reportedly had his hands on A.J.Rís shoulder and pulled the boy closer to him. A.J.R. kicked the priest in his private parts and fled, court documents state.

A.J.R. is represented by attorney David Lujan and is seeking $5 million in damages from the church.

Four others

Four other clients represented by Lujan also filed lawsuits on Friday in federal court suing the church, the Boy Scouts of America, Father Louis Brouillard and Flores.

E.T., a 59-year-old woman who now lives in California, alleged in her lawsuit that then-priest Brouillard sexually abused and molested her when she was 15 years old.

Brouillard is accused of forcing E.T. and other girls to watch him masturbate in his bedroom at the convent where he lived, court documents state.

This happened about three to four times a month for several years, the complaint states.

The girls were part of a sodality at the San Isidro Catholic Church in Malojloj, where Brouillard was the priest at the time.

E.T. is seeking $5 million in damages. She named both the church and Brouillard as defendants in her suit.

Two other people, identified as E.V. and S.M.T. also filed lawsuits Friday against Brouillard, the church and Boy Scouts of America, each seeking $10 million in damages.

A 74-year-old man, identified as S.D.E. in federal court documents, is suing the church and Boy Scouts of America for $10 million, according to the complaint.

S.D.E. alleged Miguel Salas, the boy scout leader of his troop in 1955, molested him more than once at church, the complaint states. S.D.E was about 12 years old at the time. Salas has since died, court documents state.

jstole@guampdn.com