Archdiocese 'heartbroken' allegations include first Chamorro bishop
The Guam Daily Post
June 4, 2017

https://www.postguam.com/news/local/archdiocese-heartbroken-allegations-include-first-chamorro-bishop/article_c193ea72-48ee-11e7-9baa-37336825a432.html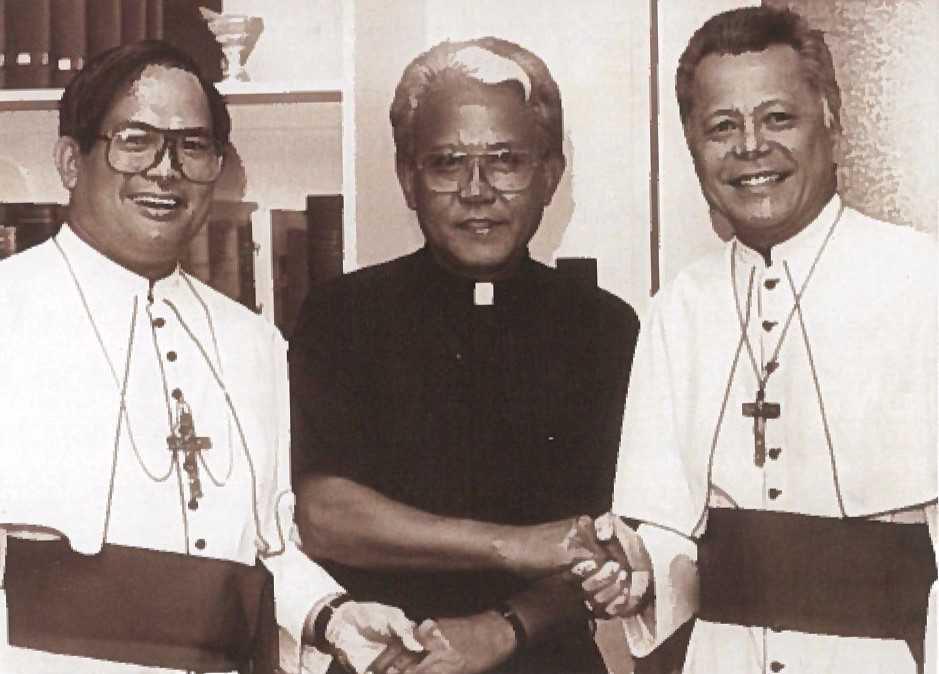 ACCUSED: Pictured, from left, Auxiliary Bishop Anthony Sablan Apuron, Bishop Tomas Aguon Camacho of the Diocese of Chalan Kanoa and Archbishop Felixberto Camacho Flores of the Archdiocese of Agana pose for a photo at the Chancery Office in Hagåtña in 1985. Photo courtesy of the Archdiocese of Agana
Coadjutor Archbishop Michael Byrnes issued a statement yesterday expressing sadness about the latest allegations of sex abuse filed in court, and the addition of Guam's beloved first Chamorro bishop as one of the accused.
"As the shepherd of our Catholic Church on Guam, I acknowledge the six latest persons to come forward filing allegations of sexual abuse by our clergy and others," Byrnes said in a written statement. "With deep sadness, I also acknowledge that the newest lawsuits related to child abuse now include an allegation against the late Archbishop Felixberto C. Flores, who I know is deeply loved by many here on Guam."
Above all else, all of us at the Archdiocese of Agana extend our prayers to these newest individuals, known by the initials of A.J.R., E.T., S.M.T., E.V., S.D.E. and R.Q., Byrnes added.
"I continue to ask our faithful to pray for all victims of abuse," he stated. "They have suffered tremendous pain that no others can truly know."
"A.J.R. is a man who alleges he was sexually abused by Archbishop Flores more than 50 years ago while attending Cathedral Grade School," Byrnes said. "We are heartbroken that the allegations now include the late Archbishop Flores.
"His standing and leadership as the first Chamorro bishop of our island and the love many people have for him is well known. Nevertheless, I want to ensure everyone that the archdiocese takes all allegations of abuse very seriously. Child abuse is devastating no matter the time, setting or individuals involved."
Before the lawsuit naming Flores, suspended Guam Archbishop Anthony Sablan Apuron and Bishop Tomas Aguon Camacho of the Diocese of Chalan Kanoa in Saipan were also accused of sex abuse involving children decades ago.