2 More Sex Abuse Complaints Filed against Archdiocese
By Jolene Toves
Pacific News Center
July 7, 2017

http://pacificnewscenter.com/2-more-sex-abuse-complaints-filed-against-archdiocese/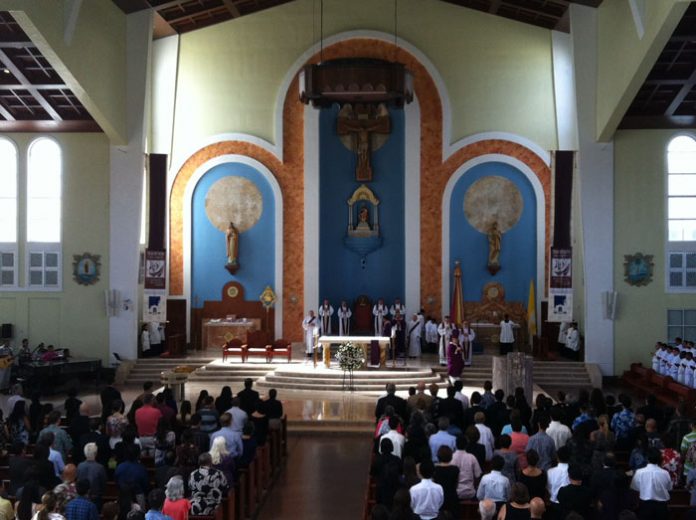 A female victim alleges that she was sexually abused by a catholic school janitor when she was 6 or 7 years old.



Two more victims have come forward with allegations sexual abuse against the Archdiocese of Agana.

R.M.S. is third female victim accusing the archdiocese of child sexual abuse. Now 41 years old, she claims that Paul Sebay who is now deceased, molested and sexually abused her when she was 6 to 7 years old and a student at San Vicente Catholic School.

Court documents indicate that Sebay was a maintenance janitor at San Vicente, a catholic parochial school operated by and under the supervision of the Archdiocese. R.M.S. alleges that she was repeatedly molested and abused by Sebay when she was in the first grade.

R.M.S. claims that Sebay would give her candy and other treats and take her to the maintenance room which was located above the auditorium.

In one instance Sebay, "would lay R.M.S. on a cot and touch her private parts" asking her "if it felt good." R.M.S. further stated that on more than one occasion, Sebay stood with his pants down and made R.M.S. touch his genitals. This allegedly occurred several times a week. According to R.M.S., the Archdiocese and San Vincente knew what was going on.

The complaint states, "for years they covered up the sexual abuse and assisted Sebay with the specific purpose or design to keep Sebay's misconduct hidden and secret."

In a separate complaint, allegations of sexual abuse were made against former Guam Priest Father Louis Brouillard who at the time served as a scoutmaster for the Boy Scouts of America.

M.M., who is now 55 years old, alleges that a culture of sexually predatory behavior ensued with the creation of the ritual altar boy service although not originally conceived as such "ultimately became a tool by which sexually predatory priest would gain access to young boys."

According to court documents, M.M. was about 10 or 11 years old when he became an altar boy at San Isidro Catholic Church of Malojoj. About a year later M.M. became a member of the Boy Scouts Troop 24. It was during this time, court papers say, that M.M. was sexually molested, abused and raped by Brouillard either on parish grounds or at Boy Scout outings. The abuse occurred over a four-year period in which M.M. would spend the night at the convent. During M.M.'s overnight stays he alleges that the abuse included fondling, masturbation, oral copulation and penetration.

A statement by Brouillard was entered into evidence admitting, "During some of the sex education talks, while at Santa Teresita, I did touch the penises of some of the boys and some of the boys did perform oral sex on me. Some of the incidents took place in Mangilao at the rectory of the Santa Teresita Church. Because of the many years that have passed, I do not remember the exact dates and times or the names of the boys involved. There may have been or more boys involved. Other locations where the sexual contact may have happened would be at San Vicente and Father Duenas Memorial Schools."

Earlier this week in a release, Coadjutor Archbishop Michael Byrnes said that while emotions pale in comparison to the pain suffered by the victims, the Archdiocese expresses its deep sadness and continues to pray for those who have experienced sexual abuse by clergy or staff, and who continue to suffer because of it.