Former Head of Orthodox Gymnasium in Yakutia Charged with Pedophilia
Crime Russia
July 12, 2017

https://en.crimerussia.com/gromkie-dela/former-head-of-orthodox-gymnasium-in-yakutia-charged-with-pedophilia/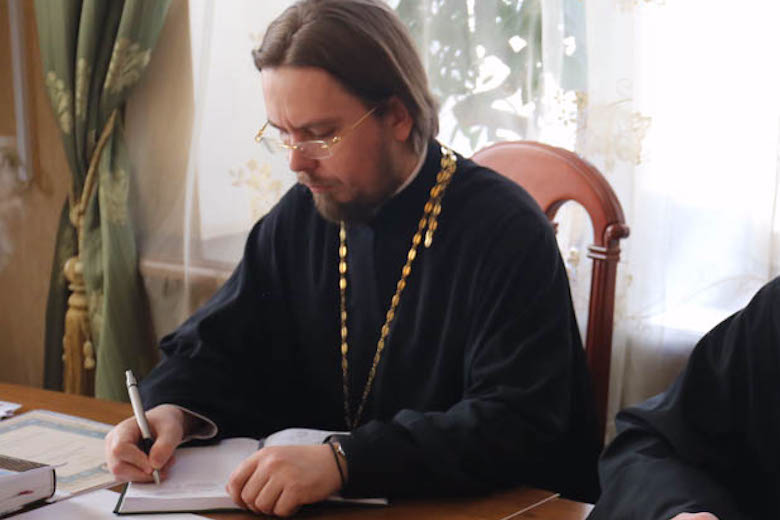 Hieromonk Meletius (Andrey Tkachenko)



The Supreme Court of Yakutia arrested the ex-director of St. Innocentís Orthodox Gymnasium, cleric hieromonk Meletius (Andrey Tkachenko), on charges of pedophilia, the press service of the Yakutsk City Court reported to the agency Interfax-Far East.

"The Supreme Court of Yakutia considered the appeal submitted by lawyer Tkachenko against the decision of the City Court to arrest the priest and rejected it. The defendant is taken into custody and placed in Yakutsk's pre-trial detention center until August 9," the source said. The hearing was held behind the closed doors, and Tkachenko introduced himself at the trial as "the regular clergyman of the Yakutsk diocese, Hieromonk Meletius."

The press service of the Yakutsk diocesan administration published a message stating that Tkachenko was banned from the service for the period of the trial. "We have not received any complaints from alleged victims, so we have no reason to comment on the situation," the report says.

According to NVK Sakha, Tkachenko stopped managing the Gymnasium in March this year. After the meeting, archbishop Roman of Yakutsk and Lensk thanked Tkachenko for his "work". After that, the priest had to go "to guide the flock of the Russian Orthodox Church abroad."

In April, a criminal case was initiated against Tkachenko under item (b), part 4 of Art. 132 of the Russian Criminal Code (Violent Actions of Sexual Character with respect to a person who has not reached the age of fourteen years). Sanctions under the article provide for imprisonment of up to 20 years. In June, Tkachenko was charged with two counts.