Paul Shanley, notorious pedophile priest, set to be released from prison, 5 Investigates reports
By Mike Beaudet
WCVB
July 25, 2017

http://www.wcvb.com/article/paul-shanley-notorious-pedophile-priest-set-to-be-released-from-prison-5-investigates-reports/10357901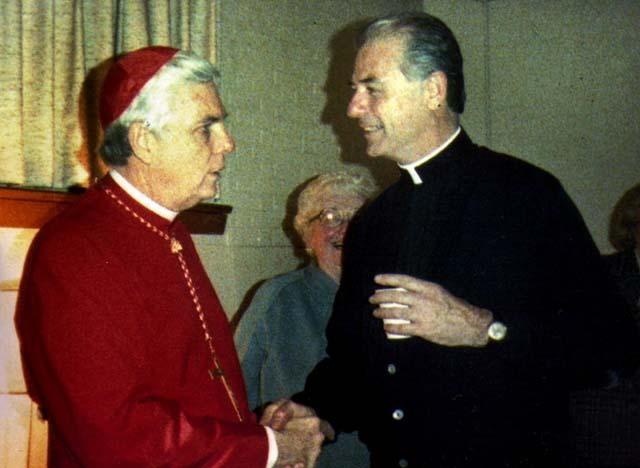 Father Paul Shanley shakes hands with then-Archbishop Bernard Law in an undated photo.


[with video]



BOSTON —

Infamous pedophile priest Paul Shanley is scheduled to be released from prison later this week, 5 Investigates has learned, drawing outrage from priest abuse victims and their advocates, who say the now-86-year-old is still a danger to the public.

Shanley was convicted in 2005 of rape and indecent assault and battery on a person under the age of 14. The case that relied on the repressed memory of the victim, who said he was abused by Shanley between 1983 and 1989 when he was attending CCD classes at St. Jean's Church in Newton.

Shanley was sentenced to 12 to 15 years in prison.

Some of Shanley's other alleged victims and their attorneys are planning a press conference later this week, angry that Shanley has been is being released.

They have been told by the Middlesex District Attorney's office that prosecutors had Shanley evaluated to see if he could be held after his prison sentence as a sexually dangerous person, but that those evaluations didn't provide the evidence needed to proceed.

"The defendant will be monitored by the probation department for the next ten years and has been ordered to have no contact with children under sixteen years of age," DA Marian Ryan said in a statement.

A spokesperson for the Massachusetts Department of Correction confirmed that Shanley is being held at the Old Colony Correctional Center in Bridgewater but said regulations prevented the DOC from providing his scheduled date of release.

"Paul Shanley's crimes against children were reprehensible. No young person should ever have to experience such violations of their safety and dignity," the Archdiocese of Boston said in a statement. "We continue to assure all victims of abuse of our prayers and our concern. Any person who has been harmed by clergy sexual abuse, and in particular those who may need additional support at this time, are encouraged to contact the Archdiocese's Office of Pastoral Support and Outreach at 617-746-5995."

5 Investigates has asked the Middlesex District Attorney's office for comment.