Defrocked Priest Is About to Be Freed Amid Renewed Fury
By Katharine Q. Seelye
New York Times
July 26, 2017

https://www.nytimes.com/2017/07/26/us/boston-priest-paul-shanley-sex-abuse.html?_r=0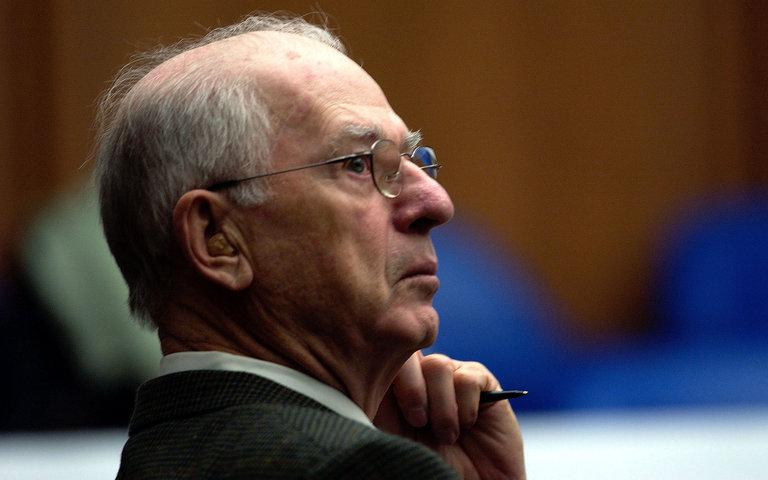 Paul Shanley, a defrocked priest convicted in 2005 of raping a boy in a suburban Boston parish, is scheduled to be released from prison on Friday.
Photo by Jodi Hilton
BOSTON — When he was 21 and coming out as gay, John Harris was referred to a charismatic street priest, Paul Shanley, for guidance.
"He raped me, under the pretense of helping me," Mr. Harris, now 59, recalled Wednesday. Since the episode, in 1979, Mr. Harris said he had had difficulty trusting people, which led to heavy drinking and depression so severe that he was hospitalized.
Mr. Shanley was defrocked by the Vatican in 2004 and convicted in 2005 of raping a boy repeatedly during the 1980s in a suburban parish. Sentenced to 12 to 15 years in prison, he became one of the most notorious priests in the sex abuse scandal that rocked the Roman Catholic Church.
While the scandal of priests abusing children has faded somewhat from the explosive headlines of the early 2000s, the issue continues to play out here in Boston, the epicenter of the abuse.
Mr. Shanley is now 86. After 12 years of incarceration, he is scheduled to be released on Friday from the Old Colony Correctional Center, a medium-security prison in Bridgewater, Mass. His pending release has distressed his victims and their families, who on Wednesday said they hoped that residents of whatever town Mr. Shanley is released to will monitor him and report his whereabouts.
Mr. Harris called him "a sexual predator plus" who is a danger to people of all ages and is likely to commit more abuse because he has never acknowledged that he did anything wrong.
The case has garnered attention because it is rare for an abusive priest to go to prison. But cases involving priests have been accumulating in recent years.
In its annual report last year, the United States Conference of Catholic Bishops said that from July 1, 2015, to June 30, 2016, it received 730 credible abuse allegations against 361 priests. The number, more than double the figure from a year earlier, reflected a temporary change in Minnesota law that allowed victims of older abuse cases to bring charges.
It also reflected a surge in public awareness created by the 2015 movie "Spotlight," which recounted The Boston Globe's exposé of the scandal.
Victims "are still coming forward," said Mitchell Garabedian, the lawyer who was portrayed by Stanley Tucci in "Spotlight" and who has represented many of the victims in lawsuits against the Archdiocese of Boston.
"It's endless," Mr. Garabedian said of the scandal. "Because of movies such as 'Spotlight,' because of Shanley being released, victims become empowered and are coming forward, whether you're talking about Boston or around the world." He said he represented victims from 15 countries.
Since 1950, the Catholic Church in the United States has spent an estimated $4 billion to settle cases stemming from allegations involving sexually abusive priests, according to The National Catholic Reporter. Most of the money has gone to settlements with victims, legal fees, support for offenders and therapy for victims.
After Mr. Shanley was convicted, prosecutors from the Middlesex County district attorney's office asked the court to send him to prison for the rest of his life. Now that Mr. Shanley is about to be released, victims and their advocates want him to be held indefinitely under a Massachusetts law that allows the state to keep inmates in custody even after their sentences are completed. But the state must prove that Mr. Shanley is incapable of controlling any sexually dangerous impulses.
Marian T. Ryan, the current Middlesex district attorney, said in a statement that her office hired two psychiatric experts to evaluate Mr. Shanley. She said those doctors concluded he did not meet the legal criteria of a sexually dangerous person and so he would have to be released.
Mr. Shanley's next address, which will almost certainly be in Massachusetts, has not been publicly released. He is to begin 10 years of supervised probation, but will not wear an electronic monitor. He is barred from having contact with children younger than 16.
His lawyer could not be reached for comment but told The Associated Press that he had "served his time."
"We've never believed that he was dangerous," Robert Shaw Jr., Mr. Shanley's lawyer, told The A.P. "We didn't believe that what he was convicted of was a valid conviction, given that it rested on repressed memory evidence that we did not believe was valid."
But some of his accusers, their parents and their lawyers gathered Wednesday to protest his release and urge a change in the law allowing freedom for a man they describe as a monstrous criminal.
"If anyone ever fit the profile of a dangerous sexual predator, it is Paul Shanley," said Paula Ford, whose son, Gregory, says he was sexually assaulted by Mr. Shanley.
Rodney Ford, Gregory's father, visibly disturbed at the prospect of Mr. Shanley's walking the streets, urged everyone who saw him to "harass" him. Lawyers said neighbors should put up posters advising them to "Beware" that a predator was in their midst.
Even the Boston Archdiocese, which protected Mr. Shanley for many years, called his sexual abuse of children "reprehensible."
"No young person should ever have to experience such violations of their safety and dignity," the archdiocese said on its website. "We continue to assure all victims of abuse of our prayers and our concern." The archdiocese did not comment on Mr. Shanley's release.
"Shanley was voracious," said Carmen Durso, a lawyer who has represented several victims of sexual abuse. "He would have several sexual encounters a day with different people."
He said that even though Mr. Shanley is 86, age is not a predictor of whether someone will continue their sexual activity.
Mr. Durso said he and Mr. Garabedian tried unsuccessfully to meet with the medical experts who cleared Mr. Shanley for release. The lawyers said they would meet with legal experts and seek to change the law allowing Mr. Shanley to go free. The State Legislature would have to approve any change.
"These doctors looked at the history of Paul Shanley, and it's beyond me how they could not have determined he was a sexual predator, pure and simple," Mr. Garabedian said.
"He hung around the Trailways bus station with other men and picked up wayward children coming off the buses," he said. "And now he's going to be out there in society, unwatched and uncontrolled."