Paul Shanley, priest convicted of rape, moving to Ware
By Anthony Fay
WWLP
July 28, 2017

http://wwlp.com/2017/07/28/abuse-victims-to-protest-release-of-priest-who-raped-boy/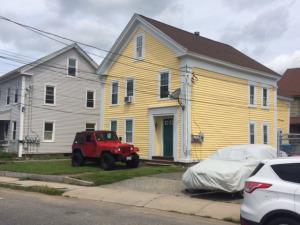 Paul Shanley will be living in an apartment at this yellow house on Pulaski St. in Ware.


[with video]



WARE, Mass. (WWLP-AP) – Released from state prison Friday morning after completing a 12 year prison term for child rape, defrocked priest Paul Shanley is now moving to a new home in western Massachusetts.

According to the Massachusetts Sex Offender Registry Board, the 86 year-old Shanley's new address is an apartment on Pulaski Street in Ware. He is registered as a level three sex offender; the type considered most likely to re-offend.

"I don't want him in town, its scary I've got grand kids, I got kids, I don't know its scary," said Robert Winchester of Ware. "This is a quiet little town, there's not much that goes on here, to speak for myself, I don't want that in my neighborhood."

Shanley was a "street priest" who ministered to alienated youth in the 1960s and '70s. Decades later, dozens of men came forward and said Shanley had molested or raped them. He was defrocked by the Vatican and convicted of raping a boy at a Newton parish.

Several other sex offenders already live on the street where Shanley will live.

Ware Police Chief Shawn Crevier says it's one the most heavily patrolled areas of the town.

He says he will "do what we need to do to make sure the citizens are protected and (Shanley's) rights are also protected."

Following his release from prison, Shanley was processed at the Ware police station late Friday morning.

"Just because of the way Ware has been going lately, it's kind of downhill and filled with drugs, he probably thinks he'll be less noticeable there," said Jessica Derby of Palmer.

Shanley's release brought clergy abuse victims advocate Robert Hoaston in town to warn neighbors.

"Anybody who walks down this street or comes in contact with Paul Shanley is a target," said Hoaston.

Sexual abuse victims say they're concerned the 86-year-old Shanley will not have enough supervision after he's released. He'll be monitored by probation officials, but isn't required to wear an electronic monitoring device.