"Spotlight" movie helps abuse victims come forward
By Chuck Biedka
Morning Call
July 29, 2017

http://www.mcall.com/news/nationworld/mc-nws-spotlight-abuse-victims-20170729-story.html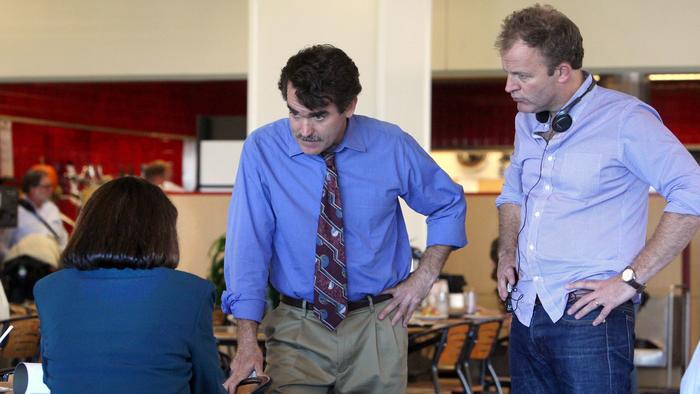 From left, Maureen Keiller, Brian d'Arcy James, and director Tom McCarthy during filming of the "Spotlight" movie in the cafeteria of the Boston Globe in Boston on September 27, 2014.
Photo by John Blanding
A Hollywood movie helped motivate a former Lower Burrell man to come forward with allegations he was sexually assaulted by a priest in the 1990s.
Former priest John Thomas Sweeney is accused of abusing a 10-year-old boy sent to him for misbehavior at St. Margaret Mary Church's school in Lower Burrell, outside Pittsburgh, during the 1991-92 academic year.
And that alleged victim isn't alone in being motivated by "Spotlight," according to the Survivors Network of those Abused by Priests, known as SNAP.
"We don't know exactly how many, but we know it has caused people to come forward, sometimes after years," said Judy Jones, SNAP's Midwest regional leader. "It takes a lot of courage for them to come forward," she said.
The 2015 Oscar-winning film "Spotlight" tells the story of the Boston Globe's investigation about alleged priest sexual abuse and cover-ups in Boston.
Greensburg diocese Communications Director Jerry Zufelt said there was no such cover-up here.
The diocese "handed over every priest personnel file that contained any allegation of child sexual abuse, whether the allegation was credible or not, to the Office of the Attorney General as ordered by the September 2016 subpoena."
He said Sweeney's "entire personnel file" was given to the AG as required by the subpoena.
Attorney General agents are still looking into the case and couldn't say if anyone else who saw "Spotlight" has gone to police with a report of sexual abuse in the Alle-Kiski Valley or elsewhere in the state.
"This matter is part of an ongoing criminal investigation, and we cannot comment on ongoing investigations, beyond what the office publicly filed in criminal charges against defendant Sweeney on Monday in the local district court," said Attorney General spokesman Joe Grace.
He encouraged anyone with information about abuse in Pennsylvania to call the Office of Attorney General's Clergy Abuse Hotline at 1-888-538-8541.