Lawsuit Accuses Former Phoenix Bishop of Sexually Abusing Boy
By Matt Stevens
New York Times
August 4, 2017

https://www.nytimes.com/2017/08/04/us/bishop-sexual-abuse-phoenix.html?_r=0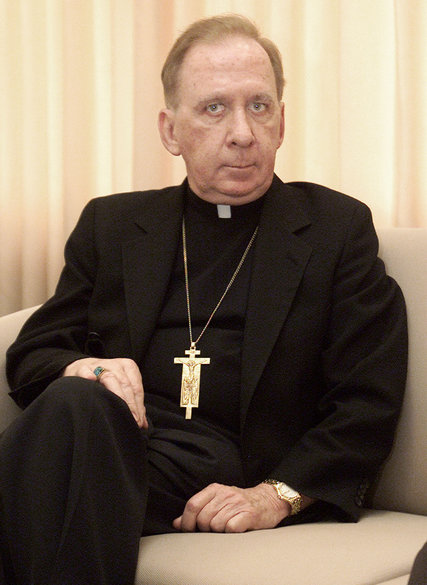 Lawsuit Accuses Former Phoenix Bishop of Sexually Abusing Boy



A Roman Catholic bishop who once led the Diocese of Phoenix has been accused of repeatedly sexually abusing a boy decades ago, according to a lawsuit filed in Arizona Superior Court.

The lawsuit alleges that in the late 1970s and early '80s, the bishop, Thomas J. O'Brien, placed his hands on the boy's thighs, kissed him on the lips and performed oral sex on him. A hearing connected to the case was held this week, drawing additional attention to the lawsuit, which was filed last year.

In a telephone interview late Thursday, Tim Hale, the lawyer for the unidentified plaintiff, said the bishop's acts caused his client to suffer from anxiety, panic attacks and emotional distress.

The abuse, a court document said, also caused the man to repress "all memory" of what had happened.

Mr. Hale said Arizona case law allows victims of childhood sexual abuse to file claims within two years of recovering those memories, regardless of when the crimes may have occurred.

"Recovering these memories has turned his world on its head," Mr. Hale said of his client. "He's really concerned about his ability to provide for his family."

In a statement, the Diocese of Phoenix said Bishop O'Brien "categorically denies the allegations."

"Bishop O'Brien was never assigned to any of the parishes or schools identified in the lawsuit, and no specific information has been presented which connects Bishop O'Brien to the plaintiff," the statement said. "The Diocese of Phoenix immediately contacted the Maricopa County attorney's office upon learning of these allegations in September of 2016, and has offered its assistance and cooperation with any law enforcement investigation into the matter."

In 2003, as the priest abuse scandal spread to all corners of the Catholic Church, a yearlong grand jury investigation into accusations of sexual misconduct in the Phoenix Diocese resulted in indictments against at least six priests accused of abusing children.

Bishop O'Brien, who was the spiritual leader of more than 400,000 Catholics, signed an agreement admitting that he had known of accusations of sexual abuse by priests, but at the time, prosecutors said there was no evidence that he had engaged in criminal sexual misconduct.

As part of his agreement with prosecutors, Bishop O'Brien admitted that he had shuffled priests into new assignments without telling their new superiors or parishioners of the abuse allegations. In exchange for his cooperation, he avoided prosecution.

"This has been a very difficult time for our entire diocese, for me, for our priests and especially for the victims of sexual misconduct," the bishop wrote in a statement around the time he reached the agreement.

Weeks after the agreement was announced, Bishop O'Brien was arrested in connection with a fatal hit and run. He resigned his 22-year post atop the Diocese of Phoenix, and he was found guilty the next year of leaving the scene of a fatal accident.

He was sentenced to four years of probation and 1,000 hours of community service.