Former Lower Burrell priest waives sex assault charge to court
By Chuck Biedka
TRIB Live
September 20, 2017

http://triblive.com/local/valleynewsdispatch/12755114-74/former-lower-burrell-priest-waives-sex-assault-charge-to-court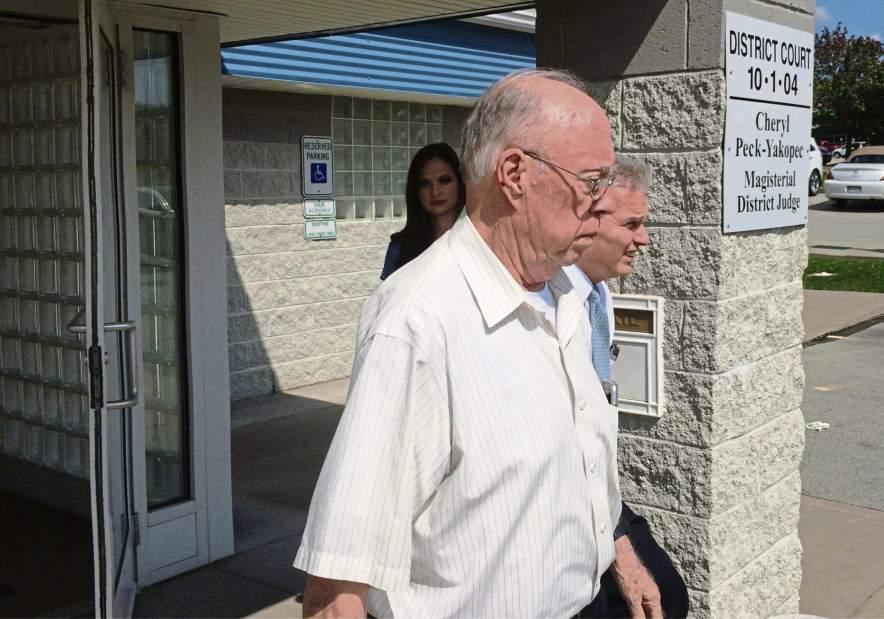 The former Rev. John Thomas Sweeney leaves district court in Allegheny Township on Wednesday Sept. 20, 2017, after he waived to court a charge of sexually assaulting a 10-year-old boy 25 years ago.
A former Lower Burrell priest accused of molesting a Catholic school student 25 years ago waived the charge to court Wednesday, but his attorney insists the case will end because the legal statute of limitation has expired.
The retired Rev. John Thomas Sweeney , denies he sexually assaulted a 10-year-old boy who attended St. Margaret Mary Church school between September 1991 and June 1992. Sweeney was church pastor.
Court documents state the alleged victim didn't report the abuse until last year after watching "Spotlight," the Academy Award-winning movie about sexual abuse by Catholic priests.
Sweeney, 74, is charged with one count of involuntary deviate sexual intercourse.
Sweeney told reporters Wednesday, "no comment."
He was most recently assigned to Holy Family Parish in West Newton before he retired in December.
Sweeney's attorney, Francis R. Murrman, said his client is having a tough time. Sweeney is toward the end of life and under stress, he said.
According to Daniel J. Dye, senior deputy state attorney general, the alleged victim is a 35-year-old man on military deployment.
If a preliminary hearing had been held Wednesday, Dye would have asked an attorney general's agent to read the alleged victim's grand jury testimony into the court record. "That is allowed at this level," Dye said.
The alleged victim, however, would be required to testify in Westmoreland County Court if the case goes to trial.
Outside district court, Murrman said the charging papers don't list the birth date for the alleged victim.
"It appears that the charge was filed five years past the statute of limitations," Murrman said.
The state changed the age when a victim can file charges.
Murrman is arguing that the state's amended child abuse law only gave the alleged victim in this case until age 30 to contact prosecutors.
However, the chief prosecutor in this case contends lawmakers set the age in this case at 50.
"I am asking the attorney general (Josh Shapiro) to review this, and if he agrees to dismiss the charge," Murrman said.
Otherwise, Murrman said he will file a motion to have a county judge dismiss the charge.
The state Legislature's last amendment of the law gives victims up to age 50 to go forward with child sexual assault allegations.
So Murrman believes in this case, the law would allow the alleged victim to be up to 30 years old before reporting an accusation, not 50.
"We are ready to go to trial," Dye said.
A grand jury concluded that Sweeney's alleged actions supported charges of indecent assault and corrupting the morals of a minor, but Dye said the statute of limitations pertaining to those charges expired before the incident was reported to police.
Contact: cbiedka@tribweb.com