More Than a Dozen Abusive Clergy Served Local Parishes
By Cody Hooks
Taos News
September 22, 2017

http://www.taosnews.com/stories/taos-county-catholic-priests-sexual-abuse-dozen-served-local-parish-investigation,43139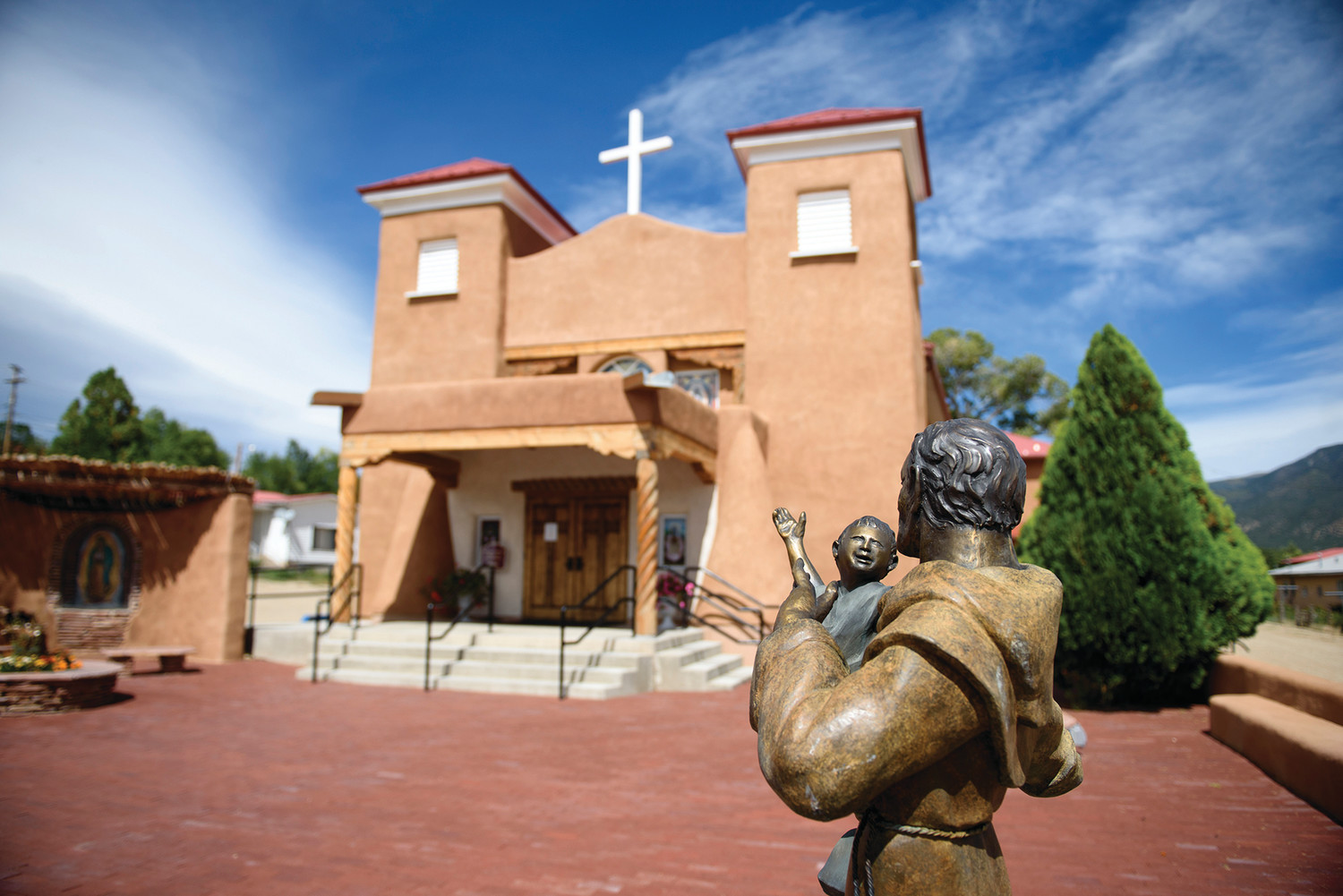 St. Anthony Catholic Church in Questa, where several priests who were found guilty of sexual abuse of a minor served. At least a dozen priests who have been identified by the archdiocese as sexual abusers served in Taos County parishes, a review of archives found.



Armando Martinez grew up in Questa, the village of alfalfa fields and a couple of thousand people at the western base of the Sangre de Cristo Mountains. Martinez didn't look for work at the nearby molybdenum mine, like a lot of young men from the village. Instead, he went into a Catholic seminary, became a priest and headed parishes from Belen to Tucumcari, Springer to El Rito.

In May 1997, Martinez was found naked and dead, his body left in a ditch near Bernalillo. His murderer turned himself in days later.

The deep, reverberating shock of losing Martinez in such a horrific way was only made more nerve-wracking when then-Archbishop Michael Sheehan revealed in a press conference that Martinez had been restricted from his duties as a priest in 1993 after allegations of sexual misconduct with a minor were made against him.

Sheehan's revelation about Martinez came at the beginning of a tidal wave of allegations of sexual abuse and subsequent lawsuits against the Roman Catholic Church and the Archdiocese of Santa Fe, in particular.

Twenty years after he died, Martinez was among the 74 priests, deacons and brothers identified by the archdiocese who were found guilty of sexually abusing a minor.

Archbishop John C. Wester, who assumed his office two years ago, released the list of priests Sept. 12. Not only had allegations of sexual abuse been levied against the clergy on the list, but they have all been found guilty in civic law, church law or both.

The list of priests isn't comprehensive, but it is largely considered a step in the right direction of transparency and accountability, a means of healing for victims of abuse and restoring trust in the church.

While The Taos News initially reported three of the named priests served in Taos County, further review of archives and an online database of credibly accused priests reveals that at least a dozen priests identified by the church as sexual abusers served in parishes in Questa, Taos and Penasco from the 1950s to 1990s.

Furthermore, at least two priests who were not included in the archdiocese list have also been previously identified and convicted as sexual abusers in other jurisdictions.

'Transient' and beloved fathers

There's no single profile for the priests convicted as child sexual abusers.

Martinez never acted as a parish priest in Taos County, but he stands out as a native son who went into the ministry.

Most, however, were not from New Mexico.

The Rev. George Weisenborn, who was a priest in Penasco around 1977, hailed from Rochester, New York. When he came to the secluded mountain community that's too small for a municipal government, Weisenborn was the fourth parish priest in two years. He'd just finished a stint at St. Bernadette's in Albuquerque, though "transient stays in parishes in Oklahoma and Kansas" preceded his time in New Mexico, according to a 1977 Taos News article.

Some priests became deeply embedded in their communities because of the length of their tenure. The Rev. Johnny Lee Chavez, first identified as a sexual abuser in the archdiocese list, served at San Francisco de Asis Church in Ranchos de Taos from 1987 until 1994, when he took an opening in Pecos.

On the other hand, the Rev. Irving Klister was the leader in Ranchos for fewer than three months.

The priests not only served in the larger congregations, but also in smaller parishes, such as Arroyo Seco's Holy Trinity. The Rev. Ed Donelan was priest of that church for less than a year around 1957; he would later run a troubled school for boys that was owned and eventually shuttered by the archdiocese. The Rev. Conran Runnebaum (identified as a credibly accused priest in 2014 by the Gallup diocese) also headed Holy Trinity, from 1982 to 1989.

And priests had all manner of responsibilities beyond Mass. Monsignor Clarence Schoeppner, for example, was briefly the leader of Taos' Catholic Central High School in the early 1960s.